There are clear signs of a recovery in car sales lately, and rising stock prices are giving emphasis on the issue. I have been looking at Major Auto Manufacturers industry group to find the leaders of the pack.
The half-year performance clearly states the winners. Ford Motor Company (NYSE:F) and General Motors (NYSE:GM) are leading the recovery of the auto manufacturers, and both have gained more than 40% in the last 6 months.

Source: Finviz
Anthony Pratt, director of forecasting for the Americas at Polk said, "The auto sector is likely to continue to be one of the key sectors that lead the U.S. economic recovery." Polk expects new car and truck registrations, which closely track sales, to rise 6.6% in 2013 to 15.3 million vehicles. Registrations are expected to rise to 15.8 million vehicles in 2014, and 16.2 million in 2015.
Ford Motor Company
Ford brand has topped 2 million vehicle mark for two years in a row. December was the best month since 2006, with 214,222 vehicles sold. The management is very optimistic about the prospects for the next year.
A look at earnings shows a quarterly rise of 17% in the third quarter, and an expected 25% rise in the last quarter of 2012. Sales are still down 6.5% and are expected to decline 2.6% in the fourth quarter. However, revenue and earnings are expected to rise 4.5% and 9%, respectively, next year, according to Yahoo Finance.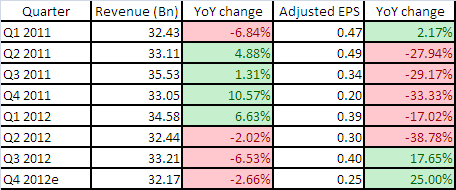 Source: ycharts.com, Earnings.com and Yahoo Finance
Ford's trailing PE is a very low 3.08, but the adjusted PE is 10.5, and forward PE is 9.3. As per Yahoo Finance analyst estimates, its 5-year growth rate is expected at 7.45%. The company is reducing its debt, but still has a pretty high debt to equity ratio of 5.34, according to Finviz.
The stock has been rising recently and made new 52 week highs. It broke out initially in late October and powered higher in the last three weeks.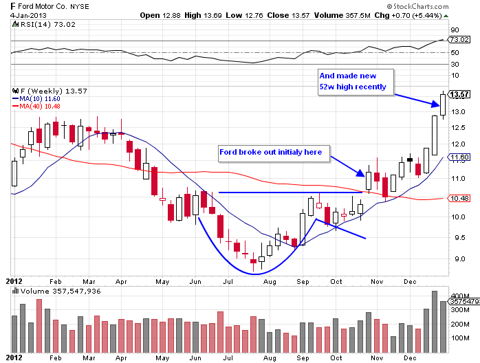 Source: stockcharts.com
General Motors
December was the best month for GM in a while. GM reported highest December sales in five years, with 245,733 unit deliveries, which is 5% more than a year earlier.
Vice President Kurt McNeil noted:
"In 2012, GM delivered more than 1 million cars and crossovers in the United States that achieved at least 30 miles per gallon on the EPA highway test cycle. No domestic automaker has ever done this because only GM has created so many products in segments that were once dominated by Asian brands including mini cars, small cars and compacts."
The technological advances are imperative to the future of the U.S. automakers, so the company is committed heavily to future development.
A look at earnings shows declines in the last four quarters, but fourth quarter earnings are expected to rise 28%. Revenues were up slightly in three out of four quarters, and are expected to rise in the fourth quarter. Earnings and revenue are expected to rise 17% and 3.7%, respectively, next year.

Source: ycharts.com, Earnings.com and Yahoo Finance
Trailing PE is 11.21, forward PE is 7.58, with a projected 5 year growth rate of 11.55% and a PEG ratio of 0.79, according to Yahoo Finance. GM is in a much more better position than Ford, with a debt to equity ratio of 0.40, according to Finviz.
Some of the famous investors have added to their stake in GM recently. Warren Buffett's Berkshire Hathaway Inc. (NYSE:BRK.B) acquired another 5 million shares in GM and has 15 million shares as of the quarter ending Sept. 30.
David Einhorn, who runs Greenlight Capital hedge fund, upped his stake in GM to 21.6 million shares from 17.4 million as of June 30.
The price action of GM is much the same as Ford's. The stock reached a new 52 week high a few days ago.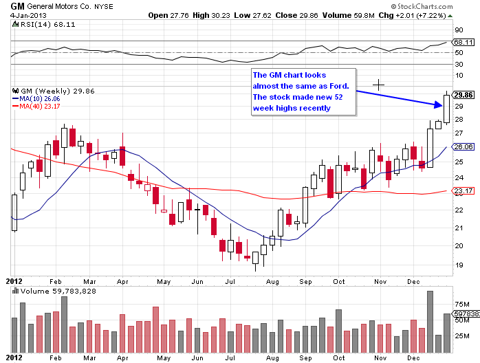 Summation
Both stocks have gained much recently and are trading at 52 week highs. Fundamentally, I am favoring GM because of a lower PEG ratio and higher projected growth rates, much lower debt to equity ratio, and recent purchases of famous investors like Warren Buffett and David Einhorn. Technically, both stocks are behaving in a same manner, and are somewhat extended after their breakouts, so a pullback is to be expected.
Disclosure: I have no positions in any stocks mentioned, and no plans to initiate any positions within the next 72 hours. I wrote this article myself, and it expresses my own opinions. I am not receiving compensation for it (other than from Seeking Alpha). I have no business relationship with any company whose stock is mentioned in this article.