All three major indices resumed the climb on Friday. This time, S&P 500 led the gain with 0.49% increase. Dow Jones followed and advanced 0.33% while NASDAQ closed only slightly higher with 0.04% gain due to Apple Inc. (NASDAQ:AAPL)'s 2.78% drop. SPY, DIA, and QQQ were all well above their 50-day and 200-day MAs. The Transportation industry led the gain with 1.08% increase while technology was the only down sector with 0.63% drop.
The market sentiment is driven by greed now with Fear & Greed Index at 82, increased from the previous close of 80. As reported by CBOE, the total put/call ratio for today was 0.82, and the index put/call ratio was 0.77. The equity put/call ratio was 0.64, and the CBOE volatility index (VIX) put/call ratio was 0.55. In the following, top stock had been identified through our daily options scanning process, with the scanning criteria where the daily call volume ratio was above 3.00 (3x of the average call volume) with a call volume above 10,000.
| | | | |
| --- | --- | --- | --- |
| Name (Ticker) | Call Volume | Average Call Volume | Daily Volume Ratio |
| Goldcorp Inc. (NYSE:GG) | 21,472 | 5,451 | 3.94 |
Source: Schaeffer's Research
Goldcorp Inc.
Goldcorp is a senior gold mining company with operations in Canada, the United States, Mexico, and Latin America, engaged in the operation, exploration, development and acquisition of precious metal properties. It produced roughly 2.5 million ounces of gold in 2011. As reported by Morningstar, Goldcorp has a diversified production base that is mostly in stable mining jurisdictions throughout North and South America, a sharp contrast with some other gold miners who are willing to accept much higher geopolitical risks.
Analysts Calls and Earnings Estimates
As reported from Forbes, a study of analyst recommendations at the major brokerages shows that Goldcorp is the #13 broker analyst pick, on average, out of the 50 stocks making up the Metals Channel Global Mining Titans Index.
On Dec. 21, 2012, Credit Suisse downgraded GG to "Neutral" from "Outperform" and lowered its price target from $58.00 to $45.00. Credit Suisse noted,
"Target price revised to $45 (from $58), rating revised to Neutral (from Outperform). Credit Suisse target price is reduced on lower cash flow in 2013 and lower NAV based on revised estimates for Penasquito and PV, and on lower multiples (NAV and OpCFa) for GG based on lower near-term growth. We continue to see near-term headwinds for GG with a likely capex increase and a reduced production growth profile near term. GG shares have declined 19% since November 1, but have only underperformed the TSX Global Gold Index by 4%. We are concerned that the market does not fully understand Penasquito issues are twofold: static throughput and lower grades in 2013 and 2014."
Analysts, on average, are estimating an EPS of $0.57 with revenue of $1.55 for the current quarter ending in December, 2012. Analysts are expecting an EPS of $2.00 with revenue of $5.52B for the full 2012 fiscal year. For 2013, analysts are projecting an EPS of 2.93 with revenue of 7.05B, with 27.80% growth comparing to 2012, as seen from the table below.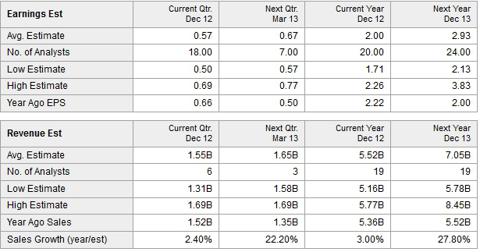 Source: Yahoo! Finance
Key Stats and Valuation
GG has an enterprise value of $28.68B with a market cap of $28.99. GG has a total cash of $970M with an operating cash flow of $2.04B and a levered free cash flow of -227.62M, ttm. By using the data obtained from Morningstar, GG's key stats will be compared to its peers, including Barrick Gold Corporation (NYSE:ABX), Newmont Mining Corporation (NYSE:NEM), and Kinross Gold Corporation (NYSE:KGC). GG has a higher revenue growth (3 year average) of 30.4, as compared to the industry average of 19.9. However, GG has a lower EPS growth (3 year average) of 1.9, comparing to the average of 25.6. GG has higher operating margin of 39.9%, ttm, and net margin of 29.9%, ttm, as compared to the averages of 27.3% and 12.8%, ttm, respectively. GG generates higher ROE of 7.7, as compared to the average of 6.2. GG has zero debt-to-equity, which is well below the industry average of 1.1.
GG has a P/E of 18.2 and P/B of 1.3, which are below the industry averages of 31.0 and 1.6, as well as GG's 5 year averages of 39.6 and 1.7. GG has a forward P/E of 9.6, which is below S&P 500's 14.2. GG has a PEG ratio of 0.5.
Technical Analysis
GG closed at $35.75 with 0.39% gain on Friday. The volume of 6.52M was 27.34% higher than the 30 day average volume of 5.12M. GG had been trading in the range of $31.54-$50.74 in the past 52 weeks. GG has a beta of 0.51. GG had been showing a bullish trend since Dec. 24, 2012; however, the MACD difference had been converging in the past 2 trading days. The momentum indicator, RSI (14), is showing a bearish lean at 40.44 but had increased slightly on Friday. GG is currently trading below its 50-day MA of $39.63 and 200-day MA of $39.70. The next support is $34.87, the S1 pivot point, followed by $33.04, the S2 pivot point, as seen from the chart below.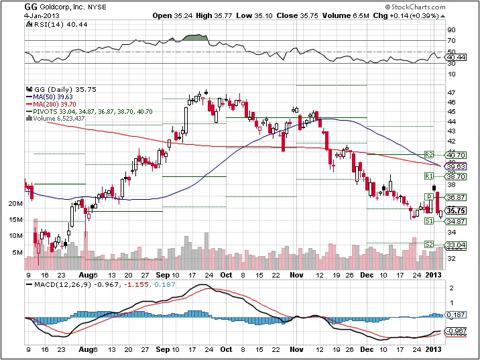 Source: StockCharts.com
Unusual Call Activities and Options Strategy
Unusual option activities and large swings of implied volatilities can be an indication that smart money players are placing bets on upcoming events, news and major developments. Unusual option activities can be an indicator or precursor of a major movement for the underlying stock.
The most active call on Friday for GG was Jan. 18, 2013 at the strike price of $36.00 with a volume of 7,196 and an open interest of 3,255. The implied volatility is 27.2, and the chance of breakeven is 31.29. The second most active call was Feb. 15, 2013 call at the strike price of $39.00 with a volume of 6,042 and an open interest of 432. The implied volatility is 30.1, and the chance of breakeven is 15.87. The historical volatility for GG is 32.46 for 1 month, 34.14 for 3 months, and 36.45 for 1 year.
For conservative bullish stock investors, a covered call strategy can be reviewed by shorting 1x out-of-money call for every 100 shares of stock purchased. For investors who would like to gain upside potential while having the plan to acquire the stock at a lower price, a credit put spread of April 20, 2013 $31/$33 can be considered.
Note: All numbers/prices are quoted from the closing of January 4, 2013 with the data provided from Barron's, MorningStar, Schaeffer's Investment Research, Inc., Google Finance, and Yahoo! Finance. Investors and traders are recommended to do their own due diligence and research before making any trading/investing decisions.
Disclosure: I have no positions in any stocks mentioned, and no plans to initiate any positions within the next 72 hours. I wrote this article myself, and it expresses my own opinions. I am not receiving compensation for it (other than from Seeking Alpha). I have no business relationship with any company whose stock is mentioned in this article.