Of the 104 new preferred stocks issued during 2012 [1], 84 of them were distributed to the marketplace by their underwriters using the wholesale Over-The-Counter stock exchange (81%). Individual investors, armed with a web browser and an online trading account, were able to purchase these newly issued shares at substantially discounted (below par) prices.
The six new preferred stocks introduced last January, for example, were able to be purchased for an average market price of $24.97 on their first day of OTC trading; those same six preferred stocks are selling for an average price of $27.01 per share today (January 4, 2013). These six new January 2012 issues were PSA-S from Public Storage (NYSE:PSA), PSB-S from PS Business Parks (NYSE:PSB), FRC-A from First Republic Bank (NYSE:FRC), HPT-D from Hospitality Properties (NYSE:HPT), USB-M from US Bancorp (NYSE:USB) and O-F from Realty Income (NYSE:O).
Principal Protection
Buying shares for wholesale prices during OTC distribution provides an important principal protection benefit to preferred stock investors during a low rate environment.
Given the Federal Reserve's zero-rate monetary policy, we all know that rates will go up at some point in the future. Once rates start back up again, which the Fed and many financial analysts have said is not likely until late-2014 or 2015, market prices for fixed-income securities will tend to fall (see related SA article for data). While it can be tempting to avoid investing for fear of a future rate increase, it is not clear how avoiding a 6+ percent annual return for at least two years can leave any investor ahead of the game, regardless of what happens to rates shortly thereafter.
The lower your original purchase price, the less any such future price decrease will affect you. And those who paid wholesale for their shares are the least affected of all.
Short Version: OTC Buying
A couple of previous SA articles used a couple of specific examples (August | September) to explain how individual investors can get these wholesale OTC prices so I won't repeat those details here.
But the short version is that when underwriters put their cash together to buy the new preferred stock shares from the issuing company, they do so for a price of about $24.25 per share. A trading application is submitted to the New York Stock Exchange (generally) and, once approved, a new NYSE trading symbol is assigned.
That NYSE approval process can take a couple of weeks. Anxious to get their cash back, the underwriters use a third-party referred to as a "market maker" to quickly sell the new shares to dealer/brokers at wholesale prices (almost always below these security's $25 par value). The OTC stock exchange is used for this wholesale distribution using a temporary OTC trading symbol [2].
Since individual investors can use their online trading account to place OTC buy orders just like the dealer/brokers, savvy preferred stock buyers are able to purchase newly issued preferred stock shares at wholesale prices, generally below $25 per share [3].
2012 OTC Buying Performance
This chart illustrates the principal protection benefit of buying newly issued preferred stock shares on the OTC stock exchange during a period of low interest rates.
The yellow diamonds show the average opening OTC market price for new preferred stocks introduced during each month of 2012 (generally below these security's $25 par value). The grey diamonds show today's market price for those same preferred stocks (January 4, 2013).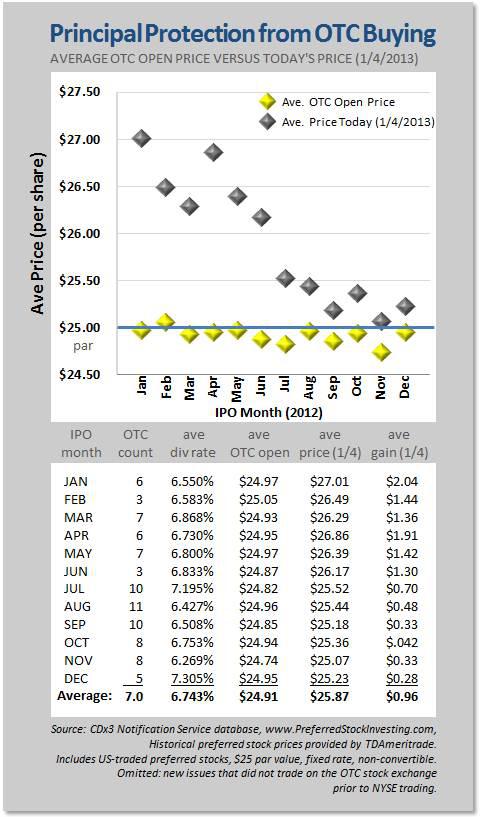 Note how, in all cases, the yellow diamonds (average OTC open price at introduction) are lower than the grey diamonds (today's price).
As companies continue to take advantage of today's low rates, the bumper crop of new preferred stock issues that we saw during 2012 shows no signs of letting up (there were nine new issues during December, five of which were distributed using the OTC stock exchange as described here).
As long as rates remain relatively low, purchasing newly issued shares for wholesale prices during OTC distribution is an important principal protection strategy for preferred stock investors.
Footnotes:
[1] Source for all preferred stock data in this article: CDx3 Notification Service database, Preferred Stock Investing, Fourth Edition (PreferredStockInvesting.com) and TDAmeritrade (TDAmeritrade.com). Preferred stocks and exchange-traded debt securities include those that:
- were issued during 2012 and were distributed to the marketplace using the Over-The-Counter stock exchange;
- have a par value of $25.00;
- have a fixed dividend rate (preferreds with variable or adjustable dividend rates were excluded);
- were not issued as part of an obligation to the U.S. Treasury; and
- are not convertible to another type of security.
Disclosure: The CDx3 Notification Service is my preferred stock email alert and research newsletter service and includes the database of all preferred stocks and exchange-traded debt securities traded on U.S. stock exchanges used for this article.
[2] Sources for OTC trading symbols: the CDx3 Notification Service (my subscription research service) provides OTC trading symbols via email alerts for new preferred stocks and exchange-traded debt securities; QuantumOnline's site (quantomonline.com, requests a fee on the honor system) does not provide email alerts, market prices, ex-dividend dates or downloadable data but frequently lists the OTC symbol for new issues.
[3] How easily you are able to participate in OTC trading depends on the breadth of your broker's contracts with "market makers," of which there are about a dozen. While the process is invisible to you, market makers manually coordinate trades since the OTC exchange is less automated than other trading venues. Most online brokerage systems (e.g. TDAmeritrade, E*Trade and most others) allow you to place trades for new preferred stock shares using the OTC trading symbol just like any other stock trade.
Disclosure: I have no positions in any stocks mentioned, and no plans to initiate any positions within the next 72 hours. I wrote this article myself, and it expresses my own opinions. I am not receiving compensation for it (other than from Seeking Alpha). I have no business relationship with any company whose stock is mentioned in this article.
Additional disclosure: Securities identified within this article are for illustration purposes only and are not to be taken as recommendations