Suggested Investment Strategy
We rate the shares of Microsoft (NASDAQ:MSFT) as buy. Last year, analysts pointed towards a nightmare scenario for MSFT. Pessimism regarding preference of Windows over other operating systems started mounting as a big portion of MSFT's customers seemed to have been snatched by its key competitor Apple Inc. (NASDAQ:AAPL). The nightmare has now come into action as MSFT's Windows 8 and has not been able to sell as guided by the company.
While MSFT tried hard to respond to competitors by introducing the tile based Windows 8, news from different parts of the world has failed to generate optimistic signals about the company. The new Windows has not attracted as much demand as was expected in Asian markets. Same is the case with other markets where this new product by MSFT has been reported as an initial flop. The stock was down by 1.87% pre-market on January 4, 2012.
Although this scenario seems quite depressing for MSFT, we feel that this initial failure of Windows 8 should not be taken negatively by investors. It is important to note that Windows 7 also faced depressed sales at its launch, but later on recovered itself and generated good margins for MSFT. In other words, the demand for Windows 8 at launch has beaten the demand of Windows 7 at launch. Although the start of Windows 8 has been disappointing, we see a boost in its sales in the coming quarters. Moreover, MSFT is already trading close to 52-week low of $26.26. Given that the news seems priced in and prospects for its products can improve, we don't expect significant drop in share price of MSFT in coming days.
Company Description
Headquartered in Redmond, Washington, this multinational software corporation is mainly involved in developing, manufacturing, licensing and supporting a wide range of IT products and services. The company was founded by Bill Gates and Paul Allen on April 4, 1975 and is one of the world's most valuable companies. As of 2012, the company has decided to enter the manufacturing business by producing its Surface tablet. This new product is being seen as a decent reply to its key competitor AAPL, which has long dominated tablet PC market.
Operational Performance
Microsoft reported Q12013 revenue of $16,008 million, which is 8% lower than its revenue in Q12012 and 11% lower than its revenue in the previous quarter. The company reported a 13% drop in gross margin, a 26% drop in operating margin, a 22% drop in net margin and a 15% drop in EPS if compared to Q12012. This drop can mainly be attributed to the increase in cost of goods sold by 13% and overall expenses by 6%. The overall decline in revenues and profitability can be seen in the following graph.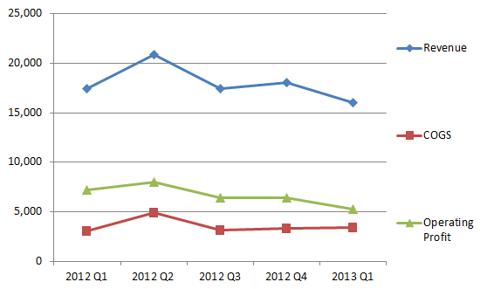 Source: Globenum Research
The company's operating margin comes out to be 36%, which is better than competitors' average (33%) and Globenum average (14%). Its net profit margin of 21% is in line with that of other competitors and better than our average of 10%. The company's debt to equity ratio of 17.98% is in line with competitors' average and lower than our average of 41%. Its current ratio of 2.68 is also in line with competitors' average of 2.7% and better than our average of 1.6.
Valuation
We are valuing MSFT on its historical P/E of 9.46x and forward EPS estimate of $3.21, which yields a target price of $30. Although this price is lower than analysts' consensus of $34, we feel that it is somehow justified as MSFT's new products are not selling according to predictions. We see value in MSFT's stock as the company is currently trading at $27.25.
Investing in MSFT can generate a capital return of 11% (compared to competitors' average of 15% and our average of 15.35%) and total return of 15% (compared to competitor average of 17% and our average of 16.7%). Moreover, the stock can be quite lucrative for dividend investors as MSFT's dividend yield of 3.3% is higher than competitor average of 2.6% and our average of 2%.

Source: Globenum research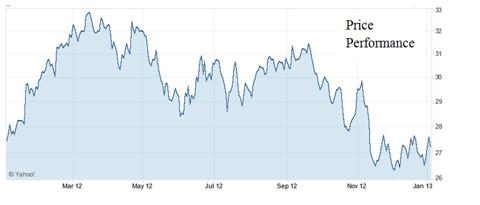 Source: Yahoo Finance
Risks and Catalysts
Risks to MSFT achieving our target price include a further failure of its new Windows 8 in different markets. Although we expect an improvement in sales of Windows 8, a failure of MSFT in increasing sales can move our EPS estimate down, thereby squeezing target price. Moreover, we are also concerned about those deals which MSFT can lose because of the initial failure of Windows 8. Also, we feel that as Windows 8 has come with a new layout, its adoption can take longer time than expected. If that happens, a significant blow to the sale of Windows 8 can emerge. Some catalysts for upside to our target include a boost in sales of Windows 8 in maturity stage of product cycle; a phenomenon which MSFT witnessed with its famous Windows 7.
Guide
While going through this research work, readers will often come across "Globenum Average." We have developed average estimates for different financial parameters like P/E, EV/EBITDA, PEG, P/S, Capital Gain, Total Gain, Dividend Yield, Current ratio, Net Margin, Operating Margin, Debt ratio etc. We manage these averages for the stocks of wide range of companies belonging to different sectors. We have a fairly well managed database for this. These average values are mostly used as benchmarks during the research analytics and reporting.
Disclosure: I have no positions in any stocks mentioned, and no plans to initiate any positions within the next 72 hours. I wrote this article myself, and it expresses my own opinions. I am not receiving compensation for it (other than from Seeking Alpha). I have no business relationship with any company whose stock is mentioned in this article.