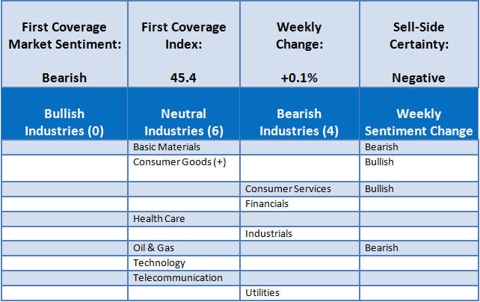 A quick retrospective of the last week: NBER announces we're in a recession. Global rate cuts again. Job cuts everywhere. Unemployment figure comes in over 530,000; 200,000 worse than expected. Yet in the midst of all this, the sell-side ends the week neither more nor less bearish than it began, while the actual loss in the market was what most would consider a reasonable 2.2% for the Dow Jones, 2.3% for the S&P 500 and 1.7% for Nasdaq.
All this leads to what we think is the most interesting question out there right now. After everything that we've seen, after all we've been through together over the last year, can we be surprised anymore? Are we able to be shocked? The answer is, 'of course,' but the ominous follow-up question then is, 'What on earth will it take to move the needle and achieve that task?'
In the meantime, as we wait for the fifth shoe to drop, there are still no bullish industries, and Financials maintain their death grip on the title of industry with the most bearish sentiment.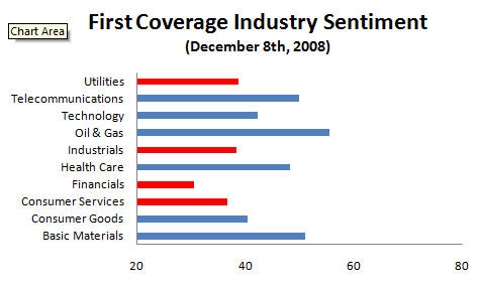 For those wondering why Financials are still loathed, (and is there really anybody still wondering why) you only need to turn to Oppenheimer analyst Meredith Whitney who last week stated:
I am more bearish today than I have been in the past 18 months. In so far as the market has impacted on the economy, capital destruction has been so intense that multi-trillions in capital raised by institutions through both private and public capital has gone to plug holes and not stabilize the effects of shrinking liquidity to corporations and consumers. More than $3 trillion of available credit has been expunged from the markets and therefore corporate and consumer borrowers so far this year.
And, if that wasn't enough to bring you down, she goes on to state:
I estimate that the mortgage market will shrink for the first time in U.S. history and that the credit card market will be 18 months behind it. While just over 70% of U.S. households have access to credit cards, 90% of these people use credit cards as a cash-flow management vehicle, or revolve payments at least once a year. While the credit card market is small relative to the mortgage market, it has grown to play a key role in consumer liquidity. Declining liquidity here will have disastrous effects on consumer spending and the economy.
If this is accurate, then this 'lag' might explain why the Consumer Goods industry was the only industry to see a meaningful bullish shift in sentiment last week. Perhaps driving this push is the belief by the sell-side that the consumer will, in a grandiose move of denial, continue to fill the coffers of the retailers to get through the holiday season (improving the view of the Consumer Goods industry), but in the end, many of them won't be good for the money when pay day comes around.
Finally, Merrill Lynch economist David Rosenberg noted that we have entered the "bubble" phase in Treasuries. Ten-year yields are sitting at rates that haven't been seen in over fifty years. No question that these rates represent a flight to safety, which makes the interesting take-away that fixed income traders, unlike their equity brethren, are still finding it possible to feel worse each week than the week before.