Introduction
JPMorgan Chase (NYSE:JPM) is a great investment going into 2013 due to continued growth in non-core businesses, improving economic conditions, and added certainty in the regulatory environment. Investors should buy JPMorgan Chase because JPM is a stalwart among savings and loans entities.
Qualitative Analysis
Source: Information pertaining to JPMorgan Chase came from the shareholder annual report
JPMorgan Chase is undergoing a program of buying back shares, and that investors should anticipate a buy-back of approximately $10 billion a year for three years. This would inflate earnings by 20% by the end of three years, which keeps me optimistic about the company going forward.
Many in the financial media have cited that the shadow inventory of houses would collapse any hopes of a long-term housing recovery, like usual - the media pundits are caught wrong (typical), while investors rode housing stocks like KB Home (NYSE:KBH) traded much higher throughout 2012. Jamie Dimon stated, "Housing will get better, there I said it." Dimon made a good call, I can assume this is why JPMorgan Chase has $1.7 trillion under management, JPM Asset Management really knows how to forecast.
The American population has continued to grow by 3 million people a year. Population growth implies a demographic need for housing. Economists estimated that there is pent-up demand and that household formation will return to 1.2 million a year as job conditions continue to improve (unemployment rate is currently 7.9%). During 2007-2011 only 845,000 housing units were built annually per year, with demolition and destruction of homes from natural disasters (Katrina, Sandy, etc.) has resulted in a 250,000 decrease in the number of homes over a 4-year average (basically 1,000,000 homes were lost). The growth of households is likely to absorb pre-existing housing supply, this implies growth in JPMorgan Chase's lending division, and that new loans may be able to off-set losses from its pre-existing lending portfolio.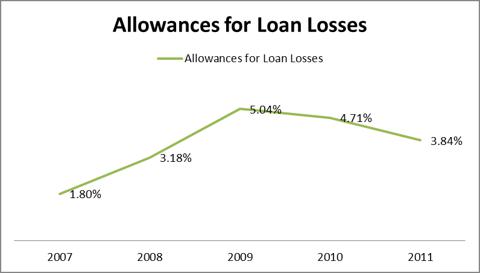 JPMorgan Chase anticipates lower loan losses going forward hence the reduction in allowances for loan losses. Based on the trend it is likely that the amount lost on pre-existing mortgages will continue to decline.
JPMorgan Chase addresses the improvement in housing demand by expanding its number of bank branches, and by improving customer satisfaction ratings. JPMorgan Chase knows that bank branches are great investment opportunities. It takes three-years on average for a bank branch to break-even, and at the end of 10 years, the average bank branch contributes to earnings by $1 million each year. JPMorgan Chase grew bank branch numbers the most in California and Florida. The number of Chase banking branches grew by 260 in 2011. One of JPM's primary growth catalysts is the growth in the number of branches.
JPMorgan Chase is well positioned, going forward. Chase expects growth in deposits as customers with deposits and investment balances exceeding $10,000 have their funds in other business accounts outside of Chase. Chase anticipates that it will increase the market share of deposits under management and banking, and this will result in earnings growth. This will be accomplished based on its improving customer satisfaction ratings.

Improving customer satisfaction, growth in the number of branches, along with favorable economic conditions, on top of declining loan losses keeps me optimistic on the commercial and consumer banking side of the business.
The investment bank along with other financial services category continues to grow at double-digit rates. The card-services division (Chase payment tech) experienced phenomenal growth. Net income in the Card Services & Auto grew from $2.9 billion in 2010 to $4.7 billion in 2011. Chase generates fees by being an intermediary component of the Visa network. Chase charges a small percentage fee on credit and debit card transactions. Analysts anticipate a 20% growth rate in Visa's net-income over the next five years, according to my focus article on Visa, so I can vouch that JPM's card-services division is likely to compound growth at very reasonable and high-growth rates going forward.
I anticipate JPM's investment banking activities to grow in foreign markets based on the pie chart below.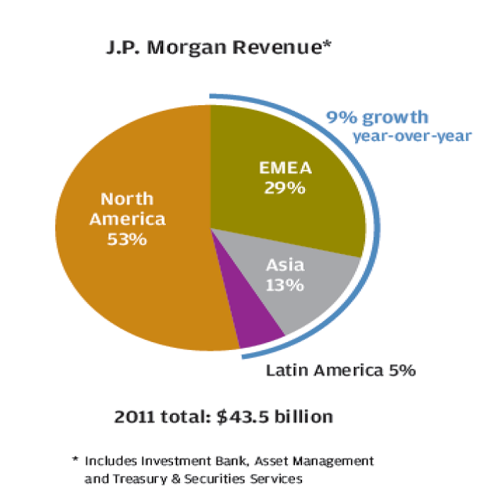 9% growth year-over-year in its foreign business division, keeps me optimistic that revenue will continue to grow over the next five years. The investment bank represents a large percentage of JPM's revenue at $26 billion in 2011. Since investment banking represents a large portion of JPM's total revenue (Net revenue estimates for 2012 is $98.54 billion). Growth in foreign markets centers on its investment bank, asset management, and treasury and securities services. These combined divisions represent a large share of JPMorgan's total revenue implying that foreign growth will have a large material impact on earnings going forward.
JPMorgan's asset management continues to grow, with JPMorgan's Asset Management division ranked #2 in fund inflows. Increasing fund inflows means growing revenue from management fees, the growth rates for international revenue averaged 16% compounded during 2010 and 2011. JPMorgan Chase retains its competitive advantage in asset management by producing returns that beat the market, and its Research Index Portfolio (REI 250) outperformed the market over the past five years.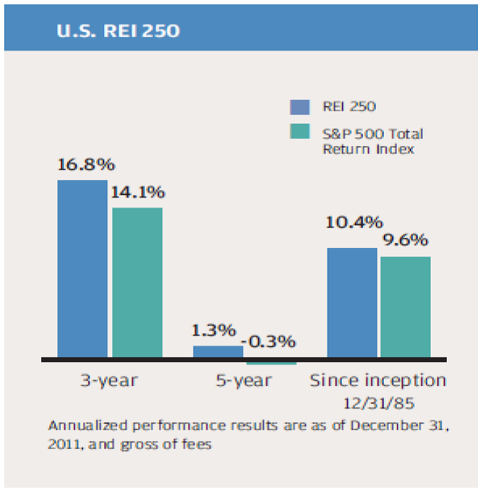 Any asset management company able to out-do the investment returns of the Standard and Poor 500 over a five-year period is likely to have unique and proprietary insights. By having talented asset managers continue to beat the markets year-in and year-out JPMorgan Chase was able to accumulated $1.9 trillion in assets under supervision. The division's international revenue grew by 12%.
Universal banking is here to stay, and while there are many proponents who believe the Glass Steagall act should be re-legislated, I find it extremely unlikely that it will ever happen. What regulators recognize is that universal banks were not responsible for the faulty lending practices during the great recession. In fact the diversified business portfolio of universal banks such as JPMorgan Chase helped to off-set the record losses and write-downs banking firms experienced throughout the great-recessionary period. Splitting apart a Universal Bank involves unwinding long-term hedges on certain positions that last over 20 years. Meaning that breaking up universal banks is both a complicated and near-impossible process without incurring additional damage to the financial system. Breaking apart universal banks also poses the risk of making American banks less competitive in foreign markets. Therefore universal banks are here to stay.
There is no liquid market for some of the larger financial transactions that universal banks undertake. While some financial contracts have resulted in tragic losses such as the London Whales incident, which lost JPMorgan Chase over $2 billion, I believe future incidences will be limited in scale going forward. JPMorgan Chase will hedge positions rather than outright speculate on price movements going forward. The Volcker rule will keep banks from using bank cash (cash that belongs to the shareholders) on investment securities like derivatives and stocks. The Volcker rule is likely to be upheld, because of the speculative nature of traders. Despite the disadvantages of the Volcker rule, I believe it will not have a significant effect on earnings growth going forward.
The wall-street reform act (Dodd Frank) will result in higher deposits held by banks, and banks not being allowed to speculate in financial securities like stocks and derivatives using bank-money. This may have a material impact on earnings growth going forward, however I anticipate JPM to offset the loss of revenue. The loss of revenue will be offset by opening new bank branches, continued growth overseas, gaining market share in deposits, growth in its card services business, improvements in customer satisfaction, improving economic conditions both domestically and overseas, along with lower loan loss allowances. Both the asset management and investment banking division represent a huge percentage of JPM's revenue, with revenue growing at double-digit rates. All of these combined factors will keep me upbeat going forward. Regulation is not a problem; it only encourages JPMorgan Chase to invest in opportunities that will generate higher return on equity.
JPMorgan Chase competes with Citigroup (NYSE:C), Bank of America (NYSE:BAC), Wells Fargo (NYSE:WFC), Goldman Sachs (NYSE:GS), Morgan Stanley (NYSE:MS), Lloyds Banking (NYSE:LYG), HSBC Holdings (HBC), Black Rock (NYSE:BLK), Charles Schwab (NYSE:SCHW) and UBS (NYSE:AG), among many others.
Technical Analysis
JPMorgan Chase has been on a continuous up-trend since June of 2012. The stock has been able to recover since the London Whales incident (trader blows up a trading account losing JPM's money), and I anticipate this up-trend to continue.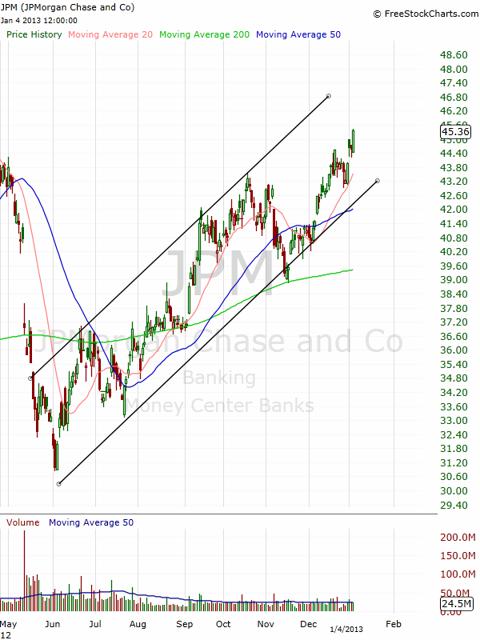 Source: Chart from freestockcharts.com
The stock is trading above the 20-, 50- and 200-Day Moving Average. The stock is in a confirmed up-trend (higher highs and higher lows) and the up-trend further supports my buy thesis on JPMorgan Chase.
Notable support is $33.60, $37.00 and $43.40 per share.
Notable resistance is $45.48, $50.30 and $53.25 per share.
Street Assessment
Analysts on a consensus basis have reasonable expectations for the company going forward.
| | | | | |
| --- | --- | --- | --- | --- |
| Growth Est | JPM | Industry | Sector | S&P 500 |
| Current Qtr. | 34.40% | 382.50% | -94.00% | 9.30% |
| Next Qtr. | 11.80% | 105.20% | -92.80% | 14.60% |
| This Year | 11.80% | 25.90% | 23.00% | 7.10% |
| Next Year | 6.00% | 10.00% | 6.70% | 12.90% |
| Past 5 Years (per annum) | 31.47% | N/A | N/A | N/A |
| Next 5 Years (per annum) | 7.06% | 8.40% | 10.59% | 9.14% |
| Price/Earnings (avg. for comparison categories) | 8.9 | 12.52 | 13.07 | 11.17 |
| PEG Ratio (avg. for comparison categories) | 1.26 | 1.63 | 0.7 | 1.18 |
Source: Table and data from Yahoo Finance
Analysts on a consensus basis have a five-year average growth rate forecast of 7.06% (based on the above table).
| | | | | |
| --- | --- | --- | --- | --- |
| Earnings History | 11-Dec | 12-Mar | 12-Jun | 12-Sep |
| EPS Est | 0.9 | 1.18 | 0.71 | 1.24 |
| EPS Actual | 0.9 | 1.19 | 1.21 | 1.4 |
| Difference | 0 | 0.01 | 0.5 | 0.16 |
| Surprise % | 0.00% | 0.80% | 70.40% | 12.90% |
Source: Table and data from Yahoo Finance
The average surprise percentage is 21% above analyst forecast earnings over the past four quarters (based on the above table).
Forecast and History
| | | |
| --- | --- | --- |
| Year | Basic EPS | P/E Multiple |
| 2003 | $ 3.24 | 11.34 |
| 2004 | $ 1.59 | 24.53 |
| 2005 | $ 2.43 | 16.33 |
| 2006 | $ 4.16 | 11.61 |
| 2007 | $ 4.38 | 9.97 |
| 2008 | $ 1.35 | 23.36 |
| 2009 | $ 2.27 | 18.36 |
| 2010 | $ 3.98 | 10.66 |
| 2011 | $ 4.50 | 7.39 |
| 2012 | $ 5.01 | 8.78 |
Source: Table created by Alex Cho, data from shareholder annual report, and price history is from Yahoo Finance.
The EPS figure shows that throughout the 2003-2007 period, the company was able to grow earnings. The decline in earnings between 2003 and 2004 came as a result of a one-time drop in provisions for credit losses worth $3 billion in 2003. This drop in credit losses inflated earnings for 2003. Throughout 2007-2009 earnings contracted. The contraction in earnings was due to the great recession, but following the recession the company was able to grow earnings.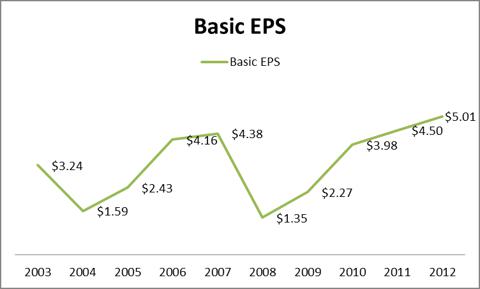 Source: Table created by Alex Cho, data from shareholder annual report
By observing the chart we can conclude that the business is cyclical and is affected by macroeconomics. Therefore the largest risk factor to JPMorgan Chase is the slowing of international gross domestic product growth. So as long as the United States economy continues to grow, the company will generate reasonable returns over a five-year time span based on the forecast below.

Source: Forecast and table by Alex Cho
By 2018 I anticipate the company to generate $8.00 in earnings per share. This is because of foreign investment, cost management, growth in core businesses and improving global outlook.
The forecast is proprietary, and below is a non-linear chart indicating the price of the stock over the next five years.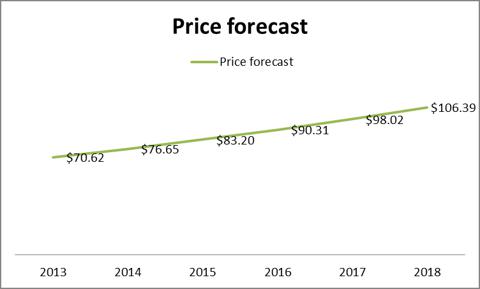 Source: Forecast and chart by Alex Cho
Below is a price chart incorporating the past 10 years and the next six years. Detailing 16 years in pricing based on my forecast and price history on December 31, of each year.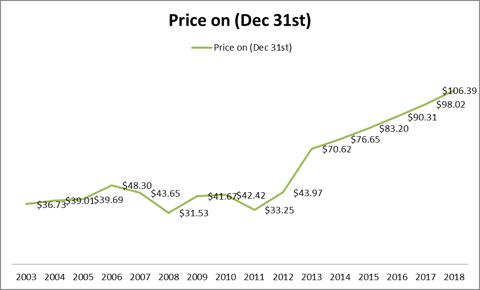 Source: Forecast and chart created by Alex Cho, data from shareholder annual report, and price history is from Yahoo Finance.
Investment Strategy
JPM currently trades at $45.36. I have a price forecast of $70.62 for December 31st 2013. Generally undervalued stock will experience sudden rallies due to arbitage opportunities in its intrinsic value and historical value. I factored that into my price forecast, making it an important component behind the sudden jump in stock valuation despite the gradual improvement in anticipated earnings.
Short Term
Over the next twelve months, the stock is likely to appreciate from $45.36 to $70.62 per share. This implies 55% upside from current levels. The stock is in an up-trend, which further supports my investment thesis.
Investors should buy JPM at $45.36 and sell at $70.62 in order to pocket short-term gains of 55% in 2013.
Long Term
The company is a decent investment for the long-term. I anticipate JPM to deliver upon the price and earnings forecast despite the risk factors (competition, regulation, economic environment). JPM's primary upside catalyst is international expansion, growth, and managing costs. I anticipate the company to deliver upon my forecasted price target of $106.39 by 2018. This implies a return of 135% by 2018. This is a phenomenal return for a Dow Jones stock.
A higher-yielding investment opportunity, albeit having higher risk, is to buy the Jan 17, 2015 calls at the $50.00 strike. The call premiums trade at $3.60. The price forecast for the end of 2014 is $76.65. The rate of return if the calls expire at $76.65 is 640%, the option will break-even when the stock trades at $53.60.
The call premiums are cheap because investors who are short JPM calls do not anticipate the stock to break out into new all-time highs, and that regulatory risk will keep the premium on growth muted. I don't anticipate this to happen, and the risk-to-reward ratio on the option strategy remains high.
JPM has a market capitalization of $172.4 billion; the added liquidity makes this an investment opportunity appropriate for larger institutions that require added liquidity.
Conclusion
Investors should remain optimistic on JPMorgan Chase because of growth, and return to historic valuations. With excellent management behind the company, your money is in good hands.
The conclusion remains simple: buy JPMorgan Chase.
Disclosure: I have no positions in any stocks mentioned, and no plans to initiate any positions within the next 72 hours. I wrote this article myself, and it expresses my own opinions. I am not receiving compensation for it (other than from Seeking Alpha). I have no business relationship with any company whose stock is mentioned in this article.