Since my positive mention of Supervalu Inc (NYSE:SVU) in a piece entitled Why I Bought Supervalu For A Trade, published July 17, 2012, shares are up more than 27%.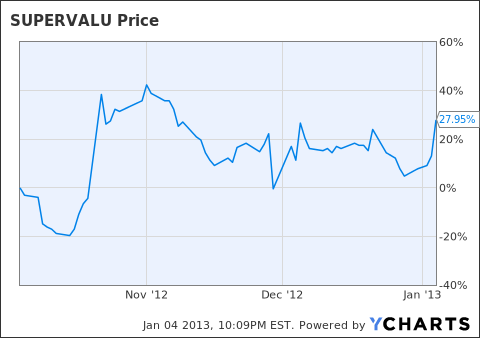 SVU data by YCharts
Cerberus Close To Supervalu Deal
On Friday, shares of SVU surged higher after rumors emerged that Cerberus Capital Management L.P. was close to a deal to buy parts of SVU. It looks like a deal between Cerberus and SVU will be complex. Cerberus will likely acquire some SVU stores but not the whole company. Also, Cerberus is expected to take an equity stake in what remains of SVU. While these talks look to be serious, sources close to the deal have said that it is still possible that the deal falls apart.
From My Previous Piece
Reports have surfaced indicating that Supervalu is for sale. I think a takeover is possible for a few reasons. First, a takeover would only require about $8 billion, as the company currently has $6.3 billion in debt and $530 million in equity. Also, there are likely a few different parties interested in Supervalu. Other grocery store companies such as Kroger Co. (KR) could be interested in owning Supervalu. Additionally, Supervalu would be an interesting private equity target. Finally, I would not be surprised to see different parts of the company sold to different parties. While not as bullish as a complete takeover, such a deal would give the stock a boost.
Conclusion
It is time to sell SVU and take profits because my expectations have been met. With a deal all but finalized, my bullish catalyst no longer exists. Of course, when the deal is finalized, the SVU shares will likely move higher still. However, if the deal falls apart SVU shares will trade sharply lower. Instead of being greedy, I would suggest traders lock in gains now. At this point, with shares trading close to $3 up significantly from the $1.68 low hit in 2012, the risk is, in my opinion, higher than the reward. Given that Cerberus is unlikely to make a bid for the entire company, and the fact that the stock has already risen sharply on expectations of a deal, I view the upside as somewhat limited. Contrastingly, if the deal falls apart, I expect SVU to revisit the 2012 lows.
Disclosure: I have no positions in any stocks mentioned, and no plans to initiate any positions within the next 72 hours. I wrote this article myself, and it expresses my own opinions. I am not receiving compensation for it (other than from Seeking Alpha). I have no business relationship with any company whose stock is mentioned in this article.