We like that the telecom industry offers investors a number of different opportunities for potential turnaround investments. Investors can choose from wireline turnaround companies like FairPoint Communications (NASDAQ:FRP), telecom equipment providers like Alcatel-Lucent (ALU), smartphone vendors like Nokia Corporation (NYSE:NOK) and Research in Motion (RIMM) or wireless service providers like Sprint Nextel (NYSE:S). The bad news for us was that we were long-time legacy Nextel shareholders and we had lost 70% on our position. The good news was that it only represented 1% of our portfolio on an original cost basis and 20bp on a market value and we had also received shares in EMBARQ, which was later acquired by CenturyLink (NYSE:CTL). We had considered selling our position in Sprint in order to consolidate our portfolio holdings but we decided to give it one last chance to shine in 2012 due to its solid iPhone sales results in Q4 2011. We are glad that we stuck by our position in Sprint and we had even added to it around the time it announced that its Q1 2012 net customer additions (excluding Nextel runoff) were greater than the rest of its combined competitors. We were pleased to completely offset our previous losses and it now accounts for 2.5% of our portfolio.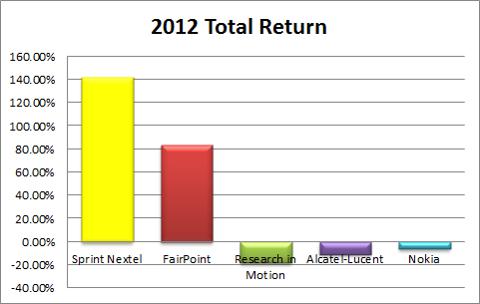 Source: Morningstar Direct
Revenue Trends:
Sprint was the only one of these five companies to enjoy revenue growth in 2012. Sprint's revenue grew by nearly 5.55% during the first nine months of 2012 and by 5.2% in Q3 2012. What most impressed us about Sprint's YTD 2012 revenue growth was that Sprint's wireless division revenue growth rate in the first nine months actually exceeded Verizon Wireless's (NYSE:VZ) service revenue growth. Verizon Wireless bulls shouldn't scoff at the fact that this was but a matter of about 3bp because Sprint was left for dead as recently as last year. Sprint's wireless revenue growth rate has also exceeded AT&T Mobility's (NYSE:T) wireless revenue growth rate in the last three quarters and it has also exceeded AT&T Mobility's wireless service revenue growth rate for the last five quarters. FairPoint and Alcatel-Lucent were able to keep revenue declines in the single digits whereas Research in Motion and Nokia saw shockingly deep revenue declines due to each firm's inability to come up with a new featured flagship smartphone that competes with Apple Inc's (NASDAQ:AAPL) iPhone and Samsung's Galaxy product line.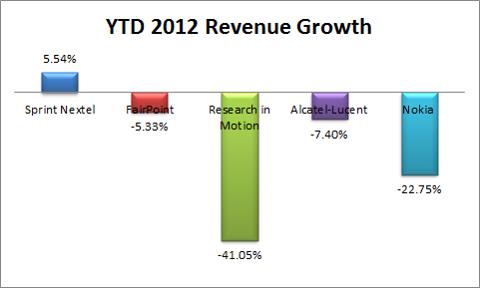 Source: Morningstar Direct
Cash Flows: Despite ramping up capital expenditures in 2011 and 2012 as part of its Network Vision transformation, Sprint had a small free cash flow deficit in 2011 (-$37M) and the first nine months of 2012 ($268M). RIMM had a free cash flow deficit of $433M in FY 2012 and it actually had positive free cash flow of $169M in Q1 2013, $84M in Q2 2013 and $640M in Q3 2013. We were surprised that RIMM's operating cash flows increased by 12.7% in the first nine months of FY 2013 ($2.09B) versus FY 2012 ($1.86B) however this was due to a $1.54B improvement in net changes in working capital items. FairPoint had $34.5M in YTD 2012 free cash flows but this was due to a sharp 32% decline in its capital expenditures. Nokia had negative free cash flows of €1.23B during the period (~US$1.6B) and Alcatel-Lucent has a free cash flow deficit of €1B during the period (~US$1.3B).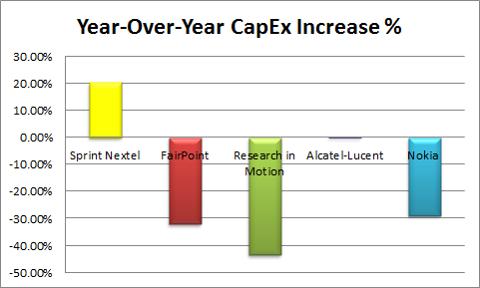 Source: Morningstar Direct
We're not worried that Sprint's free cash flow deficit has increased in YTD 2012 versus the prior year's period because it was the only company of these five firms that saw a major increase in its capital investments. We were surprised that Alcatel-Lucent increased its CapEx by a staggering 25bp despite its struggles in 2012. Research in Motion's CapEx declined by $917M (43%) as the company was trying to conserve cash to offset its sales slowdown due to delays in its BlackBerry 10 smartphone product launch. Nokia's 29% wasn't enough to offset its sharp sales drop due to the inability of its Lumia Windows Phone smartphone devices in offsetting the sharp sales decline on its Symbian products. One item of note that we were delighted in was that Sprint's Network Vision network upgrade project has resulted in its capital investment expenditures for YTD 2012 ($2.92B) exceeding the combined capital investment expenditures of FairPoint ($96M), Research in Motion ($1.2B), Alcatel-Lucent (€396M, ~US$515M) and Nokia (€315M, ~US$410M).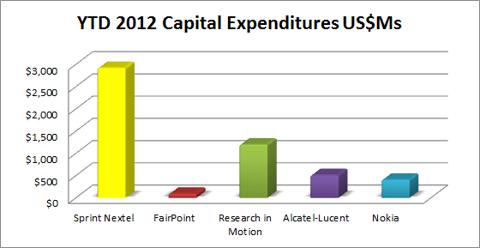 Source: Morningstar Direct
We expect Sprint's free cash flows to increase after 2013 once it completes the Network Vision project and shuts down the Nextel iDEN network. We see two ways that Sprint will see increased cash flows from the completion of Network Vision. The first way is through capital spending that is stable or lower in 2014 and afterwards and Network Vision is expected to save Sprint $1-$2B in annual operating expenses which it can use to bolster profits and reinvest in promotional activity to improve its competitive position against AT&T and Verizon. Although Sprint's 4G-LTE footprint of 49 cities pales in comparison to AT&T's 125 cities and Verizon's 470 cities, Sprint is looking to bring 4G-LTE to nearly 150 more markets in the coming months. Of the 49 cities and towns that have Sprint's 4G-LTE service, seven were deep in the heart of the AT&T/Verizon ILEC service area:
Dallas-Fort Worth, TX (AT&T's world headquarters)
San Antonio, TX (Former Headquarters of Southwestern Bell)
Atlanta, GA (AT&T Mobility's Headquarters, Former Headquarters of BellSouth)
Houston, TX (3rd Largest City in AT&T's ILEC Footprint)
Chicago, IL (2nd Largest City in AT&T's ILEC Footprint, Ameritech's former HQ)
Indianapolis, IN (Former Headquarters of Indiana Bell)
Baltimore, MD (Verizon Maryland's Headquarters)
Upcoming cities include New Haven, CT (AT&T Connecticut Headquarters) Oklahoma City, OK (AT&T Oklahoma's HQ) and Little Rock, AR (AT&T Arkansas's HQ)
Tablet Computing Devices:
Of the five telecom turnaround companies that we are evaluating here, only Sprint and RIMM have any presence in the tablet computing space. Unfortunately for Sprint and RIMM, these two firms are currently also-rans in the tablet computing space. Sprint has the lowest number of connected devices customers with regards to the Big Three US carriers and RIMM's sales volumes for the BlackBerry Playbook are absolutely insignificant (or at least compared to Apple's cutting-edge iPad). However, we believe that there is more potential for Sprint going forward in the tablet computing space. Sprint began reporting to investors its connected devices customer numbers in Q1 2012 and the company has seen its connected devices customer base grow from 2.6M in Q1 2011 to 3.36M in Q4 2012 even though it only has between two to four tablets and laptops for sale at a given time. We believe that Sprint has the potential to improve its competitive position in the connected devices space because Sprint gained the right to sell Apple's revolutionary iPad device in November, which was earlier than we were anticipating. We were anticipating that Apple would release its newest iPad devices in March and we were expecting Sprint to beginning selling the iPad then. We think it is worth repeating the reasons why we believe Apple let Sprint join the iPad party when it released its newest iPad devices:
Sprint is on pace to satisfy its $15.5B iPhone purchase agreement with Apple
Sprint's progress in building out its 4G LTE footprint and improving its 3G network as part of the Network Vision project
Over 40% of Sprint's iPhone sales have been to new customers and the number of new customers buying an iPhone through Sprint is comparable to the number of new customers buying an iPhone through AT&T/Verizon
Sprint's willingness to sell the iPhone through its Virgin Mobile USA prepaid brand
Sprint has been aggressively promoting its iPhone availability while AT&T has sought to displace Apple's iPhone with Nokia's Lumia Windows Phone devices and Verizon is pushing Android devices in order to displace Apple's iPhone.
Sprint's previously high end tablet computing device available for sale was the Samsung Galaxy Tab 10.1. Considering that Samsung infringed on Apple's patents, this would be a great way to stick it to Samsung.
Sprint has reported a higher linked quarter connected devices customer growth rate than AT&T in Q1 2012, Q2 2012 and Q3 2012 even though AT&T has the iPad.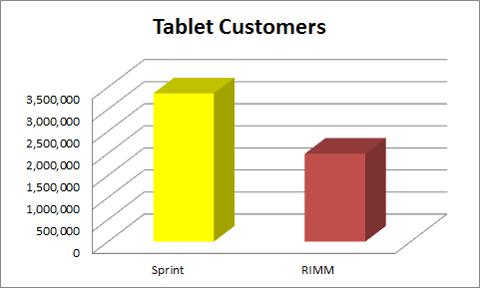 Source: Sprint's most recent quarterly report and RIMM's last seven earnings reports
Research in Motion finally joined the tablet computing party in 2011 with the introduction of its BlackBerry Playbook tablet computing device. Sales have been pedestrian since the Playbook was launched and the only time the company sold more than 300K in a quarter was during Q1 2012 and Q4 2012 (500K in those quarters). Despite the fact that the BlackBerry Playbook 4G LTE was released in the most recent quarter, total Playbook sales were only 130K during Q2 2013 and 250K for Q3 2013. None of the four major carriers carry the Playbook for sale.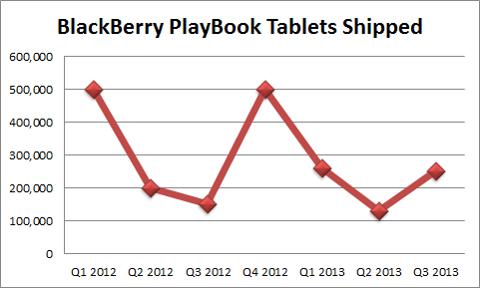 Source: Research In Motion's last seven earnings releases
Conclusion:
Based on these three factors identified, we can see why Sprint offered telecom investors the best opportunity for a turnaround and why it generated the highest total stock return for its investors. While we believe that its near term upside will be limited due to the terms of its deal with SoftBank (OTCPK:SFTBF) we believe it will continue to generate the strongest fundamental performance versus FairPoint, RIMM, Alcatel-Lucent and Nokia. We are opposed to the SoftBank-Sprint combination because we felt that Sprint could serve as a competitive threat to the AT&T-Verizon duopoly and pick off customers from low-end carriers like T-Mobile USA, MetroPCS and Leap Wireless. At least SoftBank's capital investment will serve to bolster Sprint's resources and enable it to speed up its progress in building its 4G-LTE footprint. Sprint Nextel may never be Apple and it has a long way to go to catch up to Verizon Wireless and AT&T. However, we can see that at least it is making more forward progress in turning itself around than FairPoint, Alcatel-Lucent, Nokia and RIMM. We will also be following up this report over the next month to identify which company we believe will be the Sprint Nextel of 2013. Based on the recent run-ups in ALU, FRP, Nokia and RIMM, we believe that investors are expecting some or all of these companies to be 2013's Top Telecom Turnaround story.
Disclosure: I am long S, AAPL. I wrote this article myself, and it expresses my own opinions. I am not receiving compensation for it (other than from Seeking Alpha). I have no business relationship with any company whose stock is mentioned in this article.
Additional disclosure: This article was written by an analyst at Saibus Research. Saibus Research has not received compensation directly or indirectly for expressing the recommendation in this article. We have no business relationship with any company whose stock is mentioned in this article. Under no circumstances must this report be considered an offer to buy, sell, subscribe for or trade securities or other instruments.