Investment thesis
There are three economic factors that are of importance to investors in 2013.
Yields are at historic lows

Central Banks are following monetary expansionary policies

Growth is back in the developing world
I believe that international real estate will benefit tremendously from the confluence of these three factors. I particularly like the Vanguard Global ex-U.S. Real Estate ETF (NASDAQ:VNQI) and the SPDR Dow Jones International Real Estate ETF (NYSEARCA:RWX) both of which has shown strong growth and income potential in 2012. I expect the same trend to continue in 2013. Details follow.
Supporting evidence
1. Historic low yield environment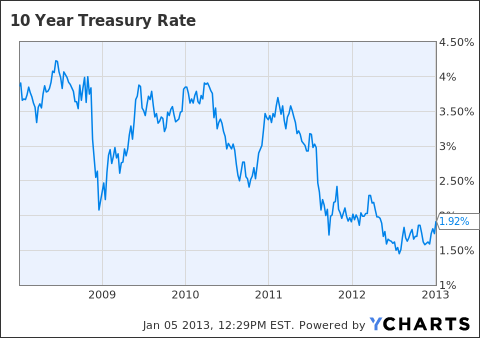 2. Central Banks adopting monetary expansionary policies
The New York Times reports on the U.S.A.:
The current Fed chairman, Ben S. Bernanke, said it would keep short-term interest rates near zero at least as long as the unemployment rate remained above 6.5% and as long inflation and inflation expectations continued to be contained.
The Financial Times on the EU:
The interest rate on borrowing unsecured cash for one year in euro wholesale markets dipped below zero for the first time after the ECB last week downgraded steeply its 2013 eurozone growth forecasts.
CNBC on Japan:
The Bank of Japan will ease monetary policy this week and consider adopting a 2% inflation target no later than in January, sources said on Tuesday, responding to pressure from next Prime Minister Shinzo Abe for stronger efforts to beat deflation.
China Daily on China:
China may fine-tune its monetary policy in 2013 by reducing interest rates and the reserve requirement ratio (RRR) to support economic growth, according to research results published Friday.
3. Growth back in developing world
The World Bank reports:
Following a weak 2012, developing country growth is projected to pick up in 2013 before easing in 2014 ... Developing country GDP is expected to expand by 6% in each of 2013 and 2014
Why international real estate?
The low yield environment has investors searching for dividend yielding instruments. I had earlier written an article explaining why dividend will be king in 2013. Real estate ETFs historically provide high levels of dividends. For example, VNQI has a yield of 16.9%, RWX an yield of 15.6%. This should make these two very attractive to investors.
In addition, growth in the developing world makes more people join the ranks of the middle class. This in general leads to two behaviors, higher consumer spending, and higher real estate ownership, just as in the developed world. Easier access to bank loans through expansionist monetary policy further strengthens this move to increased real estate investments in the developing world.
This trend in 2012 led to ~40% appreciation in Total Returns (growth plus income) in the two ETFs that I mentioned.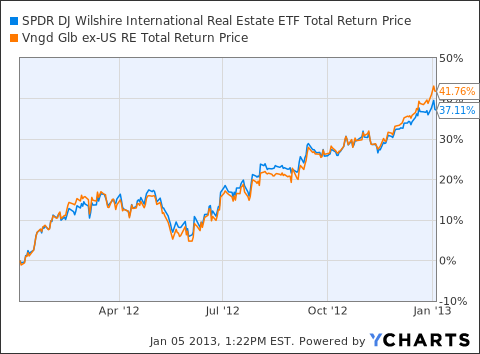 Given the confluence of the three factors mentioned above, I expect this trend to continue in 2013.
Disclosure: I have no positions in any stocks mentioned, and no plans to initiate any positions within the next 72 hours. I wrote this article myself, and it expresses my own opinions. I am not receiving compensation for it (other than from Seeking Alpha). I have no business relationship with any company whose stock is mentioned in this article.
Disclaimer: This is not meant as investment advice. I do not have a crystal ball. I only have opinions, free at that. Before investing in any of the above-mentioned securities, investors should do their own research, consult their financial advisors, and make their own choice.