Caterpillar (NYSE:CAT) is the world's largest producer of earth-moving equipment, and I also believe it is one of the best positioned companies to deliver big gains in 2013 and beyond.
Caterpillar's distinctive yellow machinery is used all over the world, and in fact 70% of Caterpillar's business is centered outside of the U.S. The company currently operates in four major segments. The Construction Industries segment (33% of revenues) deals with machinery for infrastructure and construction operations. The Resource Industries segment (26%) serves mining and forestry customers. Power Systems (33%) produces machinery for electric power, industrial, petroleum, and rail-related markets. The Financial Products segment (5%) provides equipment financing to CAT dealers and customers.
CAT's main growth prospects involve the growing global economy, particularly in developing countries, whose governments will tremendously increase infrastructure spending going forward. As the dominant equipment manufacture, CAT benefits from increased efficiency and material costs simply due to economics of scale.
Caterpillar has done very well for its shareholders (see chart below), and has rebounded exceptionally well from the depressed share prices during the financial crisis, when it seemed everyone thought that no infrastructure spending would ever take place again (I sure wish I would have bought at $21.71 in 2009, and my hat goes off to anyone who had the foresight to do so).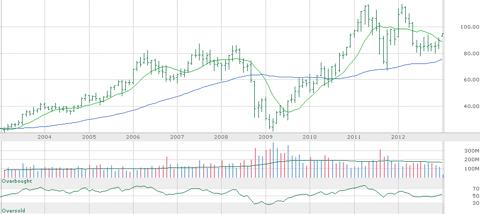 The company also pays an annual dividend of 2.4%, or $2.08 annually, which it has increased every year of the past decade except for one. In fact, CAT has increased its dividend by an average of 13% annually for the past 10 years.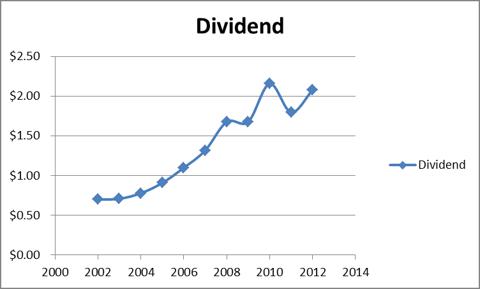 In terms of valuation, CAT is particularly attractive, especially when you consider the growth expected over the next few years. Currently trading at just 9.7 times TTM earnings, consensus estimates call for a 3-year average earnings growth rate of 10.7%, which should call for a double-digit multiple. For comparison's sake, fellow equipment maker Joy Global (NYSE:JOY) trades at 9.2 times earnings, however, the company is not forecast to have anywhere near the type of growth CAT is projecting. Joy is concentrated on mining equipment, which is expected to have moderate demand over the next few years, as global use of coal decreases due to the low cost of natural gas and other alternatives. Consensus estimates call for Joy to earn $6.28 per share for FY 2013, down from $7.24 in 2012. Earnings are expected to increase to $6.65 in '14 and $8.00 in '15, which makes the 3-year average growth rate only 4.3%, far below the consensus for Caterpillar.
To sum it up, Caterpillar should greatly benefit from both the replacement of worm-out construction equipment in North America, as well as the sales that will accompany the increased urbanization in emerging markets. Caterpillar historically has traded at a significantly higher P/E ratio, and to develop a target price, I'll use 11.5 times earnings, which is at the low end, historically. Using the projected 2013 earnings of $9.86, this gives me a 1-year target price of $113.39, or 19.5% above the current share price.
Disclosure: I have no positions in any stocks mentioned, and no plans to initiate any positions within the next 72 hours. I wrote this article myself, and it expresses my own opinions. I am not receiving compensation for it (other than from Seeking Alpha). I have no business relationship with any company whose stock is mentioned in this article.