This year I decided to participate in a contest among bloggers with financial-focused websites. The rules are simple:
Four stocks picked at the beginning of the year
No trading allowed (buy and hold)
Canadian or USA stocks
Dividends count in end-of-year yield calculation
Since I do not promote individual stocks on my blog, I chose a diversified ETF portfolio instead. My choices were:
My logic for this selection of ETFs can be found here. For a benchmark, I am using Vanguard's S&P 500 ETF (VOO).
All results include reinvested dividends but exclude trading costs and taxes.
First, here's a quick review of the sector performance for CY2012. The data below is from Yahoo! Finance, using its adjusted close prices in order to account for dividend reinvestment.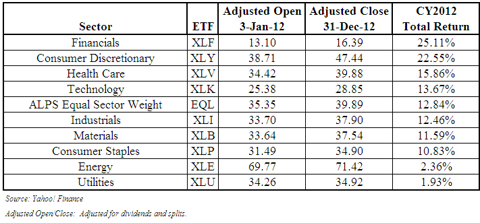 The financials (NYSEARCA:XLF) and consumer discretionary (NYSEARCA:XLY) sectors were the clear winners last year, while energy (NYSEARCA:XLE) and utilities (NYSEARCA:XLU) were the laggards. The ALPS Equal Sector Weight ETF (NYSEARCA:EQL) posted a respectable 12.84% gain for the year. I just discovered this ETF this year and will watch it going forward.
For the fourth quarter of 2012 and CY2012, my portfolio had the following performance, just barely beating the S&P 500: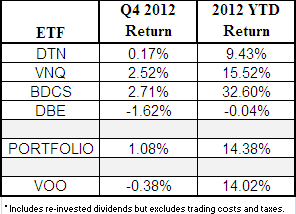 The WisdomTree Dividend ex-Financials Fund detracted from overall performance. Who would have guessed financials were going to be the best-performing sector last year? What a difference a year makes. For reference, WisdomTree Total Dividend Fund (NYSEARCA:DTD) was up 11.94% for the year (using the Yahoo! Finance adjusted close price).
PowerShares DB Energy Fund was my inflation hedge. In order for DBE to increase, we would have needed increased demand for energy (a growing economy) or geopolitical tension in the Middle East, neither of which happened. If Iran did something stupid, I would have been fine (from a contest standpoint). DBE was too narrow of a focus. When building a diversified portfolio, you cannot expect superior performance if the holdings require binary events to increase in value.
If I had used a less narrow focus on inflation--say, iShares Barclays TIP Bond ETF (NYSEARCA:TIP)--my CY2012 performance would have improved by about two percentage points: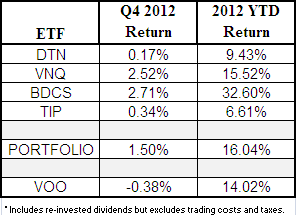 So, what should we do for CY2013? I do believe equities will be higher in CY2013. Unemployment is slowly coming down, gas prices are low, and the fiscal cliff--at least the tax side of it--has been addressed. Even though there will be drama over government spending and budgets, I do not think it will impact consumer spending for the entire year. Consumers will have lower pay checks this year because of the expiration of the payroll tax cut. I would imagine this will limit spending in Q1, but once consumers are used to the new take-home pay, they will be shopping again. Corporate spending is more impacted by tax policy, so that risk is also resolved. I would imagine that corporations are learning that with the current failed leadership in Washington, DC (Congress and the president), uncertainty will be a fact of life going forward.
GDP growth for CY2013 is estimated to be 2.0%-3.0% (source 1, source 2, source 3). The Fed's projected 3.0% GDP growth is probably on the high side, so 2.0% is more realistic. Currently, the S&P 500 is trading around a P/E of 16.6 (source). If the S&P 500 can eke out 3.0% EPS growth (GDP growth + expense control + share buybacks, etc.) and some multiple expansion, 10.5% S&P 500 growth seems reasonable.
Example of 10.5% S&P 500 growth: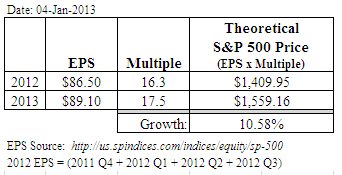 My thesis for using WisdomTree Dividend ex-Financials Fund is no longer valid. So, what do I replace it with? Vanguard's S&P 500 ETF would not be a bad option, especially if you think Apple (NASDAQ:AAPL) is going to have a good year. Another option would be Guggenheim S&P 500 Equal Weight (NYSEARCA:RSP); this would give the investor more weight in the mid-cap stocks, which I think will increase the odds for more EPS growth and less sensitivity to single-stock performance.
I am going to recommend a five-fund portfolio for CY2013. The fifth fund will be an emerging market fund. This will gain some exposure to growth outside the U.S. and help protect against any U.S.-specific market turbulence. With a 0.20% expense ratio, the Vanguard MSCI Emerging Market ETF (NYSEARCA:VWO) is a good choice. If an investor has a longer-term horizon, the WisdomTree Emerging Markets SmallCap Dividend Fund (NYSEARCA:DGS) may be a good option, especially if you can dollar-cost average the dividend reinvestments.
I still like the Vanguard REIT Index ETF Shares and will keep it for 2013.
I also still like ETRACS Linked to the Wells Fargo Business Development Company Index and will be keeping that for 2013. Business development companies are really starting to get some serious attention. A caller asked about Triangle Capital (NYSE:TCAP) on Mad Money (link 1, link 2), and Prospect Capital (NASDAQ:PSEC) announced it originated a record $2.25 billion in 2012 (link). Some very bullish interviews have been published by Wall Street Transcript over the last month (link 1, link 2).
Finally, as mentioned earlier, PowerShares DB Energy Fund is too focused of a holding. I am going to replace it with PIMCO Total Return ETF (NYSEARCA:BOND). BOND has a higher yield than TIP, and with the announcements from the Federal Reserve that its bond-buying program may end or slow during 2013 (link), the bond market is going to be volatile, and the active management of Bill Gross should be a plus. Adding a fifth ETF will allow the portfolio to have a lower allocation to bonds (reducing it from 25% to 20%).
Final summary of my recommended 2013 ETF portfolio:
RSP / Guggenheim S&P 500 Equal Weight
VWO / Vanguard MSCI Emerging Market ETF
VNQ / Vanguard REIT Index ETF Shares
BDCS / ETRACS Linked to the Wells Fargo Business Development Company Index
BOND / PIMCO Total Return ETF
Good luck in 2013; it should be a very interesting year.
Disclosure: I am long VOO, BDCS, TCAP, PSEC, VNQ. I wrote this article myself, and it expresses my own opinions. I am not receiving compensation for it (other than from Seeking Alpha). I have no business relationship with any company whose stock is mentioned in this article.