Despite the relatively large short-term increase in Cooper Tire & Rubber Co.'s (NYSE:CTB) market price per share, heavy buying patterns are still being exhibited by hedge funds, which continue to accumulate more of this undervalued security. CTB is a highly profitable company and, through favorable valuation metrics, presents a feasible investment opportunity. This article provides a broad overview of CTB's business model, outlines its operations, as well as its strong ability to generate revenue. I will highlight the relative performance and valuation metrics of CTB as well as one of its peers. To conclude, investors with be provided with current and forward looking estimates for CTB's intrinsic value of operations and equity.
Overview
CTB is a widely established manufacturer and marketer of replacement tires. CTB operates in two segments:
North American Tire Operations - This segment manufactures and markets passenger car and light truck tires, primarily for sale in the U.S. replacement market. The segment of operations is also responsible for the distribution of tires for racing, medium truck and motorcycles, which are manufactured at CTB's second segment. CTB's distribution channels and customers include independent tire dealers, wholesale distributors, regional and national retail tire chains, and retail chains that sell tires as well as other automotive products. This segment does not sell its products directly to end users, except through three Co.-owned retail stores, and does not manufacture or sell a significant number of tires to original equipment manufacturers. In addition to manufacturing tires in the U.S., the segment has a joint venture manufacturing operation in Mexico, Corporacion de Occidente SA de CV.
International Tire Operations - This segment has operations in the U.K., the Republic of Serbia and the People's Republic of China [PRC]. The U.K. entity manufactures and markets passenger car, light truck, motorcycle and racing tires and tire retread material for the global market. This segment's Cooper (Kunshan) Tire Co., Ltd. entity in the PRC manufactures light vehicle tires to be exported. This segment also has a joint venture in the PRC, Cooper Chengshan (Shandong) Tire Company Ltd., which manufactures and markets radial and bias medium truck tires as well as passenger and light truck tires for the global market.
CTB is the fourth largest tire manufacturer in the United States, with a 13% market share in the market for vehicle replacement tires. On a global scale, CTB is the eleventh largest tire manufacturer. Figure 1 below illustrates CTB's operations across the globe.
Figure 1: CTB's Global Operations from CTB's Investor Presentation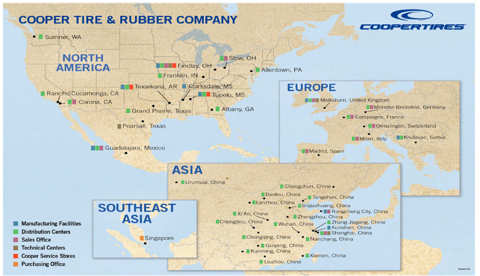 CTB sales have grown tremendously over the course of the past decade. As of 2011, approximately 70% of its sales were driven from the U.S. and 30% internationally.
Figure 2: CTB's Sales Growth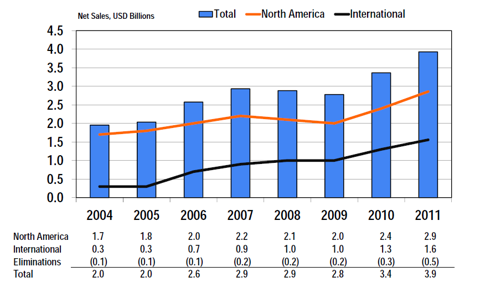 Relative Performance
CTB's direct competitor is Goodyear Tire & Rubber Co. (NYSE:GT). GT operates in the same industry as CTB and serves as a manufacturer as well as a distributor of tires and related products and services. In contrast to GT, the primary difference is Goodyear provides several more services as opposed to CTB. GT's customer base is comprised of consumers of automobiles, trucks, buses, aircraft, motorcycles, farm implements, earthmoving and mining equipment, industrial equipment, and various other applications. In addition, GT tires are also sold directly to vehicle manufacturers for mounting as original equipment and for replacements under the Goodyear, Dunlop, Kelly, Debica, Sava and Fulda brands. Both companies, while similar in structure, display performance over the past five years that reveals a large variation. Figure 2 below, illustrates CTB's and GT's performances relative to the S&P over the past five years.
Figure 3: CTB's Relative Performance from YCharts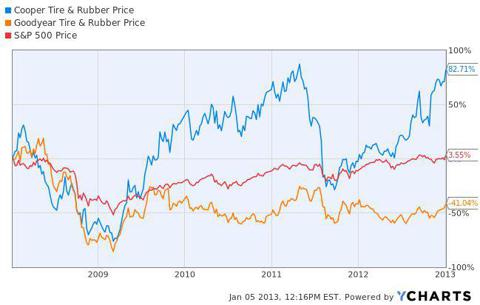 From a quick glance, you will see in percentage terms CTB has provided investor with a much higher yield than GT and the S&P over the same period. CTB is currently trading at right around $26.30 per share and with 62.92 million shares outstanding, its market capitalization is nearly $1.6554 billion. In comparison, GT is currently trading at $14.30 per share and has a tremendous number of shares outstanding, 244.96 million, giving it a market capitalization of roughly $3.5242 billion. Figure 3 below shows CTB's and GT's price to earnings ratios. Notice the large deviation between the two companies' ratios.
Figure 4: P/E TTM Ratios from YCharts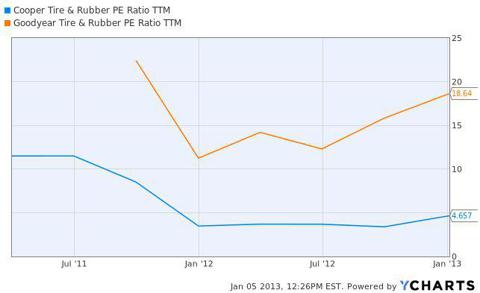 CTB displays an extremely low PEG ratio of only 0.0136 and it has declined slightly over the past year, as you will see above. Not included above is its price to free cash flow per share ratio, which was less than 15. The combination of these two valuation metrics is a strong indication that CTB is trading at a discount to fair value.
Figure 5: CTB's PEG Ratio from YCharts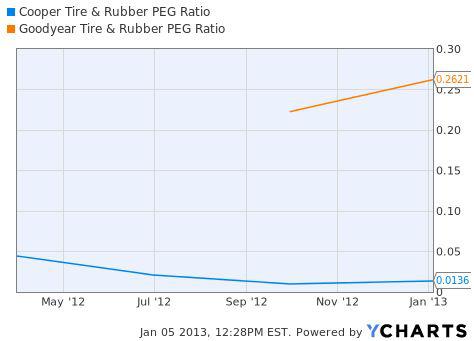 Capital Structure and Profitability
CTB's capital structure is fairly adequate for the industry in which it operates. CTB has an average debt to equity ratio of 56.9%. To further evaluate CTB's capital structure, I computed its weighted average cost of capital, 9.9%. To derive this, I first computed the after tax cost of debt, 5.4%, and then multiplied it by the respective weight of debt, which was 36.3%. Using the capital asset pricing model [CAPM], I computed a cost of equity of 12.6% and then multiplied it by the respective weight of equity, 63.7%. Finally, by adding both values together, the number I arrived at was 9.9%.
CTB has two primary sources of long-term debt, including the issuance of two bonds outstanding and a line of credit. Currently, the two bonds CTB has outstanding mature on 12/15/2019 and 3/15/2027, and compensate investors with a coupon payment of 8% and 7.625%, respectively. For reference purposes, the CUSIPs on each bond in order of earliest maturity are 216831AE7 and 216831ABE. Each bond received a stable rating from both Moody's and S&P. In addition, CTB's line of credit was extended until June 2015. On the equity side, nearly 88% of CTB's common stock outstanding is owned by institutional investors and the remaining 12% is owned by a combination of insiders and individual investors in and outside of the United States.
Figure 6: CTB's Changes in LT-Debt & ST-Investments from YCharts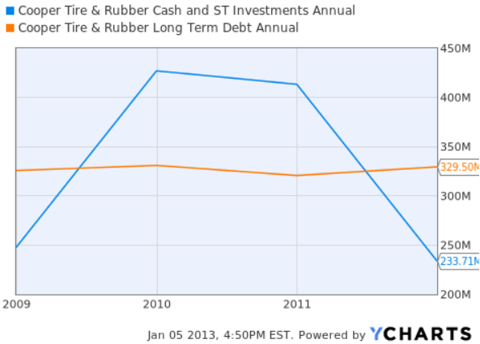 As of September 30, 2012, CTB's cash flow from operations was roughly $490 million, and taking into account that cash from investing and financing activities were -$175 million and -$135 million respectively, CTB's cash flow per share as of this quarter was roughly $7.75. Recently, CTB has displayed strong levels of profitability and shocked many individuals when CTB's 3Q12 profits surpassed analysts' estimates. As illustrated below in figure 7, historically speaking, free cash flow volatility has been an area of concern for CTB. However, it is essential for investors to note this is highly attributed to the volatility underlying the cost of raw materials, and this issue is seemingly becoming less of an area of concern. The volatility underlying costs is beginning to stabilize and free cash flows are growing at a steadier rate.
Figure 7: CTB's Free Cash Flow Growth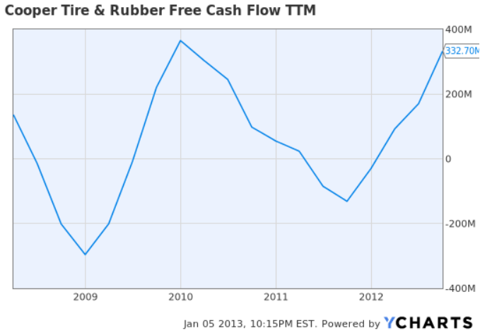 Equity Valuation
To evaluate the potential upside for investors, I used the corporate valuation model. The objective of this model is to calculate the intrinsic value of the firm based on the future value of operations by first projecting free cash flows forward. I then used a modification of the constant growth model taking into account the firm's expected growth rate and weighted average cost of capital estimate. This allowed me to derive an intrinsic share value for the following years. Figure 8 below provides a two-case scenario, modeling an intrinsic value that is precise, yet conservative. For clarity, the inputs and final values have been distinguished by the red text.
Figure 8: The Corporate Valuation Model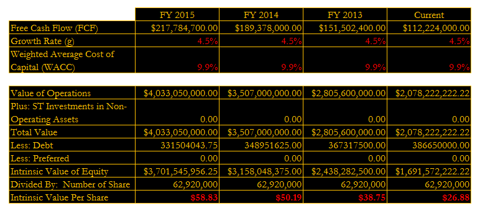 The free cash flow estimate I used for the first period was the most recent value available, and for the remaining estimates, I used conservative approximations for the free cash flow values. Using CTB's weighted average cost of capital, 9.9%, and a constant growth rate of 4.5%, I computed a current intrinsic share value of $26.88. Using the same methods, I calculated the intrinsic share value estimates for FY 2013, FY 2014, and FY 2015 as well. Note in the model above, I have accounted for a slight decrease in the total debt outstanding over the next three years, because since 2008, the total debt outstanding has progressively decreased approximately 36%. The decrease I have accounted is roughly 6.5% each year. This takes into account payments towards its line of credit, because the two bonds CTB current has outstanding do not mature until 2019, at the earliest date. Therefore, a significant portion of long-term debt will remain outstanding. Also, CTB's EBIT to interest coverage ratio is sufficient, and I do not see a concern that CTB may not be capable of repaying debt holders.
Conclusion
CTB is a profitable company with a significant room for growth. Its capital structure is ideal for the industry within which it operates, and its strong balance sheet gives investors confidence through its adequate levels of liquidity. Not only is CTB a top manufacturer of replacement tires in the U.S., but internationally as well. Given the progressive increase in CTB's sales over the last decade, it is clear CTB's management has the ability to continue to expand the firm.
Sources: Graphs were retrieved from either Bloomberg Market Data and YCharts. All financial data was retrieved from Mergent Online Research Database.
Disclosure: I am long CTB. I wrote this article myself, and it expresses my own opinions. I am not receiving compensation for it (other than from Seeking Alpha). I have no business relationship with any company whose stock is mentioned in this article.