The gold price notched its 12th straight year of gains in 2012 and silver rebounded from losses in 2011 to advance for the ninth time in the last dozen years, outpacing the yellow metal's overall gains with much more volatility, as prices for both metals saw big moves early in the new year.
Precious metals were pushed higher in early-2013 trading after a resolution of Washington's "fiscal cliff" budget woes that, essentially, just "kicked the can down the road" two months, and then gold and silver tumbled when the release of December Federal Reserve meeting minutes indicated central bank money printing might end sooner than expected. Meanwhile, December coin sales in the U.S. surged and the Indian government looked at further curbs on gold imports.
After rising above $1,690 an ounce for the first time in two weeks and then tumbling to $1,630, the gold price fell 1.1 percent during the first week of trading this year, from $1,675.20 an ounce to $1,656.80, now down 13.8 percent from its 2011 high. Silver was even more volatile, plunging more than $1.50 an ounce on Thursday before ending 0.6 percent below its 2012 close, falling from $30.35 an ounce to $30.18 and now down 39.0 percent from its high almost two years ago.
Before delving into recent events that sparked these big moves and contemplating the way forward, it's worth reflecting briefly on the remarkable run that both gold and silver have had over the last decade or so. As shown in the graphic below from Gold Price, the metals' gains against the U.S. dollar have been some of the biggest, but all the world's paper money has steadily been losing value against precious metals in the ongoing "Race to Debase."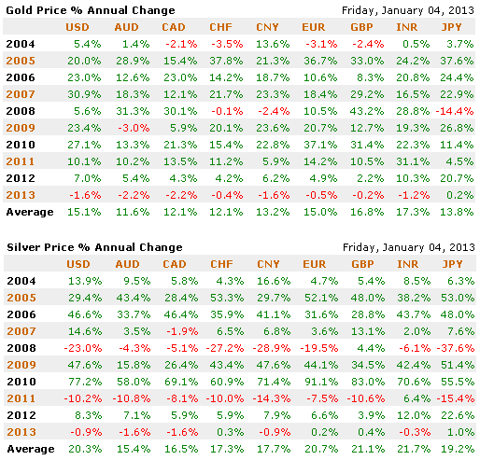 You can get a good sense of the relative volatility of the two metals via the annual returns shown in the table.
Importantly, it's been a much smoother ride for gold, however, the overall gain for silver has been greater, now up almost 400 percent since 2003 in U.S. dollar terms versus a gain of nearly 300 percent for the yellow metal.
Going all the way back to the beginning of the bull market in 2000-2001, gold is now up over 500 percent compared to a gain of over 600 percent for silver, all of which prompts the question of whether we've reached the end of the road for these metals.
With the Fed "signaling the end of quantitative easing" (a phrase that, like you perhaps, I quickly grew tired of hearing last week), have we reached the end of the precious metals bull market?
Not by a long shot.
Though twitchy futures traders sold first and asked questions later when hearing that "several" on the Fed's policy committee thought "it would probably be appropriate to slow or to stop purchases well before the end of 2013," in the fullness of time, it will be realized that futures market selling simply provided another opportunity for long-term investors and central banks to increase their precious metals holdings at better prices.
Based on the Fed's track record of predicting the future, this has to have been one of dumbest reasons to sell gold and silver in recent years. Recall that just a few years ago, the Fed spent inordinate amounts of meeting time discussing their "exit strategy" - and then they went on to buy a couple trillion dollars worth of mortgage-backed securities and government debt with newly printed money.
Watch what the Fed does, not what they say, when it comes to the long road back to normalizing monetary policy. Their asset purchases have helped to foster an unprecedented, "freakishly low" interest rate environment for a recovering U.S. housing market and for spendthrift politicians in Washington. Both would have to make very painful adjustments absent the Fed's largess and the last thing that Ben Bernanke wants to do is remove the "punch bowl" too early.
The world's central banks continue to follow extraordinarily expansionary monetary policies while systemic risk in the world's financial system mounts and confidence in the global monetary system fades. The release of the latest Fed meeting minutes hasn't changed any of this.
The news from the Fed came after lawmakers in Washington voted for a two-month break before jumping Out of the Frying Pan, Into the Fire when it comes to the nation's budget woes and it won't take long before investors and credit rating agencies once again realize just how inept U.S. policy makers are when it comes to reining in spending and boosting revenue.
The "fiscal cliff" hasn't really been averted, just delayed, and the negative impact that the upcoming debate/developing crisis will have on the U.S. dollar should be positive for precious metals, as it was 18 months ago.
Investors in the U.S. certainly didn't like what they heard about Washington's budget troubles in recent weeks as the U.S. Mint reported that gold and silver coin sales surged last month. Gold coin sales rose to 76,000 ounces, up from 65,500 ounces a year ago, to register the highest December sales total since 1998. Silver eagle coin sales dropped 19 percent from a year ago to 1.6 million ounces, but this ranked as the third best December on record.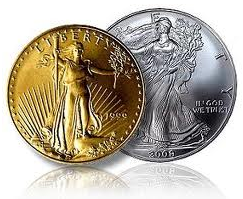 Both gold and silver coin sales fell sharply for the year, down 25 percent and 15 percent, respectively, for the lowest sales totals since 2007. However, strong year-end buying continued in the new year with first week coin sales on a near-record pace as attention is again focused on the budget mess in the nation's capital.
Investors continue to hold a near-record amount of gold in exchange traded funds around the world, however, those holdings dipped last week. The $71 billion SPDR Gold Shares ETF (NYSEARCA:GLD) has shed almost nine tonnes of the metal since the first of the year, but it is less than one percent from its all-time high set in December, and Bloomberg data showed total known gold ETF holdings at about 2,600 tonnes, just 0.2 percent below its recent record high.
The $9.5 billion iShares Silver Trust ETF (NYSEARCA:SLV) shed 24 tonnes on Thursday and Friday, but this followed an addition of 39 tonnes on the last day of 2012, putting the current holdings at one of the highest levels since silver peaked nearly two years ago. Also, the premium for the Sprott Physical Silver Trust (NYSEARCA:PSLV) rose to 1.94 percent on Friday, its highest level since mid-November, more indications that investors are buying while futures traders were selling.
In India, the government seems intent on making it more difficult for their people to buy gold as Finance Minister Palaniappan Chidambaram said on Wednesday that taxes on gold imports may be raised yet again in order to reduce their trade deficit and support the currency. Chidambaram noted, "We may be left with no choice but to make it a little more expensive to import gold. This matter is under Government's consideration."
Since India remains the world's biggest source of gold demand, this continues to be one of the more important (and intriguing) stories in the gold market today. Last week, it was highlighted by this report(.pdf) from the Reserve Bank of India on the problems being faced and the various measures that could be taken to reduce their gold imports, but, it seems clear to me that, more than anything else, this is simply a sign of the times.
There remains strong demand for gold in India for a very simple reason - through the centuries, it has been a safe, low-risk investment. Moreover, in recent years, it has consistently produced higher returns than the paper assets that the Indian government is now pushing in what is a variant of Gresham's Law, where "good" money is preferred over "bad" money. About the only thing that higher taxes and duties are likely to accomplish is to foster a booming business in smuggling gold, similar to what happened in India in the 1970s when the gold price last surged.
India's problem isn't gold imports - its problems lie elsewhere - and this is yet one more example of a government treating the symptoms of a problem, rather than the problems itself.
Disclosure: I am long GLD, SLV, PSLV. I wrote this article myself, and it expresses my own opinions. I am not receiving compensation for it (other than from Seeking Alpha). I have no business relationship with any company whose stock is mentioned in this article.
Additional disclosure: I also own gold and silver coins and bars.