Corning Incorporated (NYSE:GLW) announced the plans on January 3, 2013, to reveal Corning Gorilla Glass 3 for the International Consumer Electronics Show, CES, in Last Vegas. As discussed in my previous article, Gorilla Glass 2 is great, and Gorilla Glass 3 is even more remarkable and also tougher. Full product details will be included in announcements planned for Monday, January 7, a quick preview will be given here for Corning investors.
The Third Generation
Gorilla Glass 3 is even tougher than previous two generations. As reported, Gorilla Glass 3 has been improved at the molecular level, incorporating a proprietary feature called Native Damage Resistance, NDR. NDR reduces the propagation of flaws, the appearance of scratches and does a better job of maintaining the overall retained strength of the glass. Consequently, Gorilla Glass 3 claims a three-fold improvement in scratch resistance, 40 percent reduction in the number of visible scratches and 50 percent boost in retained strength after the glass becomes flawed. Gorilla Glass 3 can be used in a larger format, multi-touch displays for education, entertainment and other applications.
According to another report, "previous editions of Gorilla Glass combined pure sand and proprietary chemicals to create something called "aluminosilicate." Corning purifies and melts down that material and then uses a special "fusion draw" process to pull out sheets that are roughly a half-millimeter thick. To make the glass super strong (or as strong as its eponymous mascot), the company dips the glass into another chemical where weak ions are exchanged for tinier and therefore stronger ones." Gorilla Glass 3 will be tougher, but it is still unknown how much the whole process changes for Gorilla Glass 3.
The new Gorilla Glass 3 is expected to make its way into the next iteration of Apple Inc. (NASDAQ:AAPL)'s iPhone, iPad and iPod touch and make these devices even tougher than before. Gorilla Glass has been used in every iOS device to date as well as devices from numerous competitors. Unfortunately, users still cannot drop their devices from 10 feet onto concrete, but users should feel more secure knowing more protection is added.
No official release date is given, but it can be expected that the new product will be launched 4 to 5 months after the product announcement, around May or June, as judged from past experience.
Highlights of Gorilla Glass II
Gorilla Glass II already provides slimmer and sleeker devices, brighter images, and greater touch sensitivity. These benefits can provide electronics manufacturers with superior design flexibility as they address consumer demand for increasingly high-performing, touch-sensitive, and durable mobile devices. Now, more than 33 brands, 900 models, and 1 billion of the world's coolest smartphones, tablets and PCs are already using Gorilla Glass II, including the popular Lumia 920 from Nokia (NYSE:NOK), GALAXY SIII, Galaxy S 4G from Samsung, and Butterfly and One X from HTC.
More at CES Show
Corning said it also plans to launch Optical Cables, "fiber-based, device-to-device connectivity solutions that significantly extend the data transmission range past the limits of copper-based cables." Full details will also be provided on January 7, 2013.
Analysts' Call and EPS Trend
On Jan 3, 2013, Corning's rating had been reiterated by TheStreet Ratings as a hold with a ratings score of C+. As reported,
"the company's strengths can be seen in multiple areas, such as its largely solid financial position with reasonable debt levels by most measures, attractive valuation levels and expanding profit margins. However, as a counter to these strengths, we also find weaknesses including feeble growth in the company's earnings per share, deteriorating net income and disappointing return on equity."
In the past 30 days, the current EPS estimate remains the same at $0.33 for the current quarter ending in December, 2012. However, the earnings estimate for next quarter was lowered to $0.31 from $0.32, comparing to 30 days ago. The current year estimate remains the same at $1.29. Nonetheless, the full 2013 EPS estimate was lowered to $1.33 from $1.35, as compared to 30 days ago, as seen from the chart below.

Source: Yahoo! Finance
Insider Buying and Technical Analysis
On Nov. 16, 2013, the director at Corning, Gordon Gund bought $1.8M worth of GLW shares at the cost of $10.76 per share. GLW had been trading in the range of $10.62-$14.62 in the past 52 weeks. GLW has a beta of 1.43.
GLW closed at $12.73 with 0.31% loss on Jan. 4, 2013. The volume of 22.63M was 64.22% more than the 30 day average volume of 13.78M. The MACD (12, 26, 9) is showing a bearish trend, but the momentum indicator, RSI (14), is showing a bullish lean at 56.90. GLW is currently trading above its 200-day MA of $12.52 and 50-day MA of $12.10. The next resistance is $13.11, the R1 pivot point, followed by $13.59, the R2 pivot point, as seen from the chart below.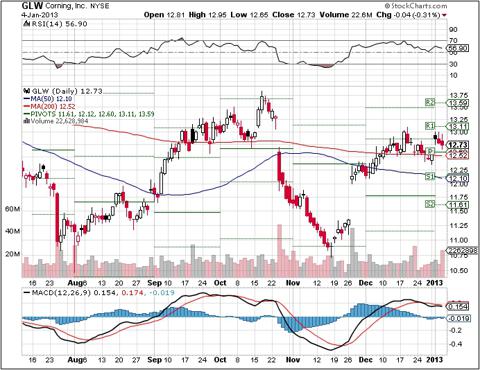 Source: StockCharts.com
Options Strategy
With the upcoming Gorilla Glass 3, it further supports the bullish view on GLW. In my previous article, the reviewed Feb. 16, 2013 credit put strategy is currently showing $0.12 profit, which is 16.22% ($0.12 profit / $0.74 margin requirement) return on margin for around one month of investing. If this credit spread continues and GLW closes above $12.00 on Feb. 16, the spread could become worthless, and the maximum profit of $0.26 will be gained.
For investors who would like to acquire the stock near the cost of Gordon Gund's price of $10.76, a credit put spread of May 18, 2013 $10/$11 can be reviewed.
Short 1x May 18, 2013 put at the strike price of $11.00 for the credit of $0.34
Buy 1x May 18, 2013 put at the strike price of $10.00 for the cost of $0.17
The maximum profit is $0.17, and the maximum risk/margin requirement is $0.83 ($1 loss - $0.17 credit received). If GLW closes above $11.00, 20.48% return on margin will be gained. If GLW falls below $11.00, GLW stock will be acquired at $10.83, which is 14.93% less than the current price of $12.73 and only $0.07 higher than Gordon Gund's price. The projected dividend yield will be 3.32% based on the acquisition cost of $10.83 with estimated dividend of $0.09 per quarter.
Note: All prices are quoted from the closing of January 4, 2013 and all calculations are before fees and expenses. Investors and traders are recommended to do their own due diligence and research before making any trading/investing decisions.
Disclosure: I am long GLW. I wrote this article myself, and it expresses my own opinions. I am not receiving compensation for it (other than from Seeking Alpha). I have no business relationship with any company whose stock is mentioned in this article.