Wells Fargo (NYSE:WFC), one of the 4 largest banks in the US and a systemically-important institution, reports 4th quarter 2012 financial results before the opening bell on Friday morning, January 11th.
Current analyst consensus is expecting $0.89 in earnings per share on $21.29 billion in revenue for expected year-over-year growth of 22% and 3% respectively.
Estimates for Q4 '12 have been stable since the October report.
When WFC reported 3rd quarter 2012 results in early October the stock took a 15% - 20% hit in "net interest margin" ((NYSE:NIM)) compression or the difference between WFC's cost of funds, and what it earns on its assets.
NIM compressed by 25 basis points (bp's) or 1/4 of 1%, to 3.66%. (Analysts had modeled a 10 bp compression, the 25 bp shrinkage was not anticipated.)
While WFC was up 20% in calendar 2012 (excluding the dividend), the stock fell about 1% in q4 '12 on the 3rd quarter results.
WFC holds a 33% market share in mortgage originations, which given the generational low has been a positive for the bank, but there is some thought that mortgage refinancings will stabilize, and thus with credit costs having returned to normal levels, there isn't much juice left in that tank. According to Credit Suisse, WFC's mortgage revenues declined 3% sequentially, while origination volumes increased 2% sequentially.
Frankly, i think the worries about NIM compression and the mortgage business are exaggerated at this point.
With a total of $10.5 billion in total operating fee income in q3 '12, +2% year-over-year, almost 30% of the fee income was trust and investment fees, etc, which should be a positive contributor in q4 '12. In addition, as long as the 10-year Treasury remains reasonably stable, even if mortgage origination slows as fewer mortgages are refi'ed, the banks deposit base (as a source of cheap funds) should aid the institution. Assuming consensus is met for q4 '12, WFC will grow earnings per share 18% in 2012, on 3% revenue growth.
One of the issues acting as a weight on the stock is that earnings per share growth is expected at 8% in 2013, half of this year's growth rate, and then 7% and 7% the next two years.
Thus, analysts are currently projecting slower earnings growth for the mortgage giant. Further NIM compression is expected, but you'd also have to think that anybody with a pulse has refi'ed their current mortgage to a lower rate in the last 3 - 5 years.
In terms of valuation, WFC is looking for $3.62 in earnings per share in 2013, and $3.89 in 2014, for mid to high single digit earnings growth. At 10(x) earnings the stock is modestly undervalued, with the important addition that WFC's less complex business model makes for more stable and less volatile earnings. Our internal model has a $36 valuation on the stock while the Street seems to be in the low $40s area.
If mortgage rates rise, and mortgage originations slow, WFC still has a lot of capital to boost the dividend and repurchase shares.
There seems to be some degree of pessimism in the current share price, but the risk we see to WFC is a white-hot stock market and stronger capital markets, which would pull investor funds in better relative earnings growth plays within the bank sector.
If 2013 is a another slow-growth, below-trend year for the economy and interest rates don't rise too rapidly, the stock should be fine.
As long as that 10-year interest rate remains somewhat stable, WFC should be the "workhorse" relatively-stable, consistent grower it has always been.
A trade above $36 for WFC, and the stock could run a little. The September, 2008 high for WFC was $44 per share.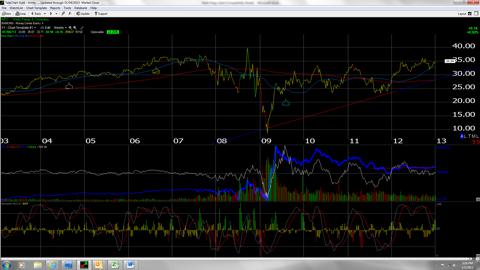 Disclosure: I am long WFC. I wrote this article myself, and it expresses my own opinions. I am not receiving compensation for it (other than from Seeking Alpha). I have no business relationship with any company whose stock is mentioned in this article.