Southern Company (NYSE:SO) remains an excellent holding for conservative income portfolios. Its financial success supports owning shares and accumulating additional shares via a dividend reinvestment plan. I believe the stock is a buy up to $46 per share. The stock currently offers a compelling 4.4% yield.
Click to enlarge images.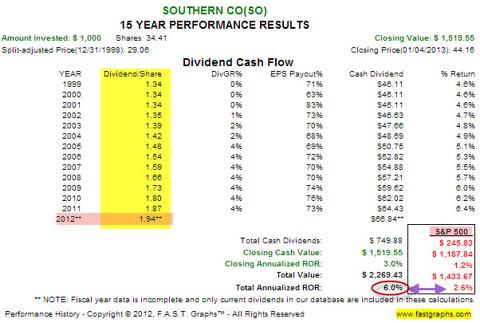 Quarterly Update:
For its third quarter ended Sept. 30, 2012, on a consolidated basis, Southern had retail revenue of $4.4 billion (86.7% of total revenue) and wholesale revenue of $497 million (9.8% of total revenue). Total revenue, including smaller revenue sources, was $5 billion, down 7% from $5.4 billion in the year-ago quarter.
Revenue was down across each line item, as shown in the table below. Revenue was down primarily due to a slackening of demand across all segments, with a 7.2% drop in residential demand and a 2.4% drop in commercial demand. Revenue drops were attributed to milder weather, economic weakness in the U.S. (stemming from the elections and uncertainty over the fiscal cliff), and economic weakness abroad, which likely reduced export levels and related energy consumption.
Operating expenses were down 12.4% to $3.3 billion from $3.8 billion in the year-ago quarter. Operating income was up 5.3% to $1.7 billion.
After deducting interest expenses and dividends to preferred shareholders, net income to common shareholders was $976 million, up 6.6%, with a healthy net margin of 19.3%. Earnings per share rose 4.7% to $1.11, up from $1.06 a year ago. For the quarter, Southern paid a dividend of 49 cents with a payout ratio of 44%, roughly in line with the 45% payout ratio in the year-ago quarter.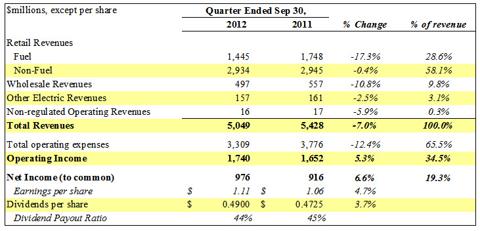 In the quarter, the company sold 44,137 kilowatt-hours (KwH) at the retail level and 8,449 KwH at the wholesale level for a total of 52,586 KwH. That's down 4.9% from the year-ago quarter due to milder weather and economic weakness.

The company's Georgia Power subsidiary had the highest revenues at $2.5 billion, down 10.4%. Alabama Power had operating revenues of $1.6 billion, down 2% from the year-ago quarter. Gulf Power, Mississippi Power, and Southern Power jointly contributed $1.1 billion to operating revenues.

Operating revenue trends were also reflected in net income trends, with Georgia Power contributing $525 million to net income (53.8% of total net income) and Alabama Power contributing $280 million to net income (28.7%).

The quarterly increase in net income was primarily due to a decrease in non-fuel operating expenses, which were partly offset by a net drop in retail revenues. Retail revenue decrease was partly offset by rate increases at Alabama Power, Georgia Power, and Gulf Power. Wholesale revenues were down due to lower customer demand and a reduction in the average price of energy.
Southern ended the quarter with cash and cash equivalents of $1.3 billion, net physical assets valued at $47.3 billion, and total assets of $62 billion, up 4.5% since the beginning of the year. Long-term debt was up 1.7% to $19 billion and stockholders' equity was up 6% to $18.6 billion (roughly half of its market capitalization of $38.2 billion).
Its debt, while high and greater than its equity, is manageable relative to operating cash flow.

For the nine months ended Sept. 30, 2012, Southern reported cash from operating activities of $4 billion, with the largest contribution from depreciation and amortization expenses. This was down from $4.6 billion for the comparable nine-month period of 2011. In the first nine months of 2012, the company spent $3.6 billion on property additions and used a total of $3.8 billion in investing activities. Southern paid down $521 million in notes outstanding and issued $3.1 billion in long-term debt, the same amount as in 2011.
In addition, the company paid down $2.1 billion in long-term debt and used $1.3 billion for dividends. Its debt redemption and dividend payout was higher than in 2011. On the whole, the company used $345 million in cash tied to financing activities. As a result, it reported a net cash decrease of $59 million in the first nine months of 2012 relative to a net cash increase of $1.1 billion in 2011, largely due to higher investments in new plants.

Fuel expenses dropped to $1.5 billion in the third quarter from $1.9 billion in the year-ago quarter. As the tables below show, this was primarily due to a 27.6% decrease in the average cost of natural gas and the company's shift to producing more energy from natural gas plants. Purchased power expenses also declined due to a drop in average cost compared to the year-ago quarter.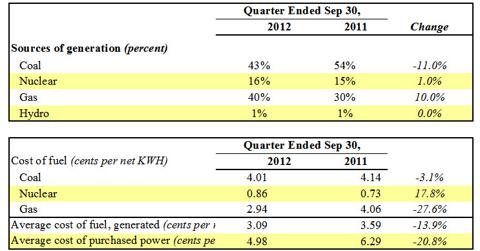 In the quarter, Southern subsidiaries continued to receive high ratings on customer satisfaction and reliability, with continued strong performance at its transmission and distribution networks. Southern's technological move to deploying smart meters also paid off with 40 million fewer miles driven by meter attendants. It now has 4.4 million smart meters deployed, with a pace that's ahead of schedule.
On the expansion front, Southern is on track with the construction of its new Vogtle nuclear power plant and its Ratcliffe plant.
Management:
Southern is headed by Thomas A. Fanning as chairman of the board, president and CEO. His core management council includes 10 senior executives who assist him with centralized operations and as CEOs of subsidiary companies.
Dividends:
Southern has a long history (over 64 years) of regularly paying and increasing quarterly dividends. Over the past 30 years, Southern has never missed a quarterly dividend. In addition, Southern has regularly increased dividends in almost each of the past 40 years.
The company currently pays a quarterly dividend of 49 cents per share ($1.96 annualized). With shares trading at $44.16 as of Jan. 4, 2013, Southern shares have a dividend yield of 4.4%.
Shares:
As of Jan. 4, 2013, Southern shares traded close to the lower end of their 52-week range of $41.75 to $48.15. The company has a market capitalization of $38.6 billion and its shares trade at a price-to-earnings ratio of 17.48 times on annualized earnings per share of $2.53.
Over the years, Southern shares have handily outperformed major market indexes. For example, over the past 30 years, Southern shares have returned 16.3% annualized relative to 11% for the Dow.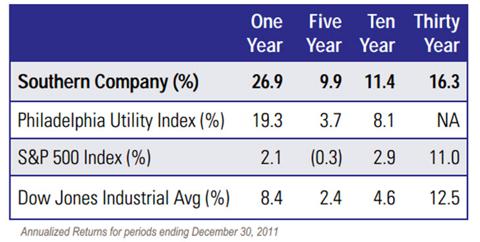 The stock chart below compares Southern's performance to the S&P 500 Index and Nasdaq over the past 30 years, with Southern shares up almost 3,000% compared to a 1,000% increase for the S&P 500.

Southern offers a stock purchase and dividend reinvestment plan where it picks up administration costs, fees, and commissions. Plan investors, however, pay significant commissions when they sell shares.
Business Goals:
Southern's business goals are simple -- to continue its leadership in the electric utility sector as a reliable energy provider to its customers and as a solid investment for its shareholders. Southern strives to stay at the technological forefront of power generation and synergistic businesses (such as fiber optic wholesale). It's the only electric utility in the U.S. that is committed to a full portfolio of new nuclear, coal gasification, natural gas generation, solar energy, and biomass energy production.
Southern Company is one of the largest electricity producers in the U.S. and is ranked 147 on the Fortune 500 list. The company's fully-owned electricity distribution subsidiaries include Alabama Power, Georgia Power, Gulf Power, and Mississippi Power, which collectively serve 120,000 square miles in four southeastern states (Alabama, Florida, Georgia, and Mississippi). Combined, the company has 4.4 million customers and generates over 43,000 megawatts of power from coal, oil and gas, and nuclear sources. Beyond electricity generation and distribution, Southern has fiber optic and wireless communications operations.
The company sells wholesale power through its Southern Power subsidiary. Its other subsidiaries include Southern Nuclear, which manages three nuclear plants in Alabama and Georgia; Southern LINC Wireless, which operates a mobile communications network across an area of 127,000 square miles in the Southeast; and Southern Telecom, which is a fiber optic wholesaler in the Southeast.
Southern and its subsidiaries have been providing electricity to the Southeast for over 100 years. Its retail electricity rates are regulated by federal agencies and state public service commissions, which impact its profit margins from retail operations. Over the years, Southern has developed a strong reputation for excellence in customer service, high reliability and delivering electricity at rates that are well below the national average. Southern had its IPO in 1949 and is headquartered in Atlanta, Ga.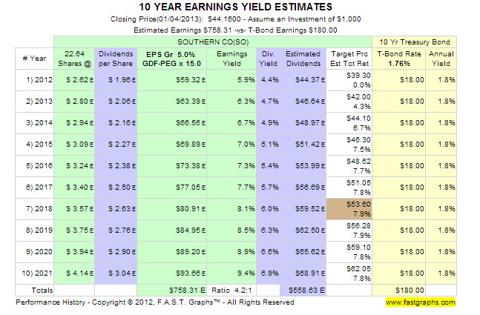 Summary:
Southern Company is a solid franchise with a robust, time-tested business model as a super-regional energy provider serving the Southeast. Its management team has a proven record of delivering operational excellence, high customer satisfaction and excellent shareholder returns, in addition to consistent dividend payments. The company is a large, highly liquid, utility bellwether stock that has consistently delivered strong earnings growth and stock performance. Shares have outperformed the broad market, and appear to have significantly rallied over the past three years, perhaps to levels that may be ripe for correction in the months and year ahead. Southern is an exceptional franchise and remains a core holding for income investors.
Disclosure: I am long SO. I wrote this article myself, and it expresses my own opinions. I am not receiving compensation for it (other than from Seeking Alpha). I have no business relationship with any company whose stock is mentioned in this article.