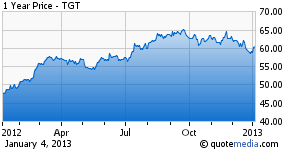 Shares of Target (TGT) have risen 2.4% so far this year on the release of its sales results for the month of December. Investors are relieved that the December sales report indicates that same store sales growth recovered from the poor results in November.
December Sales Results
Target announced that net retail sales for the five weeks ending on December 29, came in at $10.21 billion. Net sales rose 0.8% compared to the year before, as comparable store sales were essentially flat.
CEO and Chairman Gregg Steinhafel commented on the sales results, "December sales were slightly below our expectations, as strong results late in the month did not completely offset softness in the first three weeks. Similar to November, profitability for December benefited from our continued focus on achieving an appropriate balance between price investments and driving sales, combined with thoughtful inventory management. As a result, we expect Target's fourth quarter 2012 earnings per share will meet or somewhat exceed the low end of our prior guidance."
Looking into 2013
For 2013, Target continues to focus on profitably growing its market share by combining unique merchandise, convenience, value and an unbeatable guest experience across our stores, online and mobile channels. The company did not provide any revenue or earnings targets for the year.
Valuation
Target ended its third quarter with $1.5 billion in cash, equivalents and short term investments. The company operates with $18.6 billion in short and long term debt, for a very sizable net debt position of $17.1 billion.
For the first nine months of 2012, Target generated revenues of $49.6 billion. The company net earned $2.0 billion for the period, or $3.06 per diluted share. At this pace, the company could generate annual revenues of $71-$72 billion. The company is on track to earn around $4.50 per share for the year, or roughly $3.0 billion.
The market currently values Target at $39.4 billion. This values the firm at 0.55 times annual revenues and 13-14 times annual earnings.
Target pays a quarterly dividend of $0.36 per share, for an annual dividend yield of 2.4%.
Some Historical Perspective
Shareholders of Target have seen some decent returns in 2012. Shares rose from $49 at the start of the year, reaching highs of $65 in October. Shares fell back slightly on fears of weaker fourth quarter earnings, currently exchanging hands around $60 per share.
Despite the recent weakness, shares remain within sight of all time highs set around $68 in 2007. Shares fell to $25 at the start of 2009, but have more than doubled as retail sales recovered. Between 2008 and 2012, the company increased its annual revenues by roughly 10% from $65.0 billion in 2008 to an estimated $71.5 billion in 2012. Net income grew by a third to an expected $3.0 billion in the meantime. Earnings per share grew even faster, increasing by more than 50% over the past four years, after Target retired roughly 15% of its shares outstanding.
Investment Thesis
While Target's sales results for December are little inspiring, they do show an improvement from the poor results in November when same stores sales fell by 1% on an annual basis.
At the presentation of its third quarter results, the company reiterated that it is on track to generate annual revenues of $100 billion in 2017, on which it could earn $8 per share in that year. The target implies that annual revenues could increase by 6.5% per annum, boosted by same store sales growth, new store openings and the new CityTarget store concept. Earnings per share are expected to grow by approximately 12% per annum over the period.
At the presentation of the third quarter results I saw few triggers to pick up shares at levels around $63 per share. While I applaud the long term growth plans, I am a little concerned about the very sizable net debt position of the firm, currently standing at over $17 billion.
At the moment I reiterate my stance. The poor comparable sales growth for the final quarter of the year implies that earnings will come in at the low end of the guided range. While the long term prospects remain good, I remain on the sidelines given the lack of short term triggers.
Disclosure: I have no positions in any stocks mentioned, and no plans to initiate any positions within the next 72 hours. I wrote this article myself, and it expresses my own opinions. I am not receiving compensation for it (other than from Seeking Alpha). I have no business relationship with any company whose stock is mentioned in this article.