The first week of 2013 was a good one for the stock market. So far we are off to a nice start, and with the January effect a well-documented empirical phenomenon, it's nice to put up a couple of runs in the early innings (at least for those of us who lean bullish).
Economy: The economic news was of course dominated by the "fiscal cliff" resolution (my sincere hope is never to have to say or type that phrase again). Leaving aside the question of whether it actually resolved anything, this was - or should have been - the least surprising development in recent memory. Turning from fiscal to monetary policy, the December FOMC minutes showed differences among committee members over the current QE program, suggesting it may not be open ended after all.
Elsewhere, the December ISM Index came in above 50, and roughly in line with forecasts, while the Service Index came in well ahead. Non-farm payrolls were slightly above expectations, as did hourly earnings. On the less positive side, November factory orders were dead flat - zero point zero percent, but durable goods were up slightly. Overall, more slow growth suggested by the data.
Stocks: The major U.S. equity indexes all posted big advances, getting an early start with a rally on New Year's Eve, as it became apparent there would be a deal in Washington. Gains ranged from under 4% for the Dow Industrials, to nearly 6% for the Russell 2000, which recorded an all-time high. All ten S&P economic sectors were up strongly, with energy and the financials moving better than 5%, while the defensive sectors lagged with gains of less than 4%. Tech was also a relative laggard, as some of the big techs left the party early: shares of Apple (NASDAQ:AAPL) gave back much of their advance, and finished with a gain of only 3.4%, while Microsoft (NASDAQ:MSFT) gave nearly everything back, finishing up less than 1%, and IBM held onto little more than 2%.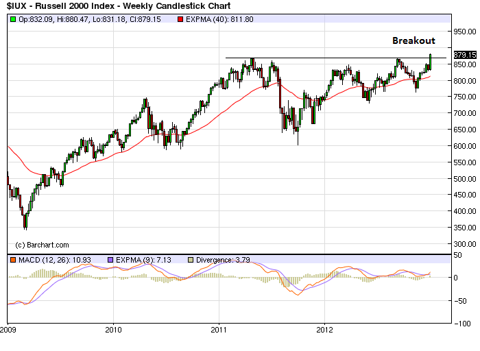 In global markets, all twelve of our major country indexes participated in the rally and posted gains. Several posted new 52 week highs: the UK's FTSE, France's CAC 40, Germany's DAX Composite, and Japan's Nikkei. Not surprisingly, the Morgan Stanley developed markets index also posted a 52 week high, while the emerging markets index came up just short.
We find ourselves not only at the start of a new year, but at the start of another quarter's earnings season as well. Positive earnings reports should help to keep the rally moving. Alcoa (NYSE:AA), as usual, will be the first of the blue chips to report on Tuesday. The market seems to expect a lower revenue number, and Moody's warned of a possible downgrade a few weeks ago, but since that warning the stock has continued to move up off a double bottom at $8, and last week broke through its 200 day moving average. This action suggests a bullish bias in the market, but we'll have to see what develops in the coming weeks. We are long AA as a longer term holding, on the view that management is making the right moves to position the company for renewed profitability.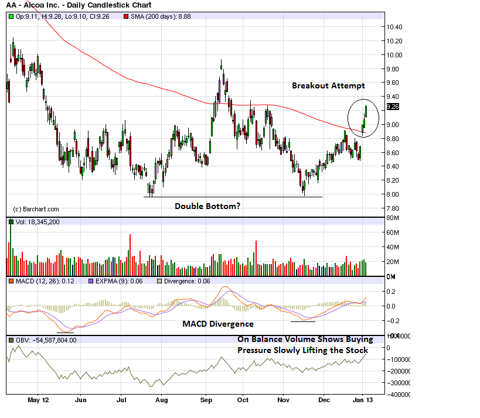 Bonds: Treasury yields made new short term highs, with the ten year note closing above 1.9% and the long bond ending the week above 3%. The five year note closed at its highest level since April. It may have been a shot across the bow for investors in the crowded safe haven trade. The selling also brought down TIPS and investment grade corporates. On the other hand municipal bonds, which corrected sharply in December, were bid up nicely, and junk corporates reached a new high after a sideways consolidation through most of the past month.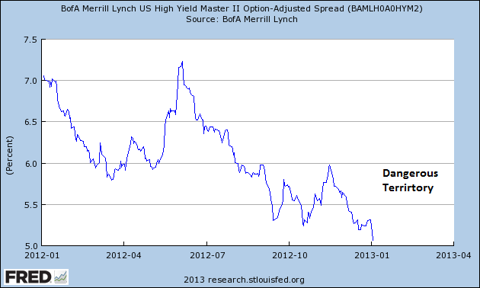 The Treasury/high yield spread reached a new 52 week low at just over 5%. We are invested in junk through HYG in the income portfolio, and for me 5% is a sort of mental barrier. A spread that low tells me junk is priced extraordinarily high. We are in it at much lower prices, and invested for the cash flow, so I'm not that worried, but it should give caution to yield hungry investors who keep piling into junk at these prices.
Commodities: West Texas crude extended its rally into a fourth week and eclipsed the 200 day moving average. Profit taking pushed it down on Friday, but it recovered to close at a new near term high above $93. Natural gas slipped lower but appears to have support at $3.20. Copper also participated in the broad risk rally, but pulled back from its highs.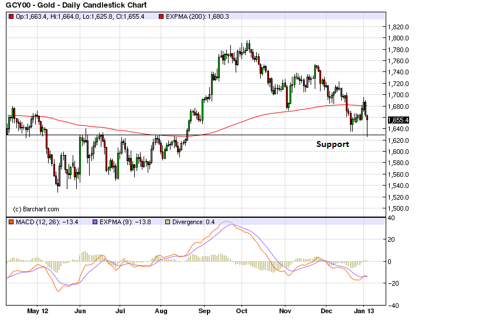 Gold on the other hand was flat on the week. It traded all the way down into the $1,620s on big volume Friday, but recovered most of the loss. Gold looks like it will try to hold support around $1,640, while silver held the close above $30 after trading below $29.50. The grains went to new lows, after both wheat and corn tested their 200 day moving averages from below, and both rejected those marks.
Currencies: The U.S. dollar index moved up after the release of the FOMC minutes, moving back above the resistance level of 80. Not surprisingly, the move coincided with a loss of upward momentum in some stock market sectors and many commodities. The euro pulled back from recent highs but closed above support at $1.30, while sterling held above $1.60. The Aussie and Canadian dollars advanced against the greenback, while yen moved to yet another new low.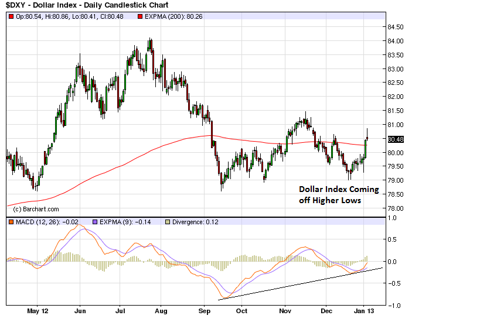 Key Takeaways:
Stocks continue to look attractive: we just saw a new all-time high on the Russell 2000, and new 52 week highs on the financial sector and EAFE indexes
Bonds look unattractive: Treasury yields just broke near term resistance, and high yield spreads are at extreme levels
The dollar index is moving and precious metals are struggling to hold key support levels, but oil appears poised to break out
Disclosure: I am long AA, HYG. I wrote this article myself, and it expresses my own opinions. I am not receiving compensation for it (other than from Seeking Alpha). I have no business relationship with any company whose stock is mentioned in this article.