Qualcomm Inc. (NASDAQ:QCOM) designs, develops, manufactures, and markets digital telecommunications products and services, including developing and licensing wireless technology and manufacturing semiconductors for mobile phones. With the upcoming Consumer Electronics Show, CES, scheduled for January 8-11 in Las Vegas, Qualcomm will take an elevated role at the show. Qualcomm's CEO, Paul Jacobs, will deliver the opening keynote address on Monday night, taking the presentation traditionally held by Microsoft's (NASDAQ:MSFT) CEO, Steve Ballmer. Dr. Jacobs's keynote will highlight Qualcomm's "Born Mobile" theme that addresses mobile technology's role in the world. It is finally the moment for Qualcomm to come forward and become a popular, well-known household name.
Increasing Trend for Smartphones with 5-inch plus Display
The CES show is likely to feature Qualcomm-powered Android phones such as Optimus G2 from LG Electronics Inc., Xperia Z from Sony Corp. (NYSE:SNE), and Grand S from ZTE Group. Taiwan's HTC may also release its new M7 flagship smartphones, which also runs on Qualcomm's Snapdragon processor. China's Huawei Technologies Co. is also expected to release several new "Ascend" models, which could use Qualcomm's mobile chips. As stated by Morgan Stanley (NYSE:MS), "these devices have displays of 5 inches or more, confirming the trend toward larger screens and showing a positive factor for Qualcomm's royalty business." Barclays Plc (NYSE:BCS) forecast that smartphones that are more than 5 inches long will account for 15 percent of total smartphone sales in 2013 and 20 percent in 2015 with an increasing trend, as compared to the current 5 percent.
StreamBoost Wi-Fi Routers
Qualcomm announced the all-new StreamBoost technology, which is designed to revolutionize Internet bandwidth management and is expected to be demonstrated at CES 2013. The StreamBoost technology is designed to "optimize performance and capacity of home networks" by enabling the home router to intelligently manage the broadband connection. Qualcomm says the new technology allots to each connected device and each application the bandwidth it needs, and no more, to ensure the best possible experience on all connected devices. As reported, "StreamBoost is quite different from existing Quality of Service, QoS, technology, available in many routers, that can do a similar thing. StreamBoost tailors the Internet bandwidth to make sure the prioritized application has the exact amount of bandwidth it needs at a given time, Qualcomm says, rather than a percentage of download priority at all times. This results in more bandwidth being left for the rest of the connected devices." StreamBoost can also automatically "learn" over time the Internet-related characteristics of an application and change the way its prioritization works accordingly. It is important as Internet-based applications tend to evolve rapidly. StreamBoost could just be one of the most significant new home-networking features of 2013 if it works out as Qualcomm claims.
Earnings Estimates and EPS Trend
For the quarter ending in December, 2012, analysts are expecting an EPS of $1.12 with revenue of $5.90B for QCOM. The current quarter EPS estimate was increased from $1.00 as estimated 90 days ago. Analysts, on average, are also estimating an EPS of $4.31 with revenue of $23.59B for fiscal 2013. The fiscal 2013 EPS estimate was increased from $4.11 as projected 90 days ago. For fiscal 2014, analysts are predicting an EPS of $4.77 with revenue of $26.14B, which is 10.80% more than fiscal 2013, as seen from the chart below. The next earnings date will be January 29, 2013.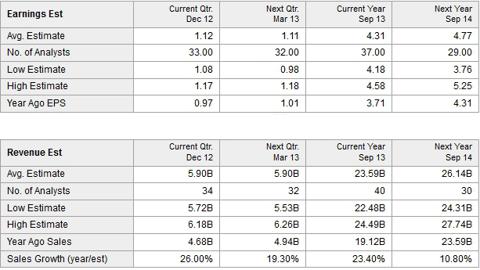 Source: Yahoo! Finance
Key Stats and Valuation
QCOM has an enterprise value of $95.89B with a market cap of $108.21B. QCOM has total cash of $12.37B with an operating cash flow of $6.00B with a levered free cash flow of $4.57B, ttm. By using the data obtained from Morningstar, QCOM's key stats will be compared to its peers in the industry of communication equipment, including Intel Corp (NASDAQ:INTC), Texas Instruments, Inc. (NYSE:TXN) and Broadcom Corporation (BRCM). QCOM has higher revenue growth and EPS growth (3 year average) of 22.4% and 47.7%, as compared to the industry averages of 9.6% and 17.0%, respectively. QCOM has higher operating margin of 29.7%, ttm, and net margin of 32.0%, ttm, comparing to the industry averages of 17.0% and 5.3%, ttm, respectively. QCOM generates higher ROE of 20.2, as compared to the average of 7.3, and QCOM has a zero debt-to-equity, where the industry average is 2.6.
QCOM currently has a P/E of 20.7, which is lower than the industry average of 29.5 and QCOM's 5 year average of 24.3. The P/B of 3.2 and P/S of 5.8 are lower than QCOM's 5 year averages of 3.4 and 6.2, respectively, but higher than the industry averages of 2.1 and 1.6. QCOM has a forward P/E of 13.8, which is lower than S&P 500's average of 14.2 QCOM has a PEG ratio of 1.1.
Technical Analysis
QCOM closed at $63.50 with 1.47% loss on Jan. 4, 2013. The volume of 13.92M was 14.85% more than the 30 day average volume of 12.12M. QCOM had been trading in the range of $53.09-$68.87 in the past 52 weeks. QCOM has a beta of 0.99. The MACD (12, 26, 9) indicator had been showing a bullish sign since Jan. 3. The momentum indicator, RSI (14) is showing a slightly bullish lean at 54.42. QCOM is currently trading above its 50-day MA of $61.62 and 200-day MA of $60.70. The next resistance is $64.57, the R1 pivot point, followed by $67.29, the R2 pivot point, as seen from the chart below.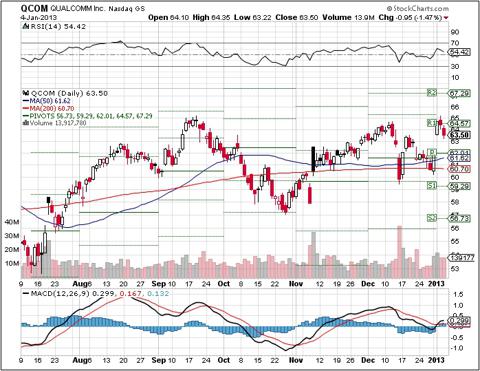 Source: Yahoo! Finance
Options Strategy
QCOM should continue to lead in the wireless communication equipment industry with strong fundamental and growing revenue. For bullish investors, a credit put spread options play will be reviewed, which will allow investors to acquire QCOM stock at a lower price while gaining some upside potential.
Short April 20, 2013 put at the strike price of $57.50 for the credit of $1.32
Buy April 20, 2013 put at the strike price of $55.00 for the cost of $0.84
The maximum profit is $0.48, and the maximum risk/margin requirement is $2.02 ($2.50 loss - $0.48 credit received). If QCOM closes above $57.50 on April 20, 2013, 23.76% return on margin will be gained. If QCOM falls below $57.50 upon options expiration, QCOM stock will be acquired at $57.02, which is 10.20% lower than the current price of $63.50. The projected dividend yield will be 1.75% based on the acquisition cost of $57.02 with projected dividend of $0.25 per quarter.
Note: All prices are quoted from the closing of January 4, 2013 and all calculations are before fees and expenses. Investors and traders are recommended to do their own due diligence and research before making any trading/investing decisions.
Disclosure: I am long INTC. I wrote this article myself, and it expresses my own opinions. I am not receiving compensation for it (other than from Seeking Alpha). I have no business relationship with any company whose stock is mentioned in this article.
Additional disclosure: May initiate a long position in QCOM over the next 72 hours.