All financial information is expressed in Canadian dollars unless otherwise specified.
Pembina Pipeline Corp. (NYSE:PBA) is one of Canada's largest and most diversified energy infrastructure companies. Pembina has a large and integrated asset footprint in western Canada. Due to the growing demand for NGL and crude oil midstream services in that area, Pembina has significant growth potential.
Pembina owns and operates: pipelines that transport conventional and synthetic crude oil and natural gas liquids produced in western Canada; oil sands and heavy oil pipelines; gas gathering and processing facilities, and, an oil and natural gas liquids infrastructure and logistics business. Pembina also offers a spectrum of midstream and marketing services. Pembina also has a pipeline network of 7,850 kilometers, that extends across much of Alberta and British Columbia. 50% of Alberta's conventional crude oil production and 30% of NGL is transported on Pembina's systems.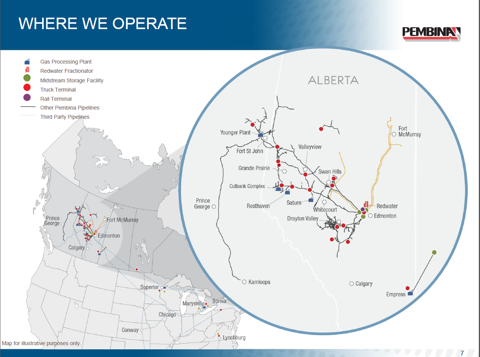 On April 2, 2012, Pembina closed the acquisition of Provident Energy Ltd. (PVX) and began trading on the NYSE. After an initial surge to $30 per share, the stock fell to below $25.00 per share in June. Since then, Pembina has worked its way upwards to the current price of $29.05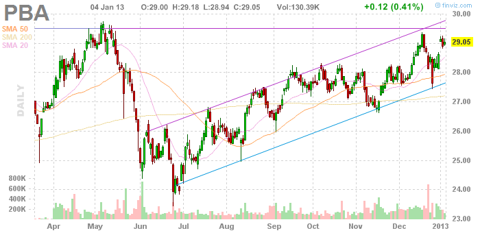 Pembina has been committed to returning value to its shareholders. Since its inception in 2002, Pembina has paid $2.3 billion in dividends. Dividends for Pembina have increased at a 4% CAGR per share since 2002. Pembina has returned an average compound annual return of 17.8% and a total return of 490% since 2002. Pembina currently offers a monthly dividend of $0.135 per share. At current prices, the stock for Pembina yields 5.57%.
Pembina has an inventory of $4 billion of potential projects. The focus for these projects is on increasing fee-for-service and cost-of-service operating margin. By 2016, 80% of operating margin is projected to be fee and service based. For 2013, Pembina has a $1 billion capex program. The 2013 program also focuses on fee-for-service based accretive projects, specifically conventional pipelines and midstream services.
Pembina not only offers a steady monthly yield, but also a play on the growing Canadian energy industry. Pembina does have the some risks tied to the price of natural gas, NGL, and oil. However, these risks are less than they appear, as Pembina income is primarily fee-based.
Source: December 4, 2012 - Investor Day PDF
Disclosure: I have no positions in any stocks mentioned, and no plans to initiate any positions within the next 72 hours. I wrote this article myself, and it expresses my own opinions. I am not receiving compensation for it (other than from Seeking Alpha). I have no business relationship with any company whose stock is mentioned in this article.