Advanced Micro Devices (NYSE:AMD) develops advanced processing units and microprocessors used in a variety of computers, supercomputers and game consoles. Last year was particularly difficult for the company; revenue declined in four consecutive quarters (Dec. 2011 - Sept. 2012,) gross profit fell and net income turned negative.
From 2009 through 2011, AMD performed well, even though research & development expenses were significant. AMD impressed when Titan, a supercomputer made by Cray Inc. (NASDAQ:CRAY) achieved 20 petaflops using AMD processors. A petaflop is approximately 1 quadrillion floating-point operations per second.
Titan is a Cray XK7 supercomputer, which pairs 18,688 Advanced Micro Devices 16-core Opteron 6274 CPUs with 18,688 Nvidia Tesla K20 GPUs (graphics processing units).
In July 2012, AMD received a $12.6M grant from the U.S. government to explore exascale computing, (an exaflop is one quintillion flops.) In fact, the United States is in a race with China to build the fastest supercomputer. The news of Titan's 20 petaflop processing power is exciting; however, AMD has competition.
Though AMD products have brilliant uses, once again the company has fallen into a difficult financial situation. Here are a couple of the company's recently downgraded bonds:
| | | | |
| --- | --- | --- | --- |
| | credit rating | price | yield |
| Advanced Micro Devices Inc Sr Nt 7.75% 2020, Cond Put Change Of Control, Cont Call 08/01/15@103.88, Cond Call, Make Whole Call (cusip: 007903AU1) | B1/BB- | $85.75 | 10.52% |
| Advanced Micro Devices Inc Sr Nt 8.125% 2017, Cond Put Change Of Control, OID(89.80/10.10%), Cont Call 12/15/13@104.06, Cond Call, Make Whole Call (cusip: 007903AR8) | B1/BB- | $93.50 | 9.81% |
These Advanced Micro Devices Corp. bonds have impressive yields; however, they are rated below investment grade for a reason. Let's compare AMD's debt-to-equity ratio with Intel (NASDAQ:INTC), International Business Machines (NYSE:IBM) and Texas Instruments (NYSE:TXN):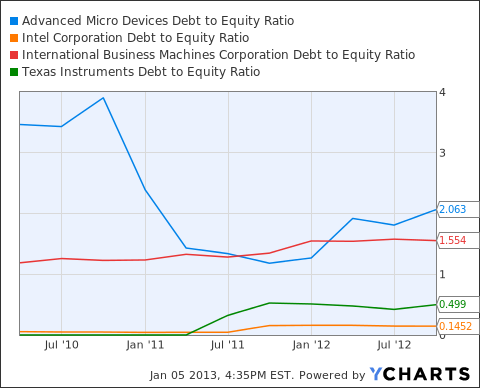 AMD Debt to Equity Ratio data by YCharts
Texas Instruments has $3.6B in cash and $5.6B in debt; Intel has $10.5B in cash and $7.25B in debt, while IBM has $12.3B in cash and $33.6B in debt. Now let's look at their net income [ttm]: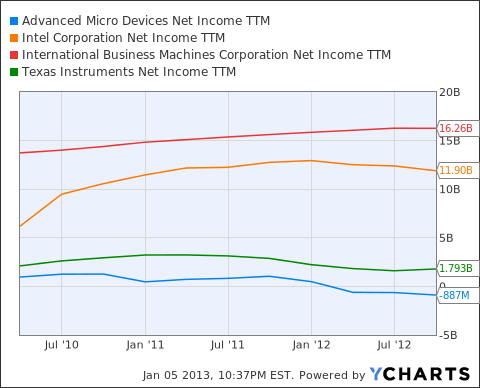 AMD Net Income TTM data by YCharts
AMD's net income and EBITDA are sinking while IBM and Intel are dominating. Take a look at these companies' Altman Z-Scores: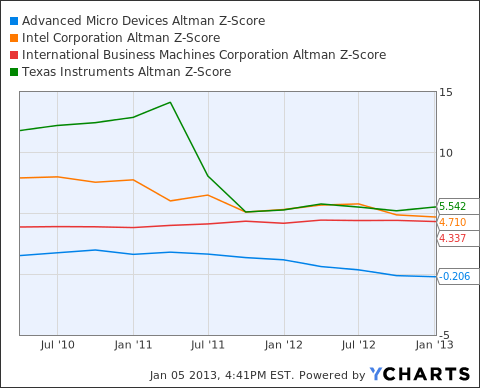 AMD Altman Z-Score data by YCharts
The Altman Z-Score is a formula used to measure risk of bankruptcy. The equation uses a company's working capital, retained earnings, EBITDA, market value and sales; relative to total assets and liabilities. A score above 2.99 is considered to be a safe zone, a score below 1.81 is considered to be a distress zone. AMD is well below the cutoff for the distress zone.
Here are examples of bonds issued by Intel, IBM and Texas Instruments. I will also include Dell, whose Z-score is 2.87:
| | | | |
| --- | --- | --- | --- |
| | credit rating | price | yield |
| Texas Instrs Inc Nt 2.375% 2016, Make Whole Call (cusip: 882508AT1) | A1/A+ | $105.33 | 0.54% |
| Intel Corp Sr Nt 4% 2032, Make Whole Call (cusip: 458140AN0) | A1/A+ | $99.34 | 4.04% |
| International Business Machs Sr Nt 1.875% 2022, Make Whole Call (cusip: 459200HG9) | Aa3/AA- | $95.96 | 2.34% |
| Dell Inc Nt 4.625% 2021, Make Whole Call (cusip: 24702RAQ4) | A2/A- | $110.15 | 3.2% |
These prominent competitors' bonds do not come close to breaking 5%. I hoped Dell might provide a quality alternative, however the 10% premium and 3.2% yield are not overly compelling.
Here is the price chart for the 2017 AMD bonds: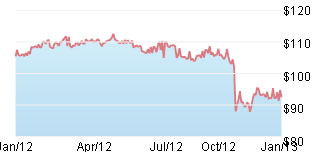 Source: FINRA
Moody's downgraded AMD in October 2012:
Moody's Investors Service lowered Advanced Micro Devices'... corporate family rating to B1 from Ba3, and the ratings on the senior unsecured notes to B1 from Ba3.

The downgrade of the corporate family rating reflects prospects for significantly weaker than expected operating performance over the next year...

Driven by the outlook for operating losses, we expect adjusted debt-to-EBITDA could double over the next year from approximately 4.0 times as of September 2012 (2.7 times at June 2012).
This is one of every bond investor's greatest fears, especially if they are not phasing into their investments (i.e.: buying in increments over a period of time.) Anyone who chased yield and counted on AMD maintaining an investment grade credit rating, found out the hard way a downgrade is swift.
AMD's Changing Guard
The company released SEC paperwork on January 1st announcing a new CFO. The new position includes a pay raise and shares of stock:
...the Board of Directors... approved an increase in Mr. Kumar's annual base salary to $500,000. The Compensation Committee also approved awards to Mr. Kumar consisting of 336,322 restricted stock units and an option to purchase 726,556 shares of the Company's common stock...
AMD also appointed Ahmed Yahia Al Idrissi to its board, he represents Mubadala Development Company. Mr. Yahia is listed as indirectly holding 107M shares of AMD, those are Mubadala's shares. Mubadala Development Company is an extension of the government of Abu Dhabi and has $48.1B in assets and $1.4B annual net income.
Mubadala stepped in early last month to further support AMD, and now owns 19.4%:
Mubadala Development Co. extended its stake in AMD... and took an extra board seat.. making it more likely that the investment arm of the government of Abu Dhabi would bail out the company if cash reserves dipped too low...
My view is that it's nice AMD has a strong backer such as Mubadala, however, success depends on effective and efficient management. To survive in this business a company must create demand for consumer and business products. While AMD powers Titan, it needs to work with companies such as Cray Inc., to sell useful and affordable products.
Talk About Risk
I have never been an AMD investor, though I am impressed by the quality of their products. AMD has kept up with far bigger competitors technologically, and has the ability to delve into exascale computing conceptually. However, I am unimpressed with the company's volatility and failure to maintain profitability.
Institutions unloaded 25.8M shares of AMD stock from the prior quarter to the latest quarter; a 5.7% drop in institutional shares held. This is not unusual compared to recent institutional activity across the tech industry. Though Google (NASDAQ:GOOG) for instance had a 0.08% increase in institutional shares held recently.
On Friday, January 4th, AMD went up 4% or 0.10 cents a share. The company's 52-week low was $1.81, the current 0.78 cent increase represents a 43% gain. The company's next earnings date is January 22nd.
Some companies can recover from a tailspin and many cannot. Nokia (NYSE:NOK) for instance has managed to resurface, though it has considerably more cash in its treasury than debt. Yahoo! (NASDAQ:YHOO) brought in Marissa Meyer, who has worked wonders, again Yahoo! has far more cash. Conversely, AMD has more debt than cash and is losing money quarterly.
Rates Have Tightened
A 10% yield sounds great, however, the height of the market necessitates some safety considerations. For instance, individual bond investment carries a particular dollar to investment ratio compared to a stock investment, or a mutual fund. Additionally, bond prices are moving down from a peak, they easily have around a 7% upside or downside, as the market continues to fluctuate: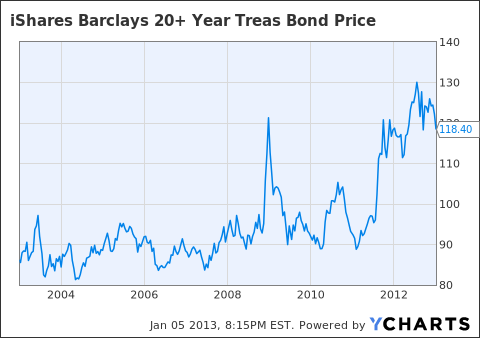 The Fed has linked interest rate increases to a 6.5% unemployment rate. The current unemployment rate is 7.9% and some Fed analysts believe it could take 3 years to reach the goal of 6.5%.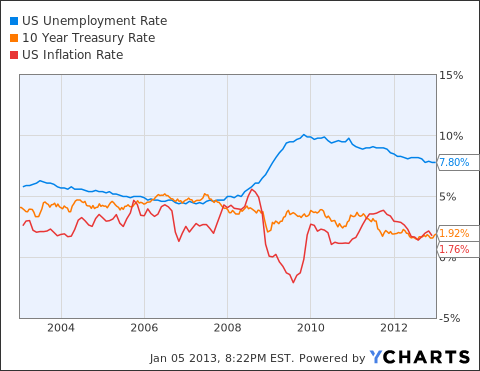 US Unemployment Rate data by YCharts
The last time unemployment was at 6.5%, the 10-year treasury rate was around 4%, the rate is currently 1.9%. In 2008 and 2009, unemployment went from 5% to 10% in a relatively short period. In approximately 3 years, unemployment has gone from 10% to 7.8%, a 22% drop. If unemployment continued to drop 7.3% a year, the rate would hit 6.1% by 2016.
Inflation is zigzagging and the Fed has indicated the unemployment rate is more important:
If unemployment stays too high, officials said they were willing to tolerate inflation of up to 2.5% for a short period as long as it remains close to 2% in the long run.
10% May Be Too Good To Be True
An AMD investor might consider counterpointing AMD stock and bonds with Intel stock and bonds. Additionally, high-yield mutual funds could provide diversification, both Vanguard and T. Rowe's high-yield mutual funds are closed; some funds to consider for this example are:
Keep in mind, since the prices on these funds are high now, it may be best to watch for a better price, or phase into high-yield investments. Here is an example, using AMD, Intel and a mutual fund:
| | | | | |
| --- | --- | --- | --- | --- |
| portfolio size | AMD stock / 2017 AMD 8.125% / 2020 AMD 7.75% | Intel stock / 2032 Intel 4% | Mutual Fund A / Mutual Fund B | total / % |
| $100,000 | $250 / $960 / $900 | $250 / $1,000 | $2,500 / $2,500 | $8,360 / 8.3% |
| $1M | $250 / $1,925 / $1,800 | $250 / $3,000 | $3,000 / $3,000 | $13,225 / 1.3% |
| $4M | $250 / $4,000 / $3,600 | $250 / $5,000 | $5,000 / $5,000 | $23,100 / 0.57% |
While some discerning investors would not bother with AMD, this is the sort of strategy an AMD investor might consider. I would not completely rule out investing in AMD; however, for now, I'm on the sidelines.
If you have any thoughts on AMD's potential for success vs. failure, or this high-yield example, please leave a comment.
Disclosure: I am long INTC, IBM. I wrote this article myself, and it expresses my own opinions. I am not receiving compensation for it (other than from Seeking Alpha). I have no business relationship with any company whose stock is mentioned in this article.
Additional disclosure: I am long American Century, USAA and Janus high-yield mutual funds. This article is not a recommendation to buy or sell. Please consult a financial adviser to determine proper allocations (if any) in any stock, bond or mutual fund.