Introduction
Biotechnology stocks are extremely difficult to read into due to wild price fluctuations. As 2013 dawns upon us, there are both established pharmaceutical companies and a few up and coming companies which have had breakthrough success in their labs. Since information about these companies is readily available for investors to read, I will be focusing more on how to interpret this information, rather than enlighten investors of new developments. Arena Pharmaceuticals (NASDAQ:ARNA), Roche Holdings (OTCQX:RHHBY), Abbot Laboratories (NYSE:ABT) and Orexigen Therapeutics (NASDAQ:OREX) will be analyzed in this article, based on their fundamentals and expected performance.
Tracking Financials
Here are the four companies for our analysis:
| | | | | |
| --- | --- | --- | --- | --- |
| Indicator | | | | |
| Market Cap | $2.0 bil | $179.2 bil | $52.0 bil | $512.3 mil |
| Price/Earnings TTM | - | 19.3 | 8.1 | - |
| Price/Book | 16.7 | 13.7 | 2.0 | 10.0 |
| EPS Growth (3 Yr Avg) | - | 2.4 | -0.2 | - |
| Dividend Yield % | 0.00 | 3.57 | 6.08 | 0.00 |
| Debt/Equity | 0.6 | 1.8 | 0.5 | 0.0 |
| ROE TTM | - | 80.8 | 25.3 | - |
| Current Price | $9.00 | $51.58 | $33.07 | $6.04 |
Data from Morningstar on January 07, 2013
By looking at the current market prices of the stocks under review, OREX and ARNA are clearly the most affordable-- yet unproven-- investments. ARNA and OREX are investing in obesity drug and research with the introduction of their productions BELVEQ and Contrave, respectively. While fundamental metrics are scarce, a lot depends on the first quarter results for ARNA as it will be the first real test for BELVEQ's sales. Analysts estimate a quarterly sale of around $10 million for BELVEQ. Similarly, Orexigen is looking to capitalize on the FDA's approval of two other obesity drugs last summer; the company aims to file for marketing approval of Contrave in late 2013. However, risking investment on the future profitability of ARNA and OREX does not seem to be a calculated decision, since doctors are reluctant to prescribe weight-loss drugs due to their tenuous history.
Meanwhile, Roche and Abbott have also ventured into the weight-loss sector with the drugs Xenical and Meridia. While Meridia was pulled out of the market some time ago, Xenical has had marginal success. The benefit of investing in Roche or Abbott is that they come with the safety net of having largely diverse portfolios; i.e., the success or failure of one drug will not affect their overall profitability as much as it would do in the case of Arena and Orexigen. I am a little uneasy about labeling Roche and Abbott as dividend stocks because of the highly fluctuating nature of the industry, but they do offer high yields for investors, added with a highly profitable and effective management.
Roche in particular has had European Medicines Agency approval for its breast cancer drug, Perjeta. Furthermore, rumors of Illumina's buyout continue to persist, with a deal expected to be struck sometime this month. While the company's high P/E compared to Abbott is a deterrent for investors, Roche's strong drug portfolio and expected continued earnings growth outweigh the possible negatives. An extremely high ROE is also a compliment to the company's efficient management and operations; however, a point of major concern for shareholders is that the heightened debt/equity reading for Roche will surely hold the company down in the long run. Investors should expect growth to offset the effects of debt.
Abbott, on the other hand, recently separated its operations into a separate company by the name of AbbVie (NYSE:ABBV). This spin-off and Abbott itself started the New Year on a positive note: Abbott was greeted with good news as the FDA approved its Xience Xpedition heart stent to be sold immediately in the United States. Abbott's low debt and unmatched yield makes it very attractive for investors looking for a solid bet in 2013.
Stock Performance
The graph below illustrates the stock performance of Arena Pharmaceuticals , Abbott Laboratories and Orexigen Therapeutics over the past 5 years. Furthermore, to put the numbers into perspective, they have also been compared to the S&P 500 and the Dow Jones Industrial Average. The stock performance of Roche Holdings was not available at the time of writing and is not included.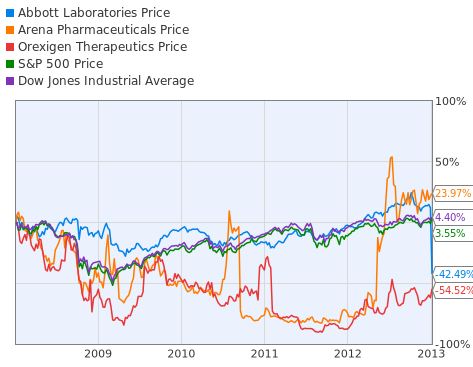 In 2012, the relatively smaller companies ARNA and OREX made significant strides on the stock market. A year on, the prices of the two companies have improved 426.3% and 230.1% on the stock market, respectively. While ABT had been staying well in line with the market trends and growth, its decision to spin-off some of its operations into a separate company has negatively affected the company's price movement on the graph. Based on the incremental improvement in performance for ARNA and OREX, they remain to be prime candidates for investors to be interested in.
Make or Break for Investors
2013 - a new year and a host of opportunities; a conundrum for the average investor. As mentioned earlier, ARNA and OREX have shown unprecedented stock growth over the past year but most of it has been due to speculation and confidence bubble. While concrete results remain to be elusive, an uncertain future provides an equal opportunity for success or failure. I would advise long-term investors to steer clear of these two stocks for the time being, simply because of their untested natures. Perhaps a better time to consider ARNA would be towards the end of Q1 2013, when sales results of BELVEQ are present for analysis. For OREX however, there is a lot more waiting in store because Contrave has not even been approved by the FDA yet and sales of the drug are not expected until the end of 2013. For these reasons, ARNA and OREX are out of the investment picture for now. Short-term gains can be made by following speculator peaks and price volatility, but I do not believe such trading to be worthwhile.
This leaves us with ABT and RHHBY.OB which have assured pipelining and rewarding metrics for investors. Of the two, I prefer ABT due to the spin-off and restructuring of the company which has made it more focused and pronounced. The trend of spinning off and streamlining was more or less initiated by ABT in the pharmaceutical and biotech sector. My opinion regarding it being the right time to buy ABT is supported by analysts at Morningstar as well, where 3/6 analysts provided a buy rating, 1/6 provided outperform and 2/6 gave a hold rating. In the case of Roche Holdings, 3/4 analysts gave a buy rating to the stock and 1/4 preferred to hold the stock. In the case of ARNA, 2/2 analysts preferred to hold the stock and there were no ratings for OREX on Morningstar.
Bottom Line
Secure pipelining and financial sustainability are necessary for future growth in the pharmaceutical and biotechnology industry. Abbott Laboratories provides investors with a unique profiteering opportunity with its current price dip and restructuring, making it more focused and assured for the long term.
Disclosure: I have no positions in any stocks mentioned, and no plans to initiate any positions within the next 72 hours. I wrote this article myself, and it expresses my own opinions. I am not receiving compensation for it (other than from Seeking Alpha). I have no business relationship with any company whose stock is mentioned in this article.