Back in September, one of the big stories was the plunge in iron ore prices to three-year lows around $87/ton. With prices down over 50% from the record high of $191/ton in February 2011, it was natural for bears to loudly project further selling. Bears like Gordon Johnson from Axiom Capital recommended shorting Rio Tinto (NYSE:RIO) with a $30 price target (the stock was double that last week) and set a year-end price target for iron ore at $50-70/ton. There was some additional bearish buzz when the spot price for China Domestic Steel Rebar 25 mm tumbled in November, but prices quickly recovered again in December.
Now iron ore sits around $145/ton. Fortescue Metals Group, a heavily indebted and much maligned Australian iron ore company sharply rebounded from 3 1/2 year lows to close roughly flat for 2012. The swings in the iron ore space served up another lesson about over-chasing momentum. Yet, going forward, it IS time to get more cautious about the months ahead.
Iron ore's comeback has helped stabilize the Reserve Bank of Australia's (RBA) index of commodity prices. The RBA reported for December:
Preliminary estimates for December indicate that the index rose by 0.8 per cent (on a monthly average basis) in SDR terms, after rising by 1.7 per cent in November (revised). The largest contributors to the rise in December were increases in the prices of iron ore, thermal coal and aluminium. Other base metals prices also increased in the month, while the price of gold fell. In Australian dollar terms, the index rose by 0.9 per cent in December.

Over the past year, the index has fallen by 8 per cent in SDR terms. Much of this fall has been due to declines in the price of coking coal. The index has fallen by 11.5 per cent in Australian dollar terms over the past year.
Of course, this stabilization still looks like a blip compared to the on-going drop. The RBA's commodity price index is still at levels last seen in April 2010.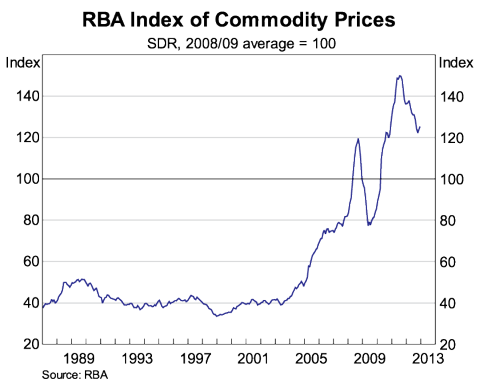 RBA Index of Commodity Prices as of December 2012
Source: Reserve Bank of Australia
The rapid comeback in iron ore motivated Australia's Bureau of Resources and Energy Economics (BREE) in mid-December to slightly increase its 2013 average price forecast from $101/ton to $106/ton. The managing director of BC Iron, an iron ore producer in Western Australia, was recently quoted as claiming $110 to $130/ton is the sustainable range. Either way, the implication is that iron ore has likely reached a short-term peak at current prices. Assuming I am correct, this assessment also means stocks that have soared on the coattails of iron ore's sharp recovery have likely seen their maximum gains for a while.
As a laggard in the group of iron ore related, Cliffs Natural Resources (NYSE:CLF), a metallurgical coal company, looks particularly vulnerable. Even as iron ore recovered last year, CLF sank to a 3-year low at the beginning of December. It belatedly rallied almost 50% from that point. CLF has traded sharply lower since its intraday high on the first trading day of the year.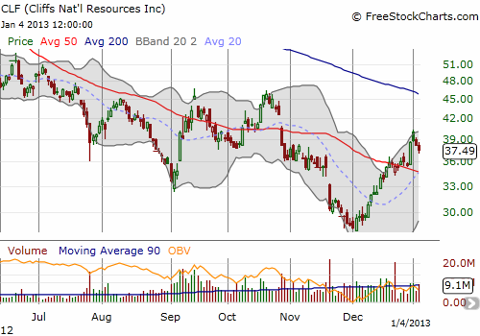 CLF's strong bounce in the last month has not shifted the downtrend as defined by the declining 50 and 200-day moving averages
Source: FreeStockCharts.com
I pinned CLF as a laggard stock in a September piece titled "The QE2 Reference Price Identifies The Strongest Iron Ore And Metallurgical Coal Plays." I picked BHP Biliton Limited (NYSE:BHP) as one of the best overall stocks to hold and Consol Energy (NYSE:CNX) as the best play on metallurgical coal. Since then, I have sold BHP (see "Time To Pare Back Bullish Positions In The Australian Dollar" from mid-December), and I still hold Alpha Natural Resources (ANR), Vale SA (NYSE:VALE), and some call options on CNX. I also own a put spread on CLF.
Here is the performance of the stocks since that piece. For comparison, note that the S&P 500 is exactly flat over this time (albeit at multi-year highs). Each stock is listed with the price at the time of the article and the price performance since then:
Alpha Natural Resources : $8.55 -> +21%
BHP: $72.38 -> +9.8%
VALE: $19.36 -> +8.8%
CNX: $32.82 -> flat
Walter Energy Incorporated (NYSE:WLT): $38.24 -> flat
CLF: $45.55 -> -18%
As expected, CLF has lagged the entire group - in fact, significantly so. I expect this relative under-performance to continue going forward despite the company's alluring dividend yield of 6.5%.
The future of iron ore is of course very important to the Australian economy. It is Australia's biggest commodity export, more than double metallurgical coal, the next highest contributor. The drop in iron prices since 2011 has been a primary factor in driving the Australian dollar (NYSEARCA:FXA) steadily lower from record levels against the U.S. dollar in July 2011. The downtrend since then remains intact and has been marred by extremely steep, episodic declines.
However, last year's plunge in iron prices did not eventually lead to a similar plunge in the Australian dollar. The drop was quite shallow even as the RBA reignited a campaign of rate reductions. This behavior suggests that even as iron ore prices cool and stabilize at lower levels, any related decline in the Australian dollar will not be dramatic. The biggest wildcards for the Australian dollar should be how fast the RBA continues to drop interest rates and the market's response to monetary policy.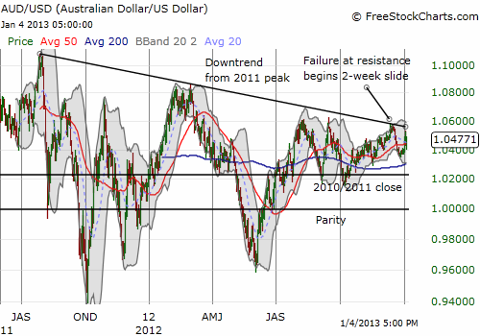 The Australian dollar remains in an overall downtrend marked by periodic plunges
Finally, the Federal Reserve's announcement of QE3 in September could have been used to at least partially explain the sharp recovery in iron ore prices. However, that point also coincided with a peak in the S&P 500 (NYSEARCA:SPY), and the U.S. dollar index has barely budged from its levels in mid-September. In fact, it is slightly UP now in conjunction with the recent Fed minutes suggesting there is stronger than expected disagreement regarding the size and duration of accomodative monetary policy. So it seems safe to assume for the time-being that developments in the U.S. will not provide any tailwinds for iron ore plays.
Having said all this, I have not become an iron ore bear. I just do not want to overstay the welcome in the short-term, so I have pared back related positions. Longer-term, I will continue looking for timely buying opportunities. When I see deals like Chinese company Hanlong Group gaining access to the strategically important Mbalam iron ore mine (between Cameroon and the Republic of Congo) through its acquisition of Australian mining company Sundance Resources, I know the future's eventual longer-term trajectory.
Be careful out there!
Disclosure: I am long VALE. I wrote this article myself, and it expresses my own opinions. I am not receiving compensation for it (other than from Seeking Alpha). I have no business relationship with any company whose stock is mentioned in this article.
Additional disclosure: I am also long CNX calls, long ANR, long CLF put spread, short AUD/USD in forex.