As we head to earnings season, let's look at what has happened in past years EPS progression for the S&P 500 (NYSEARCA:SPY). We have indexed everything to begin on Sep 30 of each year and show the change coming from that starting point.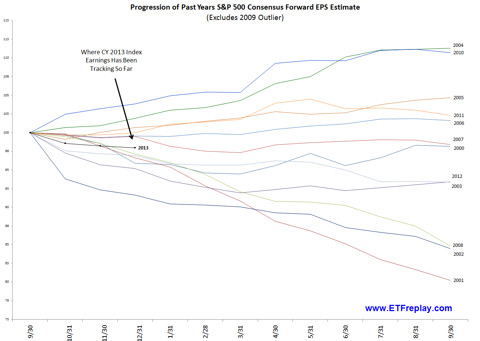 2009 was a massive outlier so we excluded it ---- earnings estimates totally collapsed that year in delayed fashion to the 2008 financial crisis. Stocks that year of course cratered from January to March and then turned hard and ended 2009 with a very big up year. A financial crisis of that magnitude isn't going to happen again anytime soon and it is certainly nothing like the set-up we have coming into 2013.
The point of the above is to show that the relationship between earnings and the stock market should not be taken so confidently. Said another way, the volatility of the P/E multiple dwarfs changes in actual fundamentals (as defined by something like index earnings estimates). Whenever you have something very volatile, it will be hard to make precise sense of it from a pure fundamental basis. Fundamentals are important --- but are good reasons why the market is much more volatile than underlying earnings and this has to due to so many other factors --- including behavioral issues dealing with confidence, fear, greed, missing out etc...
Here is a snapshot of S&P 500 and 2012 earnings overlaid on the same chart to see what happened in the most recent year relative to what are now historical earnings.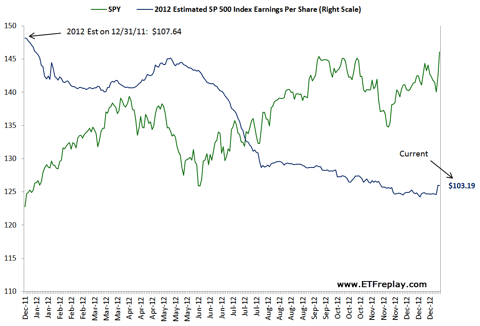 2012 earnings are no longer important as the market trades on future earnings. Most importantly, one should realize that a falling static year estimate is not necessarily bearish.
Disclosure: I have no positions in any stocks mentioned, and no plans to initiate any positions within the next 72 hours. I wrote this article myself, and it expresses my own opinions. I am not receiving compensation for it. I have no business relationship with any company whose stock is mentioned in this article.