by Serkan Unal
In PIMCO's latest investment outlook, its managing director Bill Gross warned investors of a looming inflation threat due to the government's excessive money supply. His concerns about impending rise in inflation, with a particular focus on rising bond yields and their negative effect on bond returns, have been echoed by Goldman Sachs (NYSE:GS) strategists who view dividend stocks as a viable alternative to fixed-income government securities in an inflationary environment. Indeed, in periods of rising inflation, fixed-income bonds and Treasury notes tend to produce negative returns. Instead, dividend stocks of some energy, consumer staples, healthcare, and materials stocks-representing businesses with sustainable pricing power-can serve as inflation hedges. High-yield dividend growth stocks are particularly attractive.
While Goldman Sachs singles out Bristol-Myers Squibb Company (NYSE:BMY), Lorillard (NYSE:LO), Verizon Communications (NYSE:VZ), and Duke Energy (NYSE:DUK) as some of the best dividend plays for inflation, there are several other high-yielding dividend payers with inflation-beating yields, strong pricing power, abundant cash flows, and dividend growth. The table below lists seven high-yield dividend growth stocks and MLPs that can provide a margin of safety in an inflationary environment.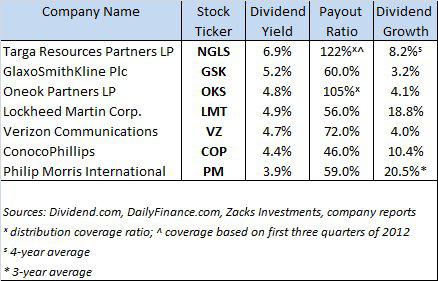 Targa Resources Partners LP (NYSE:NGLS) is a midstream natural gas and NGL services provider. This high-yield MLP forecasts strong distribution growth for the next few years. Targa Resources announced plans to boost distributions by 10% to 12% in 2013. The MLP also has the ability and willingness to continue raising distributions beyond 2013, as organic growth and distributable cash flow get a lift from the new production capacity in 2013 and 2014. The MLP has robust income flows from high-quality assets and solid balance sheet with ample liquidity. Still, given the relatively low short-term target distribution coverage ratio of 1.0x, its distributions could be at risk in case commodity prices plunge well below the partnership's estimates. NGLS, which does not have a major following among hedge funds, is priced at 9.2x its trailing distributable cash flow.
GlaxoSmithKline (NYSE:GSK), a diversified U.K. pharmaceutical giant, pays a high yield and boasts dividend growth above the rate of inflation. Although the company faces stronger competition from generics due to patent expirations on several drugs, including its blockbuster asthma drug Advair, GSK's long-term EPS growth forecast is more robust than that of its peers, averaging 6.2% annually for the next five years. Through 2014, the company will complete clinical trials for a number of its new medications, which bodes well for its future growth. Its acquisition of Human Genome Sciences in 2012 will also be supportive of long-term growth prospects. The stock is trading at 13.8x trailing and 11.5x forward earnings. It has a high ROE of 73% and is one of Warren Buffett's holdings (see Warren Buffett's top stock picks).
Oneok Partners (NYSE:OKS), a natural gas pipelines owner and operator, is a high-yield MLP poised for strong distribution growth. Given the robust increase in natural gas pipeline volumes and Oneok Partners' increasing capacity through 2014, the MLP plans to hike its distributions by between 10% and 15% annually through 2015. This comes on top of the MLP's 33% cumulative increase in distributions since 2010. OKS is priced at 12.2x and 11.1x its 2012 and 2013 midpoint distributable cash flows, respectively. RenTech's Jim Simons has a small OKS stake.
Lockheed Martin (NYSE:LMT), an aerospace company, is set to achieve above-inflation long-term EPS growth despite the cuts in the defense budget. Given that the sequestration process has been averted, this largest U.S. contractor will see long-term EPS CAGR of 6.4% annually, about the same as over the past five years. Its high yield, robust dividend growth, and reasonable payout ratio that allows for future dividend hikes, make it a solid inflation hedge. Recently, the company secured a slew of new contracts, including a $3.7-billion deal for F-35 fighter jets, PAC-3 missiles, and unmanned aerial vehicles. LMT is priced at below-industry 10.7x trailing and 11.8x forward earnings. Value investor Jean Marie Eveillard's First Eagle Investment is bullish about this stock.
Verizon Communications (VZ) , a U.S. telecom behemoth, pays the second-highest dividend yield in the DJIA. The company's dividend as a share of its trailing free cash flow is low at 41%. This makes it more attractive than its rival AT&T (NYSE:T), which has a higher yield of 5.1% but a much higher payout ratio of 62% of trailing free cash flow. Verizon's free cash flow is projected to increase 29% in 2013 and 14% in 2014, while AT&T's will grow meagerly by 2.4% this year and 1.1% next year, according to WSJ's citing of Macquarie's analysts. This may prompt Verizon to boost dividends by above-average rates this year and next. Verizon's forward P/E is 16.1x, with a PEG of 0.9, versus 14.2x for AT&T, with a PEG of 1.1. Fund manager John A. Levin (Levin Capital Strategies) is Verizon's great fan.
ConocoPhillips (NYSE:COP), an integrated energy company, has a winning combination of above-average yield and dividend growth in its industry. It also has more room for dividend growth. The company is undergoing a repositioning that aims to improve its balance sheet and growth capacity. COP is using the proceeds from the sale of its assets to increase North American production so as to achieve long-term annual growth of 3% to 5% on both volumes and margins and to secure better cash flow generation. This bodes well for its dividend growth in the future. An additional positive feature is the company's rich stock buyback program. COP's forward P/E of 10.3x compares to 11.2x for Exxon Mobil (NYSE:XOM) and 9.0x for Chevron (NYSE:CVX). The stock is another of Warren Buffett's holdings.
Philip Morris International (NYSE:PM) has excellent pricing power, given the addictive nature of its main products, cigarettes, and its unquestionable brand power. Despite regulatory and litigation risks, the company has been growing robustly, and is set to expand its EPS by 10% annually for the next five years. The company has been investor friendly, expressing commitment to boost shareholder value through dividend hikes. Its payout ratio, which is below those of its peers, and robust EPS expansion, driven by emerging-market growth, will help PM continue to hike dividends. The company has exceptional ROE and trades at 16.9x trailing and 15.2x forward earnings. Several high-profile fund managers hold large stakes in Philip Morris.
Disclosure: I have no positions in any stocks mentioned, and no plans to initiate any positions within the next 72 hours.
Business relationship disclosure: Dividendinvestr is a team of analysts. This article was written by Serkan Unal, one of our writers. We did not receive compensation for this article (other than from Seeking Alpha), and we have no business relationship with any company whose stock is mentioned in this article.