By Michael Rawson, CFA
Exchange-traded fund flows reached a record $191 billion in 2012, surpassing the $169 billion flow in 2008. Unlike that year, which was dominated by strong flows into U.S. stock ETFs, 2012 saw record flows into international, fixed-income, and sector stock ETFs. Flows were pushed past the record by a strong showing of $37.7 billion in flows for the month of December.
Strong flows and market appreciation allowed total assets in U.S. ETFs to hit $1.35 trillion. ETFs now account for 13% of total ETF and mutual fund assets, excluding money market funds. ETF assets have more than doubled since the end of 2008, in part due to particularly strong flows into fixed-income ETFs. Taxable bond ETF assets hit $225 billion up from $53 billion four years ago.
After two years of trailing Vanguard, iShares took back the fund flows crown with nearly $61 billion in 2012 flows. Vanguard, which offers a series of low-priced, portfolio building-block ETFs has consistently gained market share, from 7% five years ago to 18% today. Meanwhile, iShares has seen its market share drop from 53% five years ago to 41% today. In response, the firm launched a new strategy in October that centers on a "core" series of low-priced, portfolio building-block ETFs. The launch was accompanied by an aggressive global marketing campaign. In absolute numbers, the 10 "core" ETFs represent less than 4% of iShares' lineup of 280 U.S. funds. However, after the October announcement, these 10 ETFs have accounted for more than 25% of the firm's total net inflows.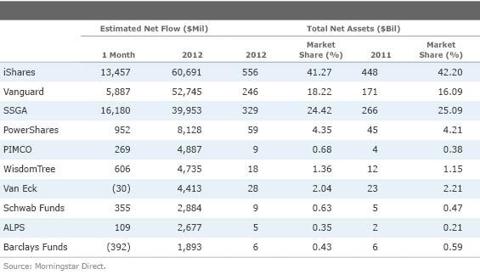 SPDR S&P 500 ETF (NYSEARCA:SPY) brought in more new cash than any other ETF, with $20 billion in flows, most of which came in December. Due its hyper-liquidity and the ability to trade SPY at low costs, traders tend to use it to rapidly place market bets, so flows into SPY are a good barometer of market sentiment.
PIMCO Total Return ETF (NYSEARCA:BOND) was the most successful new launch of the year, gathering just shy of $4 billion in flows. It is closely watched by the industry because it is the largest active ETF and has an expense ratio that undercuts the cheapest retail share class of the PIMCO Total Return (PTTRX) mutual fund.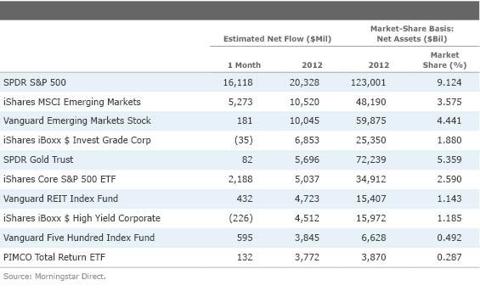 Disclosure: Morningstar, Inc. licenses its indexes to institutions for a variety of reasons, including the creation of investment products and the benchmarking of existing products. When licensing indexes for the creation or benchmarking of investment products, Morningstar receives fees that are mainly based on fund assets under management. As of Sept. 30, 2012, AlphaPro Management, BlackRock Asset Management, First Asset, First Trust, Invesco, Merrill Lynch, Northern Trust, Nuveen, and Van Eck license one or more Morningstar indexes for this purpose. These investment products are not sponsored, issued, marketed, or sold by Morningstar. Morningstar does not make any representation regarding the advisability of investing in any investment product based on or benchmarked against a Morningstar index.