Futures are lower this morning in the US, but only marginally so. We had a strong week last week which has put us at 5-year highs and within range of taking out technical levels which could propel us even higher. We have tried to point out just how many stocks are at new 52-week highs or even all-time highs in recent weeks to drive home the point of just how healthy markets have been even with the fiscal cliff issues. This will be something to continue to watch, especially for those who are in the same boat as us and believe that we are going to head higher in 2013.
We have no economic news due out today, but will have news starting Tuesday.
Asian markets finished mixed today:
All Ordinaries - down 0.10%
Shanghai Composite - up 0.37%
Nikkei 225 - down 0.83%
NZSE 50 - up 0.24%
Seoul Composite - down 0.03%
In Europe markets are lower this morning:
CAC 40 - down 0.63%
DAX - down 0.43%
FTSE 100 - up 0.50%
OSE - down 0.10%
Airlines
One can say a lot about the airline industry and the transformation it has undergone over the past few years via bankruptcies and mergers. What has happened over the past 12-24 months is precisely what should have happened over the past 12-24 years but bankruptcy law and foolish lending allowed for too much capacity and far too many players which served to create the problems which have only recently begun to be solved. Doing some of our research this weekend, we noticed that US Airways (LCC), Delta Air Lines (NYSE:DAL) and Southwest Airlines (NYSE:LUV) were all at 52-week highs with both Delta and US Airways essentially trading at two-year highs.
It is obvious that Southwest does not have the advantages that it once had on the rest of the industry with the recent consolidations and restructurings but Delta has made some interesting moves in the last year which has really changed investors' opinions on the company. Delta has done some very savvy deals recently and the hedging of their fuel costs could serve as a huge competitive advantage moving forward, just as Southwest's fuel hedging program served them well a few years ago. Although this group has been strong recently, we decided to create this chart to show how weak they have been relative to the rest of the market over the past two years.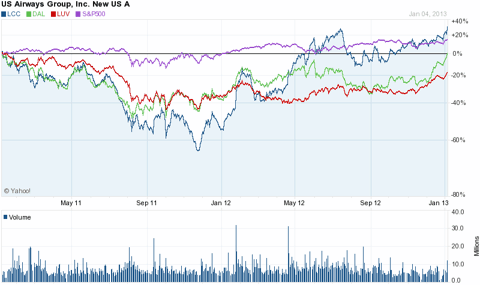 Chart courtesy of Yahoo Finance.
Yes, that is correct. Only US Airways has outpaced the S&P 500 over the past two years, with both Delta and Southwest trailing the benchmark.
Railroads
Last week, we discussed car sales and how the turnaround in that sector has helped the manufacturers. This morning, we want to look at how that is going to help other sectors of the economy and in doing so, we thought we would look at the railroads, specifically Union Pacific (NYSE:UNP). This has been one of our favorite blue chips for since the days when we were a child and one of our mother's best friends from her childhood would always send us a Union Pacific Christmas ornament. Many of the railroads took a pounding earlier this year on the back of falling coal shipments, but Union Pacific has remained strong and hit a new 52-week high on Friday. This was also a new all-time high as well which seems to us to be further evidence of the economic expansion we have been talking about for 2013 for the last two quarters.
Railroads ship a lot of vehicles across the country and this is one of their big businesses (along with coal, chemicals and other commodities). If vehicle consumption can get back to pre-2008 levels and a rebound in coal shipments takes place, we could see pricing power return in a big way and profits moving up nicely across the board. With the growth in the chemicals and oil segments making 2012 a solid shipping year, we are not that far off from the highs in total goods shipped of years past.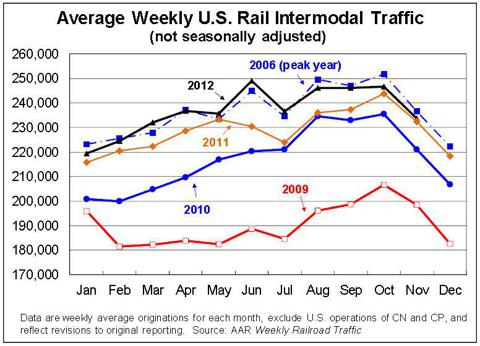 Chart courtesy of calculatedriskblog.com
Banking
Regions Financial (NYSE:RF) has sprung back to life after crossing over the $7/share threshold. The fiscal cliff deal has brightened the prospects for the entire industry and the next year should provide a nice window for the banks to make outsized profits before we see the Fed either forced to tighten or at the very least adjust their outlook and announce that they may need to tighten in order to fight inflation. It is not a matter of if, but when they will need to re-posture because with all of the easing we have seen over the past few years, it is only a matter of time before that excess liquidity begins to pick up velocity and really light a fire under the economy. As we have said before, we expect banks with large footprints and mortgage lending departments to do well as well as those in the south eastern United States. Long-time readers will remember that we still have that ½ position left over from an earlier trade during a recommendation, per our notes, and we might actually look at trading that out in the near future to another name. At this point it is but an idea, although something we are looking at closely as lending should pick up in the near future within the industry.
Disclosure: I have no positions in any stocks mentioned, and no plans to initiate any positions within the next 72 hours. I wrote this article myself, and it expresses my own opinions. I am not receiving compensation for it (other than from Seeking Alpha). I have no business relationship with any company whose stock is mentioned in this article.