We continue to be bullish on commodities at these levels and believe that we should see a turnaround in gold and silver prices. Silver looks especially attractive at $30/ounce for those believing that 2013 is going to be a good year for economic growth. Our view is that we could see another leg up in silver and could potentially test the all-time highs (in dollar terms) over the next 12-24 months.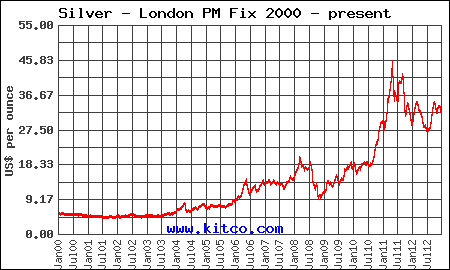 Chart courtesy of Kitco.com
Commodity prices this morning are as follows:
Gold: $1653.00/ounce up by $4.10/ounce
Silver: $30.07/0unce up by $0.124/ounce
Oil: $92.62/barrel down by $o.47/barrel
RBOB Gas: $2.7459/gallon down by $0.0184/gallon
Natural Gas: $3.233/MMbtu up by $0.036/MMbtu
Oil & Natural Gas
We had a reader ask us to write up the news on Harvest Natural Resources (NYSE:HNR) on Friday, and although it was already on the list we just wanted to point out to readers that if there is something that catches your eye, by all means send us a note.
Friday's news on Harvest Natural was intriguing as the company announced another discovery offshore of Gabon (on the West African coast). To be sure, this is an oil discovery we are discussing, but further follow-up work will be needed to quantify how large of a find this is. Not a lot of information was provided in the release, but what we do know is that the well is located offshore in water that is 380 feet deep and the company drilled to a depth of 11,260 feet. Harvest Natural Resources holds a 66.667% stake in the project where this well was drilled. Click here to read the entire press release. The news sent shares higher by $1.04 (11.29%) to close at $10.25 which was a new 52-week high.
Due to the holiday season a lot of data was late in being released last week, including the oil and natural gas inventory numbers. On Friday we got the news on natural gas supplies, which according to the EIA fell by some 135 billion cubic feet, or bcf. This pushed natural gas prices up by 2.5% and had investors pushing names like Chesapeake Energy (NYSE:CHK) higher. Chesapeake rose $0.68 (4.05%) to close at $17.45/share on the back of this news but we think if you are an investor in Chesapeake it is not to play a recovery in natural gas prices but rather to play their transformation to a more 'oily' play.
Yes, natural gas prices moving higher would rally shares, but we have already covered why we think that will be a tall order in the near future and would rather investors look at the NGL and oil growth as a way to value the shares rather than the hope of dry natural gas economics changing.
We found this article (located here) over the weekend discussing how India may be ready to move to allow their natural gas prices to rise dramatically in order to encourage domestic production from offshore areas and cut down on the expensive imports they have been dealing with over the past few years. We have been bulls for the international names in dry natural gas and LNG players as that market is totally different from US domestic producers who are dealing with a glut of epic proportions.
This move will, however, lower India's dependence on imports in the future should the legislation pass which would have an effect on a name like Royal Dutch Shell (NYSE:RDS.B) which has a lot of exposure to natural gas production in Asia with a lot of effort going to producing the resource to export to areas like Japan, China, South Korea and India.
This could also force margins down at names like Cheniere Energy (NYSEMKT:LNG) which are focused on the European market at this time as the big Gulf players shift their focus towards Europe for excess gas supplies. We have seen a lot of capital directed towards LNG exports by the Gulf producers and recent deals have been directed towards the Mediterranean and Atlantic and away from Asia. Turkey is already an LNG exporter hub of sorts, and is seeking a Gulf partner to add a third terminal. According to recent reports (see here) Qatar could be that partner.
Shippers
Friday saw dry bulk shippers rally sharply higher after analysts came out and stated that the dry bulk index will rise by roughly 20% in 2013. In recent years new, larger ships were brought online to replace older, smaller ships which were near the end of their life cycles and this coupled with the order of extra new ships on the belief that continued growth in demand would require an even larger fleet worked to drive down shipping rates as there were far too many shippers with excess capacity.
This excess capacity and the need of the shippers to create some type of revenue streams to service their debt worked to drive down rates to rock bottom prices and forced many names to issue shares to stay afloat. These names used to be attractive to play economic rebounds, but no more. Their share structures were blown up with all of the secondaries and even if the index were to reach old highs the shares of shippers would fall way short of their old highs.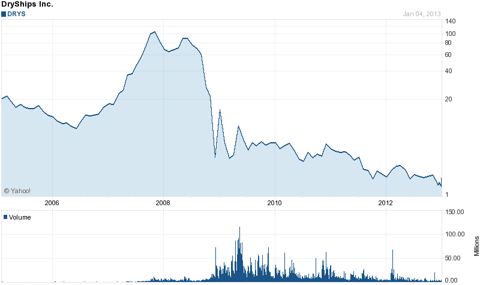 Chart coutesy of Yahoo Finance.
With that said, DryShips (NASDAQ:DRYS) was one of the best performers on Friday as shares rose $0.44 (25.43%) to close at $2.17/share on volume of 28.2 million shares. This used to be our favorite way to play the sector but no more. Yes, it will do fine should the sector do well, but the company was forced to issue shares quite a few times in order to stay afloat in those lean years and they lost a lot of confidence by their moves to venture outside of their bread and butter.
Disclosure: I have no positions in any stocks mentioned, and no plans to initiate any positions within the next 72 hours. I wrote this article myself, and it expresses my own opinions. I am not receiving compensation for it (other than from Seeking Alpha). I have no business relationship with any company whose stock is mentioned in this article.