Fundamental research by IIR Group indicates a 25% upside in Telecom Argentina's Class B common stock in a 6 - 24 month perspective. The target price for the company's ADR (NYSE: TEO) is set at US$10.10, reflecting a 18.82% upside. IIR's outlook for TEO is broadly positive based on the healthy top-line growth reported for 2008, and expectations of higher future revenues from wireless services. The wireless market is expected to grow on basis of higher usage as a result of lower tarriffs. According to consultancy firm Frost & Sullivan, the WiMax customer base is expected to grow at a CAGR 97.7% from 2006 to 2012.

The competitive situation, with only two major telecom players present in Argentina, puts TEO in a position to capitalize on the opportunities in the WiMax market.

Moreover, IIR reports TEO is planning to form an agreement with regulators to offer licenses for for triple-play services (internet, TV and phone). On the downside, increased expenses for promotional activity, promotion and branding, is expected to put margins under pressure.

"Recent nationalization of ten pension funds in Argentina will increase liquidity risk and dampen investor perception of Argentina due to increased funding cost," IIR reports. This could present a significant risk.

Inca Invest Commentary

For the nine months ending September 30, 2008, TEO reported net revenues at AR$7.79 billion, which equals US$2.25 billion at AR$3.46/USD. This was a 20% improvement compared to the same period 2007.

Total cellular subscribers were reported at 13.7 million (+18%), and broadband subscribers 976.000 (+44%). Argentina has a total population of 40.5 million.

Net income for 9M '08 reached AR$831 million (US$240 million), a 35% improvement from the AR$614 million reported for 9M '07.

The company's financial position show the following key ratios:
| | |
| --- | --- |
| Market Cap (mln USD) | 1.655 |
| Book-to-Market ratio | 0.70 |
| EV/EBITDA | 2.78 |
| Current Ratio | 0.83 |
| Quick Ratio (Acid Test) | 0.83 |
| Debt Ratio | 0.59 |
| Debt-to-Equity Ratio | 1.42 |
| ROA | 0.09 |
| ROE | 0.22 |

Technically, the ADR has been testing new territory as it made a new high on November 25. We now see primary support in the 7.0 area, with resistance at 11.0, reflecting the trading range in September-October.
click to enlarge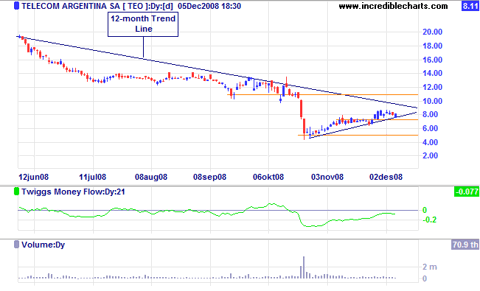 The ADR began trading in a pennant formation in late October, and is trading at lower volums as a break-out approaches. The long term trend is still negative, thus a break-out to the downside is not unlikely. Negative Money Flow confirms selling pressure, and supports a negative outlook.

Telecom Argentina's latest interim statements can be found in our download section.