After watching Jen Hsun Huang's CES keynote, something became extremely clear to me: Nvidia (NASDAQ:NVDA) is exciting to the masses again! While many investors were quite pleased with the dividend as well as the record revenues the company saw last quarter, the stock has been in a bit of a slump. Despite having record revenues in the most recent quarter and issuing a dividend, the street was disappointed with the guided sequential decline for Q4 (albeit still up Y/Y).
Well, the excitement's back, and after what the company showed at CES, it seems that the growth engine is at full throttle. I expected that this would be the case, which is why I recommended buying shares of Nvidia going into CES when the stock traded at $12.10/share, a solid 9% gain. It is still a buy on any decent sized pullback from here at the $13.15/share level as I believe upside to the $15 - $16 level is not unrealistic in the near to medium term.
Tegra 4: A Strong Mobile Competitor
The Tegra 3 was a chip that, despite its technical warts, found homes in many of the most popular non-Apple (NASDAQ:AAPL) tablets. The Google (NASDAQ:GOOG) Nexus 7, the Microsoft (NASDAQ:MSFT) Surface RT, and the ASUS Transformer Prime were all powered by Nvidia's little chip. However, it was really starting to look long in the tooth. Intel (NASDAQ:INTC) was using the Tegra 3 as its whipping-boy to promote its "Clover Trail" Atom processor and Qualcomm's (NASDAQ:QCOM) latest offerings continue to garner critical praise.
With the Tegra 4, Nvidia packs 72 custom "GeForce" GPU cores as well as four ARM (NASDAQ:ARMH) Cortex A15 processors. The A15 is widely regarded as the fastest mobile processor core available, so implementing these will give Nvidia a nice performance edge over the competition. The question, though, is how the Tegra 4 will stack up when it comes to power consumption. The latest tests from Anandtech show that the Cortex A15 -- even in a dual core configuration -- burns a lot of power.
The good news is that Tegra 4 will likely be a champion performer in tablets, but the bad news is that in order to get into all but the most power-hungry phones, it will need a different system-on-chip. Nvidia is developing such a chip codenamed "Grey", but it likely won't be released until 2H 2013 - 1H 2014. Until then, Nvidia's major mobile play will be in the Android and Windows RT tablet space.
GeForce Experience: It's The Little Things That Count
Many of my readers have criticized me for being so bullish on Nvidia's GPU prospects and so negative on AMD's (NYSE:AMD). I am fully aware that on the hardware side, AMD produces a good chip, but that is NOT enough. Nvidia makes good hardware as well, but in addition it provides a lot of little "perks" and features that users just don't get from the AMD products. It's the whole "user experience" thing that has made Apple's iPhone the gold standard in the phone space, even if it hasn't always had the best hardware inside.
How does a similar argument apply to Nvidia? Well, the company just announced a tool called "GeForce Experience". The premise is simple: the software detects your hardware and if you're using an Nvidia GPU, it will automatically determine the optimal graphical settings for the game to maximize image quality subject to the constraint of smooth performance.
Will this tool be useful to the hardcore enthusiasts who like to do this stuff manually? Nope, but it makes things a lot easier for the mass of gamers that don't want to deal with learning what "anisotropic filtering" is. It's the little things like this that helps Nvidia solidify its image and brand equity with gamers and keep taking market share. To remind my readers that this is a very real phenomenon, I now show this graph that I seem to be using quite frequently: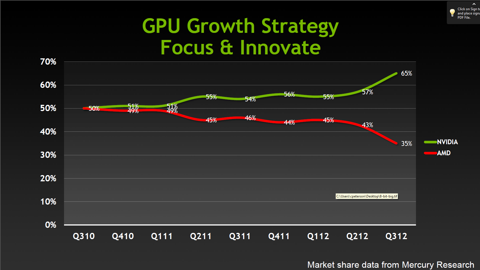 GeForce GRID: Bringing PC Power To Mobile Devices
One of the neater things that Nvidia is talking up is its technology known as GeForce GRID. The idea is pretty simple: if you don't have a super fast gaming laptop or desktop with a top-notch GPU (or two...) but still want to play a high end game, why not do all of the heavy lifting on the cloud?
Of course there are myriad technical challenges to be overcome in order for this technology to be viable. Just ask anybody who has tried to play a game using "OnLive" just how "fun" that experience was. However, I am confident that if any company can do it, Nvidia can.
Project Shield: The Final Nail In Nintendo's Coffin
The world of handheld gaming devices has been beaten to a pulp as smartphones and tablets have become the mainstream portable gaming devices of choice. Why buy a separate handheld gaming device when your standard Android or iOS phone or tablet will run a myriad of inexpensive and well made games?
Nvidia's doing something really interesting with its "Project Shield", which is an Android-based handheld gaming platform powered by Tegra 4: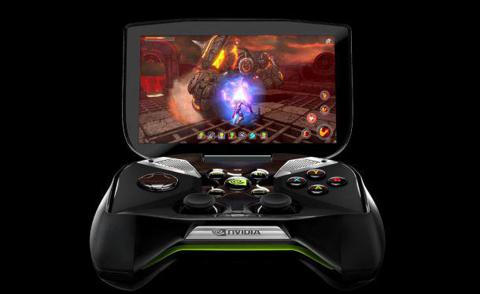 The differentiating features of this device are as follows:
It is running Android, rather than a dedicated game-OS, so it can function as a more general purpose device.
It can stream PC games from Valve's "Steam" gaming platforms for play on the device
It has HDMI output, so games can be played on a full size monitor or TV, giving a "console like" experience
It is powered by a very fast system-on-chip, even compared to the dedicated handeld consoles out today, so the game quality has the potential to be quite top notch
I'm not sure how big of a revenue driver this is going to be, but it's clear that Nvidia is taking gaming on the Android platform very seriously. I had been wondering when Nvidia would start to really start playing to its strengths as a GPU vendor, and it's clear that it's today with the Tegra 4.
Short Interest: Time To Cover
Interestingly enough, the short interest in Nvidia has gone up substantially since the last earnings report: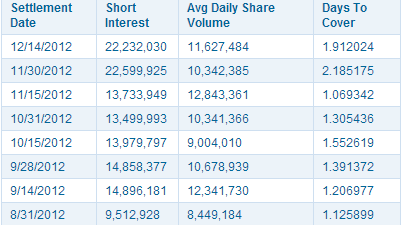 How does this make sense, exactly? Nvidia still has $3.43B in cash on its balance sheet (negligible debt), is quite profitable, and was set to launch a brand new system-on-chip at CES. In addition to stealing graphics market share from a very wounded competitor, it is set to continue strong growth in the Android tablet market during 2013 and then begin really gnawing away at the mainstream Android phone market in 2014.
It also doesn't help the short argument that there is a rather large buyback authorized. The short sellers will likely be covering quite heavily over the coming weeks as CES hype continues, the global economy continues to improve, and Mobile World Congress (in February) comes around, where the hype surrounding all mobile system-on-chip vendors will swell further. Who knows what design wins for the new Tegra 4 will pop up then?
Conclusion
Nvidia's doing really well. It dominates its core business of graphics processors for gamers, it owns the workstation graphics market, it's going to be a strong competitor in the HPC market with its "Tesla" product, and best of all, it's going to see strong growth in its mobile chip division. All of this with nearly 50% of its market capitalization sitting in cash on the balance sheet.
There's significant upside for Nvidia in 2013.
Disclosure: I am long NVDA, INTC, MSFT, AMD. I wrote this article myself, and it expresses my own opinions. I am not receiving compensation for it (other than from Seeking Alpha). I have no business relationship with any company whose stock is mentioned in this article.
Additional disclosure: I am short QCOM Jan 14 $62.50 puts. I am also short ARMH, and I am likely to trade out of my AMD position sooner rather than later.