At the end of December I did an article about the power of the concept of regression to the mean in investing. It was entitled "3 Ugly Ducklings That Could Turn Into Swans Early In 2013".
Historically, some of the worst performers from the previous year turn out to be stellar performers in the successive year. Here are three more underperformers from 2012 (See Chart 1) that have outperformed the market in the last five trading sessions (See Chart 2) and could have very good years in 2013. They are Apache (NYSE:APA), Crocs (NASDAQ:CROX) and Hess Corp. (NYSE:HES).
Chart 1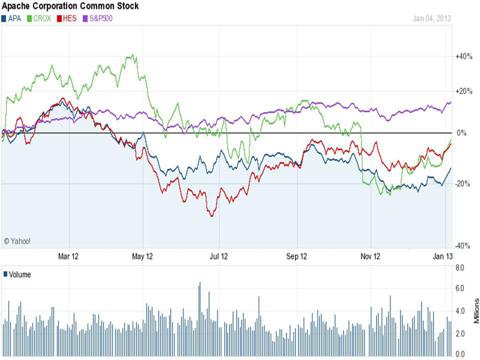 Chart 2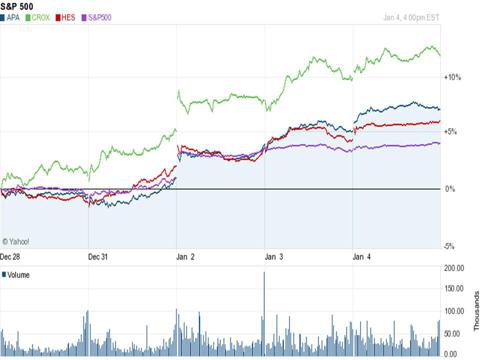 Apache Corporation is a very large independent energy company producing natural gas & oil from properties worldwide.
4 reasons APA still has upside from $82 a share:
Even with its recent run up, APA is selling at just over 8.5x forward earnings, a slight discount to its five year average (10.4).
After being basically flat in FY2012, revenue is projected to increase by approximately six percent in FY2013.
Analysts are positive on the stock. The mean price target by the 27 analysts that cover the stock is north of $106 a share. S&P has its highest rating "Strong Buy" and a $116 price target on APA.
The stock is selling at the bottom of its five year valuation range based on P/E, P/CF, P/S and P/B.
Crocs, Inc. designs and markets footwear (Crocs and Teva) in the Americas, Europe, and Asia.
4 reasons CROX is a good growth play at $15 a share:
The company should generate revenue growth in the low double digits for both FY2012 and FY2013 and the stock has a five year projected PEG of just over 1 (1.12).
The company has a robust balance sheet with over $300mm in net cash (over 25% of market capitalization).
CROX sells at under 10x forward earnings (under 8x subtracting net cash), a large discount to its five year average (17.6).
The company missed earnings estimates last quarter. However, prior to that it had beat earnings estimates for 11 straight quarters. The mean price target of the 9 analysts that follow the stock is just under $20 a share.
Hess Corporation operates as an integrated energy company. The company operates in two segments, Exploration and Production and Marketing & Refining.
4 reasons HES is undervalued at $55 a share:
The company has significantly beat earnings estimates (better than 20% over consensus) each of the last two quarters and consensus earnings estimates for FY2013 have risen nicely over the last month.
The stock is selling near the bottom of its five year valuation range based on P/E, P/CF, P/B and P/S.
HES is cheap at under 9x forward earnings and just 91% of book value. The company could also unlock value by spinning off its refining, marketing and retail operations like ConocoPhillips (NYSE:COP) and Marathon Oil (NYSE:MRO) did last year.
HES has had some nice discoveries recently in Ghana. It also basically doubled oil production from the Bakken in 2012 to 62,000 BOE/D.
Disclosure: I am long APA, CROX, HES. I wrote this article myself, and it expresses my own opinions. I am not receiving compensation for it (other than from Seeking Alpha). I have no business relationship with any company whose stock is mentioned in this article.