If you thought the twists and turns in the BCE LBO saga were behind us, think again. I just watched BNN's The Close with Kim Parlee (a very suitable replacement for the irreplaceable JMF), and, according to Bloomberg News, BCE's Board of Directors hired Price Waterhouse Coopers (PWC) to provide a second opinion regarding the would-be solvency of BCE post-LBO.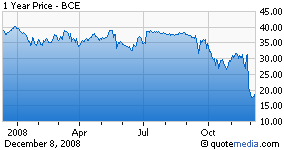 As you may recall, the biggest LBO in history has crashed on the rocks with the news that KPMG's initial impression is that BCE will not be solvent post-LBO without a rumored injection of an additional C$3 billion in equity by the LBO proponents, led by OTPPB. This means, we are led to believe, that the LBO is dead.
You have to ask yourself what this PWC second opinion is all about. If all of the parties (banks, PE firms and BCE) contractually agreed to have KPMG provide the solvency opinion, and its opinion doesn't support the deal, the C$42.75 deal is as dead as a Monty Python Parrot. It might make the investment bankers feel less morose about their original LBO models, and KPMG might be a bit embarrassed that another firm took a different view of the math at BCE, and the BCE Board might feel a trifle better that they are not alone in the wilderness. However, that's about the extent of the utility of this recent episode.
I can see the point of getting a second opinion when we are talking about a cancer diagnosis, for example. If two doctors give you an opinion about your stage-four colon cancer, and one says it's in remission, and the other says it isn't, this might be helpful information. "Might," I stress, be helpful.
In this case, the deal is no more likely to close that it was four hours ago, whatever the rising stock quote might tell you. Why would Citigroup (NYSE:C) (one of the four lead LBO lenders), for example, agree to dispense with the first solvency opinion? If the company wanted to close, it could just waive the requirement for the original KPMG report; or else engage its own advisor to provide a second opinion for its own credit files.
Can you imagine embattled Citigroup CEO Vikram Pandit telling his Board of Directors that despite the negative KPMG solvency opinion, it was able to find an accounting firm that thinks BCE will be solvent post-closing…so he's going to trust that one instead? As if that is so, like, last year's lending practices. Get into the present, people!
KPMG has been Citigroup's accounting firm since 1969, and earned $63.6 million in audit fees in 2007. That's mucho cabbage, and it would be remarkable for Mr. Pandit to appear to ignore the trust that has been built in that relationship over the decades, merely to save the BCE LBO deal - at least the C$42.75 version.
This is all about two things: PR with us shareholders being one of them. "We did our best," the BCE Board will be able to say. Secondly, it is certainly grist for the legal mill. But, even then, if KPMG was the chosen party for the opinion, I have a hard time seeing what a Quebec Court would make of a second opinion. However esteemed PWC is as an accounting firm.
Whether or not it'll frighten the LBO proponents into putting up some of their break fee remains to be seen. However, in terms of utility to get us our C$42.75, this rumored second opinion is all just for show.
That doesn't mean it was a bad idea, but don't misconstrue the ultimate purpose.
Disclosure: I own BCE.