Following billionaire investors into their stock market investments is often one of the safest ways to outperform the market. They have done all the research for you and they are literally putting their money where their mouth is. Watching the "smart money flow" of billionaire investment geniuses such as Warren Buffett, Carl Icahn, Ken Fisher and Dan Loeb over past decade would have netted you some very lucrative returns. Luckily for us, almost all big-money investors are required to file a 13F, so we can track almost anyone we want.
Below I have listed four of the most popular companies that industry insiders, billionaire investors and hedge fund managers have bought into. Please note that some of the billionaires mentioned have not necessarily bought personal holdings but have purchased assets through their hedge fund management companies.
Wells Fargo & Co (NYSE:WFC) is a bank holding company that operates in three different financial segments that offer retail, commercial and corporate banking services through a number of outlets in over 50 states. Billionaire investment tycoon Warren Buffett has been enthusiastically adding to his holding in Wells Fargo, buying another 11 million shares in the last quarter of 2012. Warren Buffett makes no secret of his enthusiasm for Wells Fargo and has been steadily acquiring the stock since he initiated his Wells Fargo holding back in the early 1990's.The latest Wells purchases bring Berkshire Hathaway's (NYSE:BRK.A), (NYSE:BRK.B) total holdings to 422.5 million shares, according to the latest SEC filing. Please follow the link to view the latest SEC filing.
Berkshire Hathaway's 422.5 million shares in Wells Fargo make up 19.4% of Berkshires 75 billion dollars in invested funds. Buffett's continued buying of Wells Fargo shares speaks volumes to me about his faith in the financial strength and management of the company. Wells Fargo is trading on some very attractive fundamentals with a P/E ratio of 11 times earnings and it is paying a dividend yield of 2.51%.
Weatherford International Ltd (WFT) is a company which specializes in providing equipment and services for drilling evaluation, completion, production and intervention of oil and natural gas wells. As seen on the table below there have been 3 Weatherford board members buying the stock aggressively, initiating a total of 10 BUY transactions since November 2012. To add weight to the story, billionaire fund manager Dan Loeb's' company, Third Point, has also reported new ownership in Weatherford. Third Point has reported a position of 4 million shares. This is a link to Third Point's latest SEC filing. Weatherford's stock price has come down 22% over the last 12 months and the PEG ratio of 0.5 suggests that analysts are expecting a strong rebound in the company's earnings. Going off the 5 year PEG ratio, Weatherford is one of the highest upside stocks in billionaire Dan Loeb's portfolio. The five-year PEG is 0.5 as a result of high growth expectations and moderate earnings multiples. The forward P/E ratio of Weatherford is 10 times earnings.
Insider buying:
(Click to enlarge)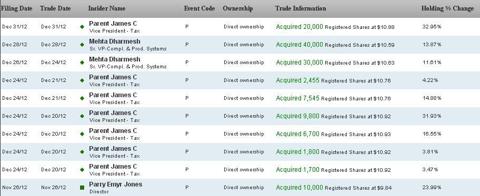 Home Depot, Inc (NYSE:HD) is a home improvement retailer with 2,252 stores, selling products ranging from building material to lamp shades and has had multiple insider trades recently as well as hedge fund purchases. One of the hedge fund managers that I would like to focus on is Fisher Asset Management, which is run by billionaire Ken Fisher. Fisher Asset management has bought the stock aggressively closing off its books last September with 8.2 million shares in its portfolio. Here is the link to their latest SEC Filing. Ken Fisher and his team have a proven track record for finding undervalued stocks to profit from.
Below I have listed recent insider trades.
(Click to enlarge)

Home Depot has a market capitalization of $95 billion and it's now trading on a P/E multiple of 22 times earnings. It also pays a dividend which yields a respectable 1.83%.
Chesapeake Energy Corporation (NYSE:CHK) is a natural gas and oil exploration and production company. Chesapeake is engaged in the exploration, development and acquisition of properties for the production of natural gas and oil from underground reservoirs. Chesapeake found itself in trouble last year with cash flow problems and an admission that it may need to sell off assets to inject cash back into the company. The resulting stock price slide has given the company some extra attention lately from market experts, including the likes of billionaire investor Carl Icahn.
Icahn is now the second largest shareholder in the company and has raised his stake to 8.9% giving him and investor Mason Hawkins, who owns 13.5 percent of Chesapeake, control of the company's nine-member board of directors in an effort to shore up its finances and deal with a governance crisis. Click on the link to view Carl's latest SEC filing. Chesapeake has also had several insiders buy stock and is a popular pick among fund managers. Analysts at Robert W. Baird, speculated that Icahn saw a bargain and bought more because Chesapeake's shares have come down 18 percent from the year's high of $21.58 hit in October.
Chesapeake's current market capitalization sits at 11 billion dollars and it pays a dividend which is yielding 2.09%.
Last 6 months of insider buying below:
(Click to enlarge)

Disclosure: I have no positions in any stocks mentioned, and no plans to initiate any positions within the next 72 hours. I wrote this article myself, and it expresses my own opinions. I am not receiving compensation for it (other than from Seeking Alpha). I have no business relationship with any company whose stock is mentioned in this article.