Suntech Power Holdings (NYSE:STP) is the world's largest producer of solar panels and is headquartered in China. The stock has been on a tear recently along with the rest of the solar energy sector, but fundamentally it should not be moving up. The company has problems not shared by other solar energy companies and it is in the worst financial shape by far. There is a very good chance that the common stock will be selling for pennies in the next month or two because its convertible bonds will mature on March 15, 2013 and it doesn't have nearly enough cash to make the principal payment. I, along with several professional investors who I've spoken to, have no clue as to what the bullish story is. I see no reason why it shouldn't be trading at $0.50 a share or lower.
Bond Yields Are Extremely High
As shown on the Finra website, the yield for its convertible bonds that mature on 3/15/13 are currently 471% as I write this.
Compare this bond yield to other Chinese solar stocks with a close maturity date.
Symbol Bond Price Yield Maturity Date
JASO $94.50 18.8% 5/15/13
LDK $67.50 88.22% 4/15/13
STP $53.50 471.32% 3/15/13
TSL $90.75 23.87% 7/15/13
As shown above, each of these Chinese solar stocks are in serious debt trouble. Typical junk bond yields are generally about 12%-15%. JASO and TSL would go in the "extremely junk" territory. LDK with its incredibly high 88% yield would fit in the "keep the bankruptcy papers on the desk" category. Then STP's bond yield of 471% is out of this world. There is no comparison as Suntech has by far the highest bond yield of them all. STP shareholders are playing Russian roulette with their money, as the company is already in negotiations with its bank lenders to delay its bond payments. The company could be forced to file for bankruptcy any day now since the longer it stays in business, the more money it loses.
If they think the company will make a comeback, investors should buy STP's bonds instead of the stock. If they buy the bonds, and the company turns out OK, they will almost double their money by March 15th as the bondholders will get paid back the full coupon of $100. For the stock to double, it will have to reach $3.60. This is extremely unlikely given that it has already gone on a great run, and it could tumble any day if the company makes a bankruptcy or dilution announcement.
Suntech's Bondholder Presentation In November
Suntech gave a bondholder presentation on November 14th, 2012, that was very pessimistic. It was not meant to be seen by stockholders, as it is not listed on the Suntech investor page. I think many shareholders don't realize the amount of trouble the company is in.
The stock fell 13.4% on 11/14 on higher than usual volume from $0.97 to $0.84 the day the report came out.
Page 21 of the presentation, it shows that as of August 31, 2012, the company had $524M in cash and $2.032B in debt. On page 22, as shown in the graph below, it shows that over $1.2B of bank debt is due before March, 2013, and $541M of convertible debt is due by March 15, 2013. The convertible debt is what is yielding 471%.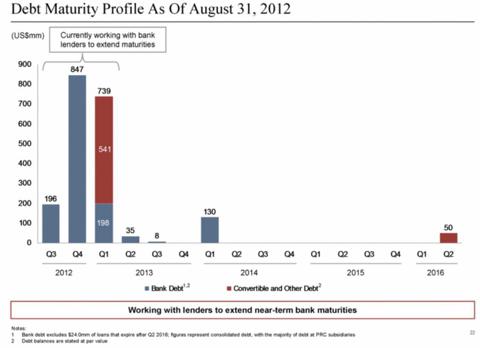 Click to enlarge
The reason why the convertible debt is trading at such a ridiculous discount, is because the bank debt needs to be paid off first. Even though the bank debt is short term borrowings, and is allowing an extension of the maturities, the banks will not let any of the convertible debt be paid off until the banks are paid off. The company has an over $700 million shortfall to pay off the bank debt alone and the company has had negative EBITDA in its last three quarters. Every quarter, the company burns cash. Where is the company going to get the $700 million+ extra cash it needs to pay off the bank debt due before March, and then after that, the $541 million to pay off the convertible debt due on March 15th?
The company is consistently unprofitable. Below is a synopsis of the company's earnings.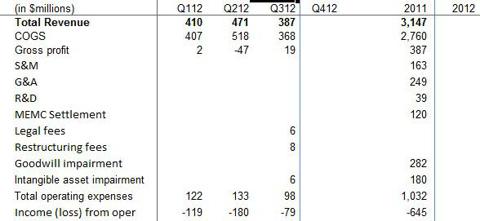 Click to enlarge
As shown above, the company had a loss from operations of -$645 million in 2011, -$119M in Q112, -$180M in Q212, and -$79M in Q312. Suntech's preliminary results for Q312 was awful. Revenues were only $387 million, down 18% sequentially and way below the Street's consensus of $487.5 million. The company expects Q4 to be even worse with gross margin to be slightly negative compared to a positive 5% in Q3. Q113 will surely be another losing quarter for the company.
Alternative Actions
There are two alternative actions the company can take that's listed on page 25 of its 11/14 bondholder presentation. These are: "Restructure convertible notes and convertible notes exchange offer." Both of those alternatives will require the dilution or conversion of the common stock and transferring the equity to the bondholders. In general, bondholders don't take less payment or a delay of payment for nothing. The company always has to give them something more, and it's usually a mass dilution of equity, if not outright bankruptcy.
On the same page, the company lists alternatives considered but not available which are: domestic (Chinese) loans, domestic bond offering, and asset sales. The company says these three alternatives are impossible, including "credit support to repay offshore debt is not available". That means that the Chinese government will not help to pay off the US debt, which are the convertible bonds. Asset sales are not possible because the company doesn't have any more non-core assets to sell.
A Big Selloff By Institutional Holders Has Yet To Happen
Even if the company files for bankruptcy, that doesn't guarantee that the stock will go worthless. Sometimes investors buy worthless stock and keep the share price up. However, STP is still owned by many institutions as shown here and here. There's a good chance they'll be prompted to start unloading shares once the company starts restructuring its convertible bonds, and possibly gets delisted off the NYSE. Most institutions won't hold a stock on the OTC exchange.
Reasons Why Suntech Stock Is Trading So High
This company is very likely going to face a restructuring of its bonds, and the common stock will become worthless, or close to it. The reason why there are buyers that keep the stock up is mainly because of the rally in the solar energy sector. STP is in several ETFs, like the solar ETFs TAN and KWT. If you look at the times STP went up, it's because of macro factors, not company specific news. When a sector is hot, the riskiest, junkiest stocks usually go up the most, and that is the case in solar with stocks like LDK and STP. Many traders are buying STP for the momentum, not for its value.
Investors also buy the stock because they don't realize the trouble it's in, or they ignore it. Sometimes investors buy bankrupt/worthless stocks. Many investors refuse to look at logic, and cling to hope. For example, as described in this essay, General Motors was trading for $1.29 on June 11, 2009 despite management saying the day before that the common stock will become worthless. It finally ended up closing on March 31, 2011, the day of the reorganization plan, at $0.042.
I believe the following are some reasons why investors purchase Suntech stock and cling to hope:
- Suntech is the largest solar panel manufacturer in the world. Investors are buying it in the hopes that a rebound in the solar industry will lead to a rebound in Suntech. It is a "lottery ticket buy" for investors.
- They are hoping for a sudden great earnings report from STP. However, Suntech's abysmal Q312 report has crushed this hope. Even a great quarter from the company wouldn't amount to making earnings, since the company can hardly even get a positive gross margin, let alone a positive operating margin.
- They aren't aware of the company's large amount of debt coming due.
- Investors sometimes buy the entire solar sector, which includes Suntech.
- They hope for a buyout or a white knight to come in. This won't happen because as the company said: "loans are not possible". If the company believes this, then it is not going to try to aggressively look for new lenders.
- Suntech has an iconic status as China's solar panel company figurehead. Some people don't believe it will go bankrupt because the Chinese government has invested billions in it. However, the company said in its bondholder presentation that the Chinese government won't support off-shore loans. I would believe what the company says.
- In November, 2012, Suntech's VP, Gong Xuejin, said "Suntech isn't on the edge of bankruptcy." This gives shareholders some hope. This is weak evidence for a recovery because he has to say something positive about his company to attract bond investors. A company can have a mass dilution of equity and not literally go bankrupt, but technically go bankrupt.
- Suntech has high brand value, so investors think there's hope that the company can successfully shrink capacity and contract out some of its business to stay afloat.
The Trade
Ways to play Suntech's demise are to go short the stock, buy puts and/or short calls. While the company can announce bankruptcy or a stock dilution deal with bondholders at any time, the safe bet is to prepare to hold your short position through March, since that's the bonds maturity date. As an insurance in case the stock doesn't fall like it's supposed to by March, going long the bonds is an option. The bonds have recently risen after being above a 1000%+ yield at one point, so I think that is a trade many traders are doing now. However, I believe buying the bonds would simply be throwing your money away, as the company owes too much money too soon, and the convertible bonds will most likely become worthless as well.
Disclosure: I am short STP. I wrote this article myself, and it expresses my own opinions. I am not receiving compensation for it (other than from Seeking Alpha). I have no business relationship with any company whose stock is mentioned in this article.
Additional disclosure: LDK, TSL, JKS