So far 2013 has been a good year to equity investors with the SPDR S&P 500 ETF (NYSEARCA:SPY) returning 2.78% since the start of the year. The S&P closed at its highest level Friday since December 2007 after better than expected financial data. I see the broader market continuing higher for the first quarter of the year. Below are three ETF picks to beat the S&P 500 in the first quarter of 2013. These particular ETFs were selected because they benefit from strong economic data and I believe investors will continue to put money to work in recently outperforming sectors. Consider this a starting point for continued research.
iShares Dow Jones U.S. Home Construction ETF (ITB)
2012 was an exceptional year for the iShares Dow Jones U.S. Home Construction ETF with a return of almost 79% which blew away the S&P 500's yearly return. I selected the ITB to invest in the housing recovery over similar ETFs because of its exposure to Home Improvement Retailers. The ITB current sector breakdown is below:
| | |
| --- | --- |
| Industry | % of Fund |
| Home Construction | 65.03 |
| Building Materials & Fixtures | 17.67 |
| Home Improvement Retailers | 12.58 |
| Furnishings | 4.64 |
One Year Candlestick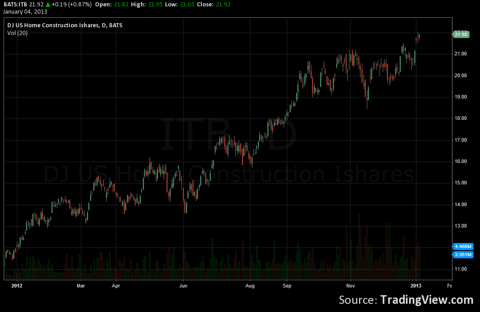 Candlestick Since Inception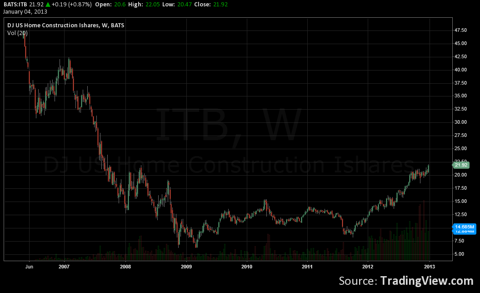 Normally, chasing such returns isn't recommended but I feel we will continue to see shares rise on the back of the U.S. housing recovery. The unemployment rate has fallen to its lowest level in years at 7.8% and interest rates are projected to remain low for the next couple years. A Bloomberg panel of economists and analysts found the median housing starts are expected to increase 24% in 2013. The same panel also projects purchases of single-family homes to rise by 448,000 or 23% in 2013. The ITB is heavily weighted in home construction which is good as the inventory of distressed homes continues to decrease and home builders ramp up production. I believe we will see a further reinvestment into the ITB and housing sector as investors look to segments which are outperforming early on. The ITB may have run substantially in 2012 but the recovery isn't over and shares are still trading substantially lower than the 2007 highs.
Financial Select Sector SPDR Fund (XLF)
Recently the Financial Select Sector SPDR Fund has been outperforming the broader market returning a 4.03% gain in December compared to a 0.18% gain seen in the SPDR S&P 500 ETF Trust . Currently Wells Fargo (WFC), J.P. Morgan Chase (JPM, Bank of America (BAC), Citigroup (C), Goldman Sachs (GS), and American Express(NYSE:AXP) are all among the funds top 10 holdings. During the next two weeks all of these institutions will report earnings. These companies should continue to rally up into the earnings releases as investors begin to price in the expected announcements of increased dividends and buy backs. Also, I expect to see the earnings reports showing operating incomes rising faster than expected in 2013. In my opinion, this rally will continue for the first quarter as we see equity fund inflows. Investment managers will look to allocate these new funds into the outperforming segments of the market such as financials.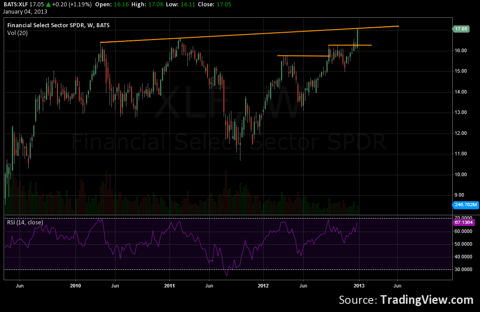 Above is the weekly candlestick chart with an RSI indicator for the XLF. The XLF, after its 1.19% gain on Friday, is trading near multi-year highs and has closed directly on a major trendline. Also notice it has already cleared 2012 highs. The RSI is currently in an upward trend and has already made a higher low. I am looking for shares to continue upward above the trendline resistance to new highs and the RSI to make a higher high.
iShares FTSE China 25 Index ETF (FXI)
2012 was a very active year for traders in the iShares FTSE China 25 Index ETF. The trading range was fairly wide with lows set during the summer months around $31.50 per share and the highs set at the very end of the year at about $40 per share. Overall the yearly return was 16.96% in 2012.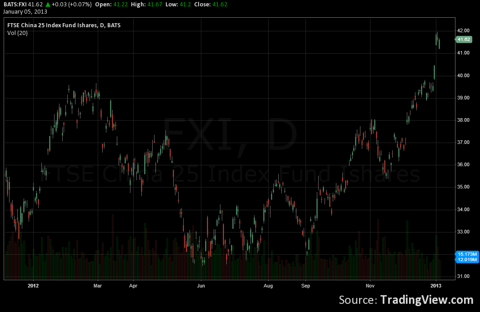 The FXI is composed of 25 large-cap liquid Chinese companies. The ETF is more exposed to the financial sector than some of its counterparts but I feel more comfortable investing in the FXI versus an ETF composed of smaller Chinese companies. If you are looking for an ETF with less exposure to financials and smaller companies you should look to the GuggenHeim China Small Cap ETF (HAO). The current FXI sector breakdown is as follows:
| | |
| --- | --- |
| Sector | % of Fund |
| Financials | 58.15 |
| Telecommunication | 17.07 |
| Oil & Gas | 14.66 |
| Basic Materials | 8.15 |
| Industrials | 1.87 |
The World Bank recently raised their estimate for Chinese GDP growth in 2013 from 8.1% to 8.4%. They attributed the increase to government stimulus, monetary easing, and an upswing in the business cycle. Also, the most recent Purchasing Manufactures Index was reported at 50.6 in both November and December. When the reading is above 50 it signals an expansion in manufacturing activity. Strong economic data to finish the year helped propel the FXI to close out the year near its yearly highs.
On a valuation basis the FXI is relatively inexpensive with a P/E ratio of only 12.89 and a price to book ratio of only 1.61. When you compare the FXI to other emerging market ETFs you can see the valuation is attractive given the growth prospects for China in the year ahead. The fund also sports a 12 month yield of 2.36%. To start 2013 the FXI has already broken above last years highs with a close at $41.62 on Friday. A slight pullback to the $39.50-$40 area seems likely as some technical indicators are showing overbought readings. I believe the FXI will continue to offer good returns for the first quarter of 2013 as China continues to report strong economics data. Investors will return their money back into the China markets as the fears of growth slowing down begin to dissolve.
Disclosure- You should not treat any opinion expressed in this article as a specific inducement to make a particular investment or follow a particular strategy, but only as an expression of an opinion.
Sources- Bloomberg, Global Times, TradingView
Disclosure: I am long XLF. I wrote this article myself, and it expresses my own opinions. I am not receiving compensation for it (other than from Seeking Alpha). I have no business relationship with any company whose stock is mentioned in this article.