General Moly (GMO) is a U.S.-based mineral development company headquartered in Lakewood, Colorado. GMO owns and operates two primary molybdenum projects, both in Nevada. The Mt. Hope project is a joint venture between General Moly (80% ownership) and POSCO (20% ownership), one of the world's largest steel producers based in Korea. The Liberty Project is wholly owned by General Moly, contains both moly and copper, and is another major project following Mt. Hope.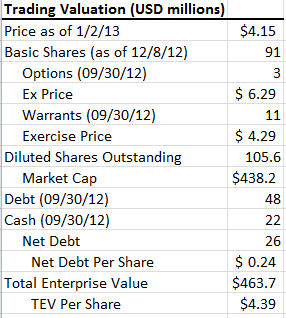 Market Overview:
Molybdenum ("moly") is a metallic element on the periodic table. It is an essential metal for modern industry. Moly strengthens steel, improves weldability, reduces brittleness, helps steel perform in very high or very low temperatures, and provides corrosion resistance. Moly also used in many additional products: light bulb filaments, flat panel TVs, steel products, and the oil and gas industry as a catalyst. Approximately 70% of Moly produced goes to use in the steel industry.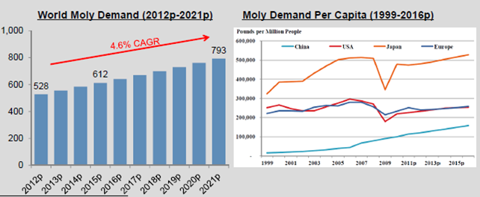 Investment Thesis:
GMO is moving toward production and de-risking significantly along the way. All permits for MT HOPE are in hand. Clearance has begun as of 12/4/12. Posco funding has been received. Additionally approval for the electric line to supply power to the site has come through.
Very importantly, China Development Bank financing should come though in next 3 months (Hanlong a significant partner, is arranging this). Heavy construction on the mine site will begin with Spring thaw.
Another factor that I believe many people aren't taking into account fully is the fact that the first 5 years of production are 100% committed- over half of this is at $15/lb. (We are currently in a trough in Moly prices current price $11.34/lb)
Further there is significant growing global demand for moly. China is increasingly employing higher-grade steels and expanding its intensity of use. Also a factor closer to home is the US and Canadian Gas & Oil boom. In tight oil and gas production strong and corrosive resistant stainless steel is needed in drill bits and piping.
GMO will be one of the lowest cost producers on a go forward basis. The molybdenum market has strong moat-permitting process takes a lot of time environmental factors.
Investors have the ability to purchase shares of GMO at a significant discount to the value of its reserves. The shares have over 290% upside from today's price.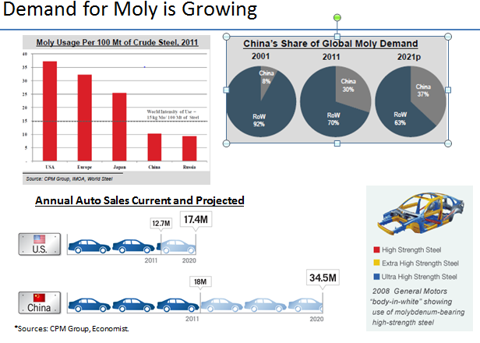 Moly Prices Have Downside Protection: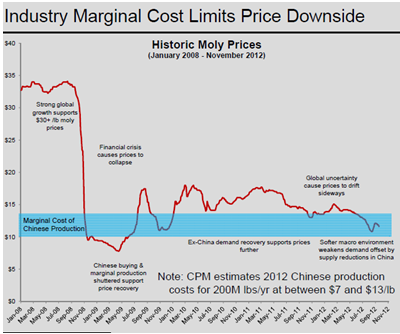 Great Management Team:
General Moly has a great management team with solid Mining experience.
CEO-Bruce Hansen-previously at Newmont Mining.
CFO and Sr. VP CFO- Dave Chaput-metals and mining operational experience.
COO-Bob Pennington-previously general manager at one of the largest open-pit/concentrator operations in the world, the Phelps Dodge Morenci mine in Arizona.
Management continues to "walk the walk" and is doing what it said it would do. The management team is compensated on progress in permitting and movement toward production. Once production starts it will be compensated on execution. Further, the cash conservation plan is working as intended and management has shown good discipline with expenses.
CEO Bruce Hansen owns over 1MM shares of the stock has been a buyer on the open market over the last 3 years. Board members also active buyers
Valuation:
MT. HOPE PROJECT- Essentially a mountain of molybdenum located in Nevada. This is GMO's current project that is closest to production. The NPV of Mt Hope's reserves are more than 3x the current share price of GMO.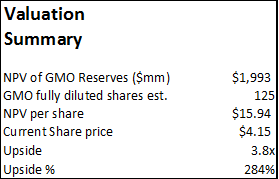 GMO has off take agreements in place for the first 5 years with 100% of production (40mm lbs of moly per year) committed. Half of this off-take has price floors around $15/lb. As construction begins this spring and the Hanlong arranged financing comes through (next 3-4 months) I expect the share price to double as more people catch on to how much de-risking this company has already done.
Mt. Hope and Liberty Project
If we add the second asset, the Liberty Project, the valuation becomes even more compelling. However, the thesis would be the same if only Mt. Hope is taken into consideration. This appears to be a case of "buy one cheap, get one free."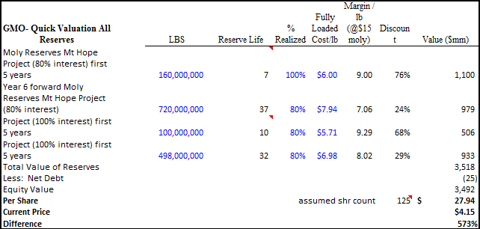 Sensitivity: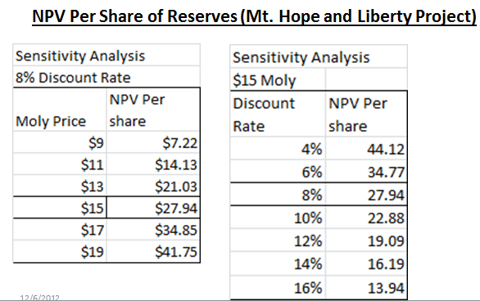 Risks:
There are of course some risks present here as with any investment although I believe the risk reward ratio is extremely favorable. Risks include the following: China Development Bank financing issues or delays are mitigated by the fact that Hanlong will be the largest shareholder and is arranging the financing. The Mt. Hope project's development budget and timetable could be subject to overruns. Additionally, increased costs could lower the valuation of the project although we believe the cost of oil will not rise dramatically. Further, valuation is sensitive to discount rate and moly prices. In the longer-term, the moderation of Chinese economic growth could cause a drop in demand for moly. Finally, political risk could be an issue. For example china lifting export tariffs on moly could have a short term impact on prices.
Disclosure: I am long GMO. I wrote this article myself, and it expresses my own opinions. I am not receiving compensation for it. I have no business relationship with any company whose stock is mentioned in this article.