In 1991, the moisture of a tropical hurricane came together with the cold air of a non-tropical storm to create a massively powerful Nor'easter made famous in the movie The Perfect Storm. During the storm, buoys measured waves 100 feet high - the highest ever recorded in the waters off Nova Scotia. In the movie, the crew of the Andrea Gail celebrated when they escaped the storm and reached calm weather - only to discover they were actually in the eye of the storm.
Mellanox (NASDAQ:MLNX) is sailing out of 2012 when the temporary absence of InfiniBand competition came together with a server processor refresh cycle to create a perfect storm of opportunity. During the storm, revenue grew over 100% and the price per share of MLNX peaked at $118-by far the highest ever recorded.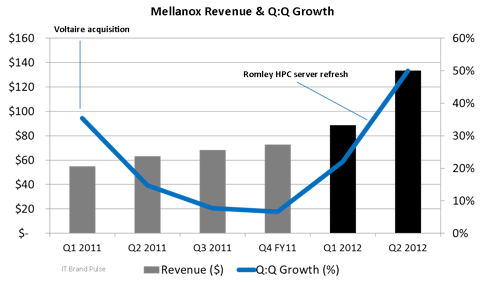 However, the company is now sailing into a perfect storm of competition created by Ethernet vendors barreling into their core HPC market, and the lack of proven converged networking technology needed to expand into mainstream networking.
The Perfect Storm of Opportunity
The perfect storm of opportunity for Mellanox was a confluence of weak competition and the Romley server refresh:
Weak competition - For many years Mellanox enjoyed a competitive edge in the InfiniBand duopoly with QLogic. While QLogic was spread thin competing for Fibre Channel and Ethernet networks in enterprise data centers, Mellanox was first-to-market at each InfiniBand speed jump, and laser-focused on high performance computing. In January of 2012, Mellanox was handed a virtual monopoly when Intel (NASDAQ:INTC) announced it was acquiring the InfiniBand assets of QLogic (NASDAQ:QLGC). Customers flocked to Mellanox as rumors swirled about Intel skipping the current 56Gb generation of InfiniBand products and re-entering the market in the future with 100Gb products.
Romley Refresh - In Q1 of 2012 server vendors started shipping systems with the long-awaited Intel Xeon E5 (code name Romley) platform. While pent-up demand for the powerful new processor was muted in the enterprise server market, system designers in the performance-is-everything HPC market had been holding their orders for Romley-based servers. Mellanox revenue jumped 22% quarter-over-quarter in March as OEMs stocked product for their HPC server launches. Then the floodgates opened in the quarter ending June, 2012 with Mellanox quarter-over-quarter revenue growth peaking at 50%.
Looking back, Mellanox execution in product development, sales and marketing for HPC networking was nearly flawless for several years. And, as this perfect storm of opportunity passed over in 2012, an investment in Mellanox at $32/share on January 1, 2012 almost doubled in value to $59/share on December 31.
Deceleration
In the quarter ending September, Mellanox revenue grew 17% quarter-over-quarter - a growth rate most CEOs in the networking business would kill for - but a deceleration from the 50% quarter-over-quarter velocity that drove the company's market cap to $5 billion. The change in direction sobered investors who cautiously took back $2.5 billion of valuation.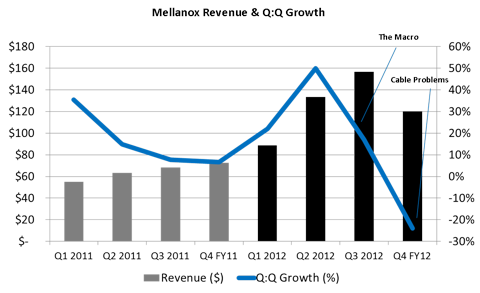 Minor disappointment about Q3 performance and the debate over the sustainability of the Q1-Q2 trajectory ended when Mellanox announced it was not going to meet Q4 guidance-by a long-shot. Unfortunately, disappointed investors were replaced by angry investors; and debate has been replaced by a sense of certainty that explosive growth is over.
The Perfect Storm of Competition
By 2015 Mellanox will sail into a perfect storm of competition. During this storm LAN and SAN network convergence on Ethernet becomes a volume market -- with Broadcom (BRCM), Emulex (NYSE:ELX), Intel, and QLogic serving the previously separate market segments with one class of product. As converged networking becomes mainstream, adapter companies without Ethernet and Fibre Channel technology blended together will compete for specialized HPC applications.
LAN and SAN Convergence - In 2008, the introduction of Fibre Channel over Ethernet technology started the consolidation of SAN and LAN adapter segments into one converged network adapter segment. Fibre Channel SAN adapter leaders Emulex and QLogic entered the Ethernet market and their converged networking products have been qualified by every major server OEM. Four years later, Fibre Channel growth is finally leveling out as converged networks finally take hold. Conspicuously absent from this competition is Mellanox because they do not have proven Fibre Channel adapter technology.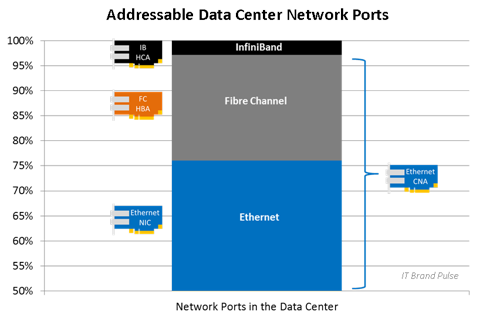 Today, the combined chip, adapter and switch networking market for InfiniBand has grown to over $500 million in revenue, but still comprise only 3% of all network ports in the data center. For Mellanox to address the mainstream LAN and SAN markets, the company will need converged networking products which support Ethernet LAN, FCoE SAN, iSCSI SAN, and NAS protocols, along with the native Fibre Channel SAN protocol. Brocade (NASDAQ:BRCD), Cisco (NASDAQ:CSCO), Emulex and QLogic support this combination of protocols today.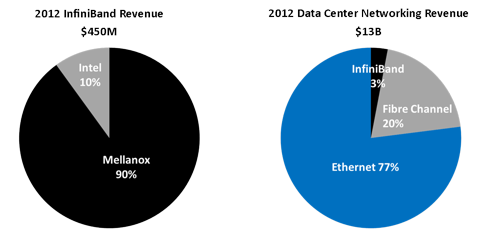 Closing the Performance Gap --The lessons of LAN/SAN convergence are important to Mellanox investors because the next phase of network convergence is designed to migrate high-end HPC network customers from InfiniBand to Ethernet. By 2015, Ethernet adapter vendors will close the performance gap between commodity Ethernet and specialized InfiniBand, which will make winning with InfiniBand much harder--even in the specialized HPC market segment.
The vast majority of IT organizations would prefer that one Ethernet network efficiently support their LAN, SAN and HPC needs in the data center. The significant costs of capital equipment, the time managing the equipment, and the training needed would all go down. But to succeed in displacing InfiniBand, Ethernet must offer comparably high bandwidth and comparably low latency - the two reasons why high performance computing professionals choose InfiniBand over Ethernet.
The particle accelerator at CERN streams petabytes of data every week to a computing grid spread around the world. For HPC applications like this which require ultra-high-bandwidth, 56Gb FDR InfiniBand networks offer 460% higher bandwidth than 10Gb Ethernet. However, in 2012 Mellanox began the process of cannibalizing InfiniBand technology by introducing 40Gb Ethernet products which are within 29% of InfiniBand bandwidth. The next stop is 100GbE and switch technology is already here. Servers and adapters supporting 100GbE will follow in the next few years.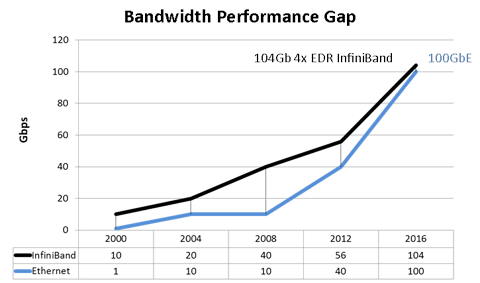 High Frequency Trading programs pass billions of messages to complete an algorithm. For HPC applications like this which require low latency, InfiniBand offers approximately 2x lower latency. An InfiniBand adapter can complete a transaction in less than 1 microsecond, while the fastest Ethernet adapters require at least 2 microseconds to complete a transaction.
By 2015, InfiniBand will maintain a 2x advantage in latency. But Ethernet adapter bandwidth will jump from 10Gb to 40Gb to 100Gb, reaching parity with 104Gb 4x EDR InfiniBand. In this scenario InfiniBand is at a competitive disadvantage in all but the most niche applications as HPC customers deploy high performance Ethernet products to leverage their investments in Ethernet equipment and expertise.
Between Perfect Storms
As Mellanox sails from their perfect storm of opportunity in 2012, into a perfect storm of competition in 2015; I see clear sailing for the next few years.
Continued Weak Competition - I expect Mellanox to ship 56Gb FDR InfiniBand adapter and switches unopposed for the next few years, resuming their trajectory from before the Romley refresh.
15% InfiniBand CAGR - I estimate the InfiniBand market will grow nicely at 15% per year to $600M in 2014, including HPC clusters, cloud and storage. Based on this projection for the InfiniBand market, Mellanox revenue will increase at roughly the same rate.
$1 Billion - The InfiniBand market may level off before it reaches $1B in annual revenue. If Mellanox is aiming for $1 billion in revenue, they need big contributions from non-InfiniBand technology.
Portfolio Expansion - I would like to see Mellanox expand their portfolio to gain access to mainstream networking markets. Perhaps Mellanox should acquire Emulex. They would immediately become a leading Fibre Channel player and possess the technology needed to expand beyond InfiniBand into the mainstream converged networking market.
The Bottom Line
Mellanox is a technology pioneer and prolific leader in development of networking products for high performance computing, one of the most sophisticated segments of data center networking. The company also deserves credit for fully exploiting the HPC market opportunity.
Based on their InfiniBand monopoly, 15% annual growth will be easy for the next few years. However, powerful Ethernet technology and competitors are heading their way. The bottom line is investors need Mellanox to start laying a foundation for accelerating revenue outside of the HPC market.
Disclosure: I have no positions in any stocks mentioned, and no plans to initiate any positions within the next 72 hours. I wrote this article myself, and it expresses my own opinions. I am not receiving compensation for it (other than from Seeking Alpha). I have no business relationship with any company whose stock is mentioned in this article.