Commodity Chart Of The Day
Weekly Coffee
(click image to enlarge)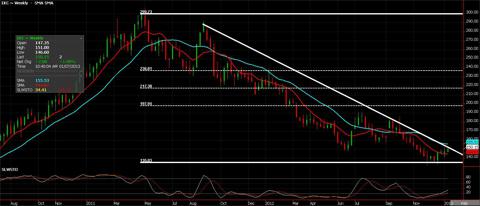 In the last 2 years, coffee price have been cut in half, but within the last few weeks, it looks like we may have found a value zone. After trading down for 9 consecutive weeks, coffee has been able to show marginal gains, closing higher 4 out of the last 5 weeks. I have been scaling into bullish option trades for select clients by purchasing calls and for more aggressive clients by selling puts. My recommendation is to be out in May or even July for fresh entries to allow time for the trade to develop. One of the keys to me is if we can get a settlement above the down sloping trend line -- identified on the chart above just above current pricing -- we could get a shift in momentum.
In the weeks and months to come, I think it is feasible to see front month futures trade near $1.75/1.80, which would amount to a 17% gain from current levels. Remember, picking a bottom can be complicated and if prices fail to get above the down sloping trend line mentioned and conversely trade down to new fresh lows, admit you're wrong and cut losses.
A monster crop has already been priced in in my opinion, and while the demand has been lackluster, I see that changing in the near future. A combination of these 2 fundamentals could lead to a trend reversal. When identifying a longer-term position whether it is a long or short trade, I try to find a commodity that the market has either overpriced or underpriced, and I feel coffee currently fits that bill.
Risk Disclaimer: The opinions contained herein are for general information only and not tailored to any specific investor's needs or investment goals. Any opinions expressed in this article are as of the date indicated. Trading futures, options, and Forex involves substantial risk of loss and is not suitable for all investors. Past performance is not necessarily indicative of future results.
Disclosure: I have no positions in any stocks mentioned, and no plans to initiate any positions within the next 72 hours. I wrote this article myself, and it expresses my own opinions. I am not receiving compensation for it. I have no business relationship with any company whose stock is mentioned in this article.