MPG Office Trust (Maguire Properties Inc.) is a real estate investment trust (REIT), which owns and manages office properties in the Los Angeles. At one time, MPG was the largest office space landlord in the Central Business District (LACBD). Over the past five years, MPG has faced significant difficulties managing debt that is a byproduct of a spending spree in 2007, during the peak of the real estate bubble. Over the past five years, MPGs share price has drastically declined by over 80%: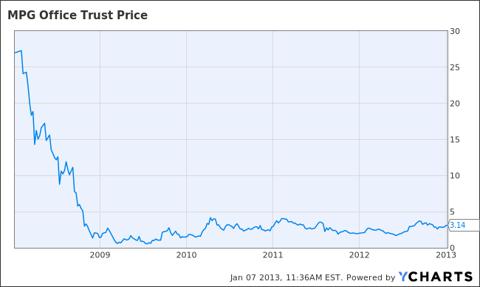 Click to enlarge
(Click to enlarge)
The company has been aggressively managing the disposition and foreclosure of non performing assets, and has adopted and implemented significant measures to reduce its debt and increase its liquidity. However, MPG has come to the bitter end of a hard fought battle, and is running out of options. The company has 2.5b in debt, and 5 properties, generating revenue, operating with an occupancy rate of 80%. Dispositions have saved the company from insolvency, but have also drastically reduced revenue.
With three major debt maturities approaching within the next 8 months, totaling over 863m, and no indication from the lenders they will extend the maturities, MPG is in real trouble. Compounding the issue, the company has a mere 117m in unrestricted cash, and a restrictive covenant (described below) that essentially blocks any sales, dispositions or mergers until June 28th, 2013 only 4 days before the first of three properties debt matures.
MPG is going to have to find an equity partner or buyer very quickly, or else bankruptcy is a very real possibility. Although the company has contracted Eastdil secured to help find a buyer, MPG seems to getting its ducks in a row for a bankruptcy, as it has begun to amend employment agreements with executives via SEC disclosures should "imminent termination" become a necessity.
Foreclosures and Dispositions Have Helped, and Hindered
In 2012, two of the company's core assets went into foreclosure; Two California Plaza and 3800 Chapmen. MPG Office Trust was relieved of the obligation to repay the $470.0 million mortgage loan secured by Two California Plaza as well as accrued contractual and default interest on the mortgage loan. In addition, MPG received a general release of claims under the loan documents pursuant to a previous in-place agreement with the special servicer. (Source: Prospectus [Rule 424(b)(3)])
What has, and will hurt revenues are two (2) agreements MPG has reached this past month that have freed up additional capital in the near term, but have reduced revenues significantly.
1.) In December, MPG entered into an agreement to sell, and sold, its remaining 20% ownership interest in MPG Beacon Venture, LLC to an affiliate of its joint venture partner, Beacon Capital Partners, LLC ("Beacon Capital"). The joint venture owns One California Plaza, located in Downtown Los Angeles, and Cerritos Corporate Center, located in Cerritos, California. The transaction generated net proceeds $41m in cash, which was a fair trade for the mere $3.5m the leasing and management agreement generated MPG per year in revenue.
2.) In an effort to extend its $365m loan of KPMG Tower for one additional year, MPG entered into an agreement, effective September 9, 2012, that excess operating cash flow from KPMG Tower will be swept into an account held by the lender to fund capital expenditures, and preserve the value of the building and the solvency of its lease agreements. This agreement has been beneficial as it also will be paid towards reducing the principal balance on the mortgage loan, albeit slightly. However, this arrangement essentially turns KPMG into a ghost asset, providing no economic or monetary value to MPG office properties.
The big question, why don't they just sell or initiate a foreclosure on KPMG Tower if it is doing the company no good? The answer lies in a decade old agreement with former CEO and founder Robert F. Maguire III, which shields him from all direct and indirect adverse capital gains tax consequences of a property transaction, sale, merger or foreclosure. Since it was Mr. Maguire who was the recipient of operating units in MPG Office L.P., which were transferred on a tax deferred basis for property interests (MPGs last remaining properties), any sale would have triggered capital gains taxes on the recipient of operating units, convertible to common stock.
A New Timeline
On July 23, 2012, MPG reached an agreement with Mr. Maguire and related entities, who agreed to redeem 3,975,707 non-controlling common units. On July 24, 2012, MPG issued 3,975,707 shares of common stock in exchange for these units. As a result of this transaction, all tax indemnification in favor of Mr. Maguire and related parties, and limited partners, expires on June 27, 2013. Therefore, pursuant to the terms of the contribution agreement, all restrictions on disposition relating to the following assets now expire on June 27, 2013: Gas Company Tower, US Bank Tower, KPMG Tower, Wells Fargo Tower and Plaza Las Fuentes.
MPG currently owns 6 core assets in Los Angeles, three of which have debt maturing in 2013. Currently, the portfolios assets pay interest only payments on all of their loans. Without cash flow from KPMG, and with the loss of management income from the joint venture with Beacon Capital Partners, MPGs operating portfolio has 5 assets with an average occupancy of 80%.
The U.S. Bank Tower, 777 Office Tower and The Gas Company Tower collectively present the nearest term debt maturities for MPG Office Trust. The total principal amount due in 2013 is 898m. The company is free to begin disposing, re-structuring or conducting mergers with these assets under the new terms set forth in the agreement with Mr. Maguire, on June 27th 2013. However, U.S. Bank Tower 777 Tower and KPMG Tower mortgage loans mature in July 1, 2013, November 1, 2013 and October 9th respectively.
In respect to the principal amount of 273m on 777 Tower, a pre-arranged disposition would have to be closed within 4 days of the release the assets tax commitment to Mr. Maguire. Under the restricted timeline of potential property dispositions, MPG faces adversity in regards to receiving favorable purchase prices for the assets. Additionally, U.S. Bank Towers vacancy rates for 777 Tower and U.S. Bank Tower 40% and 18% respectively are not appetizing metrics for a buyer.
Furthermore, even if we are able to obtain extensions on or refinance our existing debt, such extensions or new loans may include operational and financial covenants significantly more restrictive than our current debt covenants. Any such extensions may require principal pay downs, the funding of additional reserve amounts and the payment of certain fees to, and expenses of, the applicable lenders. In addition, lenders may impose cash flow restrictions in connection with refinancing, such as cash flow sweeps and lock boxes. Any such payments and cash flow restrictions will affect our ability to fund our ongoing operations from our operating cash flows, as discussed in this prospectus supplement.
Likely Scenario?
We have three options in front of us in terms of the future of MPG Office trust: bankruptcy, capital infusion or buyout. In my opinion, a buyout is the least likely of the scenarios due to the fact the buyer would have to assume over 2.5 billion in debt. However, a leveraged buyout is also the most profitable scenario for the stockholder, as the capital require for such an expenditure would most likely exceed the current price of $3.14 (1/7,2013).
One possible candidate is Blackstone (NYSE:BX) who purchased a significant amount (1,258,484) of common stock in July, possibly testing the waters of MPGs management and operations. Additional candidates would most likely be REITs who have interests in the downtown LA business district and wish to broaden their presence, which could significantly affect their ability to control the areas rents, should they assume control of MPGs core assets. Brookfield Office Properties (NYSE:BPO) and Thomas Properties (NYSE:TPGI) are likely candidates under this theory.
Disclosure: I have no positions in any stocks mentioned, and no plans to initiate any positions within the next 72 hours. I wrote this article myself, and it expresses my own opinions. I am not receiving compensation for it (other than from Seeking Alpha). I have no business relationship with any company whose stock is mentioned in this article.