Apple (NASDAQ:AAPL) is entering a critical year for the company. The stock started 2012 with significant appreciation but slumped for the last few months of the year as optimism surrounding the company seemed to vanish. Analysts and the media are very critical of every news article involving Apple so it is important for you to monitor new developments for the company and its competitors. Below I will layout the reason why I continue to recommend Apple and as a supplement present complementary option approaches.
I have been long the stock for years and I utilize conservative covered calls to simultaneously generate income and reduce your effective cost basis. Selling out-of-the-money options to generate weekly income is ideal for long-term investors because if you are comfortable owning the stock, there is no potential for additional loss versus outright ownership. Options may sound complicated but the risk/reward profile for covered calls is simple: relative to a long position, selling a covered call means that you are willing to sacrifice some capital gains if the stock appreciates meaningfully in return for guaranteed income. Essentially this means you are willing to trade-off potential upside for a reduced downside.
This is not a strategy based on speculation or complex technical indicators - this is a strategy for long-term investors to capitalize on volatility. For reference, please view the first and other articles in the series to understand the strategy and its potential returns Even if you have no plans to engage in the options market this is your one-stop primer for the critical Apple developments. Options may not be suitable for many investors but I believe owning Apple stock is. Even if Apple is one of your core holding you should understand the various legal, product, and competitive developments that could materially impact the stock's future performance.

(Source: Yahoo! Finance)
Key Recent Headlines:
Apple reports holiday 2012 earnings in just over two weeks in what is expected to be the best quarter in Apple's history. Every earning release is critical for Apple but there will be extra attention on the company to gain insight into the sales of the new iPad Mini. The emphasis will be even greater given Apple's recent stock price decline. Despite Apple rising 25% in the past year, the stock has declined nearly 20% in the last quarter of 2012. As you can see from the chart above, Apple has frequently moved in excess of $10 on a given day, giving investors whiplash. This extreme volatility is ideal for conservative investors who are able to dampen fluctuation with option premiums. Fortunately for Apple investors, the stock has held the $500 level fairly well and has generally shown strength at $510: this provides a solid start point when determining what covered calls (if any) to sell.
Many analysts believed that Apple was declining in the fourth quarter of 2012 primarily due to concerns regarding capital gains tax changes associated with the fiscal cliff. Many investors had large unrealized gains on Apple so it was logical to sell, book gains, and not worry about higher potential tax rates. Under this logic, Apple would rally in early 2013 as investors repurchased the stock. Apple was up in the first week of 2013 but not materially more than the S&P 500. Investors are once again left scratching their heads wondering what is wrong with Apple?
I believe that Apple will remain weak in the first half of January during the Consumer Electronics Show ("CES") when other companies announce their upcoming products for the year. While Apple is able to hold its own major announcements for any of their products, many other companies rely on CES to gain publicity for their new products. CES is growing less important as more companies are following the "Apple model" of hosting their own product announcements. CES is still an early indicator of where the industry is heading for the year so it is "must watch" for all technology investors. While there will be fewer mobile-focused firms present at CES, the television firms will likely be touting their latest models. With Apple still rumored to announce the iTV in 2013, this will be important to monitor. Any new cutting-edge television, tablet, or mobile phone announcement will negatively impact Apple, at least in the short-term. In the past Apple's stock would largely be able to shrug-off any competitor's threats but the stock is vulnerable recently. I suggest that you exercise caution early in the year but do recommend Apple exposure.
Lastly you will see countless Apple rumors in 2013 as analysts and bloggers are always looking for "the next big thing" but always read them with a grain of salt. If you believe everything you read then Apple will be announcing a television, watch, wearable iPhone, iPhone Mini, and maybe even an iCar during the year. Realistically I expect to see the iPhone launched in more colors and the iTV this year but that is about it in terms of new products. Breakthrough technology like wearable computing is still years in the distance but Apple is well positioned to thrive with its current products.
If you need a reason to buy Apple now it is not because of products it may or may not announce. The reason to buy Apple is that it is cheap given its growth and ability to generate cash. The stock currently trades at a forward P/E of 9.2 and Price/FCF of 12.0. I still strongly believe that you are getting a bargain on buying Apple below $600 and now is a great opportunity to initiate a position. I continue to be bullish on Apple's prospects and I challenge investors to find another company with Apple's combination of growth and attractive valuation. I still remain cautious about Apple but I struggle to find reasons why Apple is not a value stock at $500 per share.
Below I present three possible scenarios and the potential returns for the Apple options. The first scenario represents a negative outlook for Apple while the final two scenarios are more reasonable. These scenarios are forecasts and there is no guarantee that they will come to fruition. Even if you are optimistic it is important to consider both positive and negative circumstances in order to stress your assumptions. As a general rule, selling calls with higher strike prices has greater potential return but additional risk of loss due to the lower (or lack of) downside protection. For more information on the fundamentals of covered calls, consult Investopedia.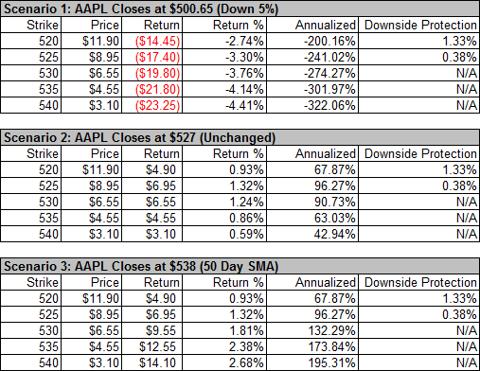 Additionally, if you would like even more information, I have prepared a sensitivity analysis for absolute return and percent returns, respectively. After studying the information above, these two charts make it easy to pick a strike price based on where you believe Apple will close at the end of the week. Estimate where you believe Apple will close and select the strike price with the highest return.

With this information, executing a buy-write on AAPL January 11 $520s is the optimal risk-return strategy as an opening Apple transaction. This is a more conservative covered call than I typically recommend as it is already in-the-money by seven dollars. The option has a potential return of $4.90 (time value) and should provide adequate coverage against a moderate drop. This strategy is excellent for long-term Apple investors who want to generate income while still staying long the stock.
A more aggressive approach would be to sell the slightly out-the-money $525s calls for $8.95. An alternative approach is to sell out-of-the-money $520 puts and collect the premium without having to purchase the stock outright. The $520s are currently trading around $5.00 and appear to offer the best risk-reward profile for the week. Note that if the stock declines to the strike price, you are obligated to buy the stock (or closeout the position). You should always consider the risks (particularly with naked calls or puts) raised in this article in light of your personal circumstances (including financial and taxation issues) in consultation with your professional financial adviser.
Please refer to profile page for disclaimers.
Disclosure: Author is long AAPL, GOOG.
Disclosure: I am long AAPL, GOOG. I wrote this article myself, and it expresses my own opinions. I am not receiving compensation for it (other than from Seeking Alpha). I have no business relationship with any company whose stock is mentioned in this article.
Additional disclosure: Please refer to profile page for disclaimers.