As of last quarter, Cheniere Energy Partners (NYSEMKT:CQP) is opening a natural gas liquefaction terminal in Sabine Pass. The terminal will be the second major facility with liquefaction capabilities in the US. In the midst of our current natural gas glut, many of the regasification plants have either gone completely out of business, or, like Cheniere, have had to adapt and retrofit.
In the last 5 years, natural gas has had a severely driven-down price of $3.25 per mmBTU, caused by the massive oversupply shock, resulting from the new technology of horizontal drilling. On the other side of the planet, natural and man-made disasters alike have resulted in a movement away from newer energy technologies and a larger dependence on traditional combustion generators. In Japan, the price per mmBTU can be seen approaching $12. So why has such a huge price discrepancy persisted for so long when geographical arbitrage seems so obvious?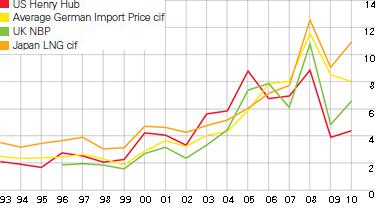 The Natural Gas Logistics Industry:
Well we did the thought experiment with very rough estimates. Given $20M in start-up capital, you would spend $3M renting the LNG tanker ship for a month, at $100k per day for 30 days, which can store about 135,000 cubic meters of LNG. The commodity at the export terminal would cost you roughly $15-16M and at the Japanese import terminal would sell for $55M.
Despite this heavy rent, at the end of the day, your profit margin is very appealing. Your 'economics 101' professor would tell you that far more capital and competition should saturate this buy-for-one-sell-for-two industry until the prices converge.
This took a little bit more searching; it is apparently the liquefaction plants that are the bottleneck of this whole economic situation.
LNG Liquefaction Plants in North America:
Currently, there is a liquefaction plant in Alaska and Royal Dutch Shell is partnering with PetroChina to construct a plant in BC. As of right now, these are the only two significant plants other than that of Cheniere, capable of preparing Natural Gas to be export ready.
While I was doing some precedent searching in the patent office, I checked out patents for liquefaction of natural gas and learned that the technology predominantly used is still the old Carnot cycle, hardly a novel invention, which utilizes thermodynamics discovered in the early 1800s. This intellectual property belongs to the free market, and as of recent, it seems Cheniere is one of the earliest guys to jump on board.
Their project began construction in Q3 2012 and begins operation in Q4 2015.
Now for the numbers:
This company has had negative earnings since before the 2007 crash and has revenues of about $300M per year for a $6.13B dollar market cap. It offers an unfaltering 7% dividend yield.
The project includes 4 trains each averaging 4.5 million tons of liquefied natural gas a year.
They are already contracted for 20 years for use of all 4 of their trains' outputs. Also the modular design allows for simple and effective scaling of this obviously growing market.
Further, due to the previously stated bottleneck, these guys get to set the price for their services on a per ton basis. In early 2000s, price per ton of conversion was about $250-300, now it's around $1000. Since they are contracted, they have shifted some of the savings-in-certainty to the clients. However, they are in line to be making roughly 800 million in revenue with capabilities of growing the field (the balls are already rolling to open up another plant in Corpus Christi).
If there's any business I'd want to be in right now, it's the liquefaction of natural gas and this is probably the closest an average investor can come to it.
Recap:
Revenue will jump from $300M to $1.1B (and I speculate further to $1.6B upon completion of the Corpus Christi branch)
7% dividend yield.
Price up 23% year-over-year.
Benefit from the low price of natural gas.
Offers a nice hedge for Natural Gas bulls as exports thrive under these historically low price of the commodity.
Little to no competition in North America until 2017 when Shell finishes their plant in BC.
Disclosure: I am long CQP, UNG. I wrote this article myself, and it expresses my own opinions. I am not receiving compensation for it. I have no business relationship with any company whose stock is mentioned in this article.