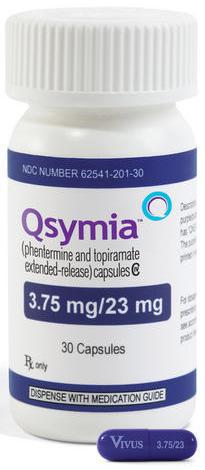 Through an 8-K filing, Vivus Inc (NASDAQ:VVUS) disclosed today Qsymia prescriptions that have shipped in October, November and December. For the four-week periods ending 10/26/2012, 11/23/2012 and 12/21/2012, total Qsymia Rx shipped were 5,394, 7,749, and 12,978, respectively. The strength in VVUS shares this morning is attributed to the increase in scripts reported by VVUS month-over-month and the larger than expected absolute numbers of scripts.
However, Cowen and Company analysts point out that they don't think things are as rosy yet. They believe that even though VVUS shareholders could be encouraged by the directional month-over-month trend, 1. Total scripts are very still low on an absolute basis, and 2. The 4Q revenue could come significantly below the $4.2M consensus and their $3.7M number. The analysts noted that given today's numbers by Vivus and taking into account that many of the scripts reported (assumed 40%) are for the low-dose starting dose that have a much lower WAC (assumed $60/script) than the mid-dose scripts, they could see 4Q12 revenue even at or below $3M. If this materializes, the analysts believe they could have another round of 2013 revenue estimate reductions, similar to what happened in 3Q12 when there was another significant disconnect between reality and Street expectations.
In addition, the weekly script reporting continues to be off, at least for one of the two vendors, if not for both: IMS reports 600 NRx (down 55%), Symphony Health reports 2,200 NRx (up 2%). For the fifteenth week of Qsymia's launch (week ending 12/28/12), IMS reported 603 NRx, a 54.6% decrease from the 1,327 NRx reported for week 14, and Symphony Health reported 2,242 NRx, a 1.5% increase from the 2,208 NRx reported for week 14. Recall this was a holiday week with the drop in scripts seen across the board this week. Again, perhaps the more notable item here is that two vendors used widely by the industry are reporting such disparate numbers every week.
Cowen analysts fully expect to see an eventual pick up in Qsymia scripts in 2013, by increased patient demand, through:
Greater product awareness.
Increased reimbursement.
Easier patient access through retail availability.
On the other hand, the analysts expect to see pressure on the stock from:
Anticipated Paragraph IV filings (even though our legal consultants believe that Qsymia's IP is strong and can withstand these challenges.
Belviq's presence on the market, which while on the one hand will increase awareness about obesity pharmacotherapy, it will undoubtedly take away at least some patients from Qsymia.
Final conclusions:
The firm thesis continues to be that in order for Qsymia to become a blockbuster, Vivus needs the help of a big pharma partner. It believes that Qsymia can become a significant drug, and at penetrations of 1.5-3% in the male and female obese population, respectively, the firm projects peak US sales of $1B in 2019. However, it has assumed that this only happens with the help of a big pharma partner that will employ a primary care sales force. The firm doesn't believe that this level of sales is achievable by any small biotech/spec pharma company's sales force, no matter how smart or motivated, and currently has "Neutral" rating on Vivus shares.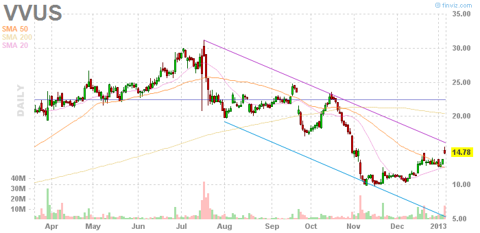 Disclosure: I have no positions in any stocks mentioned, and no plans to initiate any positions within the next 72 hours. I wrote this article myself, and it expresses my own opinions. I am not receiving compensation for it (other than from Seeking Alpha). I have no business relationship with any company whose stock is mentioned in this article.