Market action in the consumer sector as demonstrated by the XLY and XRT has been in a choppy, range-bound pattern since April. Note that like much else in this paper, central-planned, manipulated market, that real trading has evaporated and volume has shrunk considerably. Both the retail and consumer discretionary sectors should be shorted. These sectors have been propped up by a combination of factors, but largely government policy.
Yahoo Finance: XRT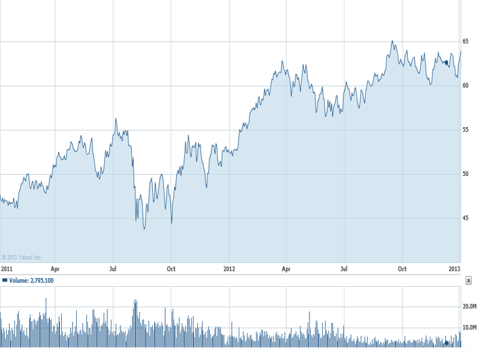 The threats to these sectors can be broken down as follows:
1. There is the perception of improved sentiment in the housing market. This is not supported by demographics and after-tax income trends, but rather by ultra-low mortgage rates and, again, government policy. Many homeowners have already refinanced, so the marginal benefit to the economy has already occurred. What has been lost in the discussion is the fact that savers have lost income or have been pushed into a risky assets, such as the bond bubble. The government's ongoing reliance on foreign creditors to go along with little yield and the ability of speculators to continue to front run the Fed is dicey at best. Also left out in the discussion is that a bunch of inflated agencies and mortgage-backed securities have been created around this new financing.
Government policy and subsidies on all fronts is dysfunctional and has enabled dirt-cheap borrowing costs provided from excessive intervention and control by the Federal Reserve. Despite the machinations of the fiscal cliff, there has been little Congressional will shown to deal with the trillion-dollar deficits that support all these prop-up schemes. Nevertheless, some of the props are falling away at the margin and more are threatened.
The Downside of ZIRP subsidizing the housing sector and the Government.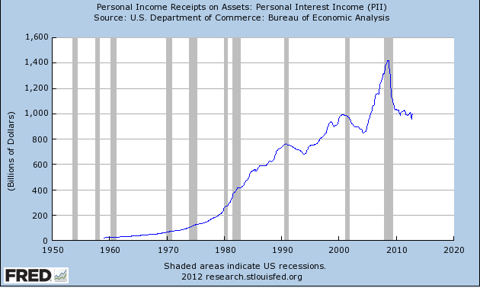 2. Some artificial stock market wealth has shown up (at least temporarily) because of the liquidity pushed into the economy by central banks. A prime example is Apple (NASDAQ:AAPL), which is widely owned and has reached cult status. In terms of consumer sentiment, AAPL is more important than the Russell 2000. AAPL has managed to hold support at 510. But in reality, it is still struggling and has been quick to give up its scammy fiscal-cliff rally gains. Bottom line is that not only has the large cult of AAPL stockholders given back all their "wealth" from early in 2012, but many are in loss positions. If AAPL takes out support, it would be a very negative wealth-effect sign for the consumer.
The second factor that gets little mention is that the bond bubble has marked up assets of bond investors via capital appreciation. If and when the Treasury, corporate and junk bond bubble unwind, investors will see unsustainable asset prices marked down on their monthly statements.
3. Obamacare has potential to cause more unemployment and part-time workers. Dr. Paul Rice wrote a revealing article on this topic: "The Darden (NYSE:DRI) approach to Obamacare." Darden Restaurants employs about 185,000 people and, like many employers, cannot wait around until Jan.1, 2014, to make Obamacare adjustments. They've already begun.
At November's Restaurant Finance & Business Development Conference Darden Restaurants' test plan was much discussed. They are reducing hours of employees to below 30 to limit the number of employees who would be eligible for coverage.

Can employers simply wait until 2014 to make adjustments to their employee hours? No. The ACA has a look-back period to keep businesses from doing exactly that. Determining if a worker meets that 30-hour threshold will be done using their 2013 hours worked.
The cost of providing an approved policy will likely be well above the $2,000 tax imposed, based upon wide review of sources. Therefore, employers have a huge incentive to purge their businesses of scheduled workers with 30+ hour schedules now and avoid having those workers classified as full-time come 2014. McKinsey surveys (so far) estimate that 30% of employees will drop coverage all together. Many of these firms used to use high deductible mini-med plans, but those are already prohibited.
4. Inflation should take a toll on consumers. The aspect to watch will be additional and harmful consumer inflation brought about by central bank money printing going into 2013.
Inflation as measured by the MIT survey (see link) is still constrained at 2% YoY.
There are some hot spots, particularly in rents paid. Nationally, rents rose 5.2 percent YoY. Throughout 2012, rent increases YoY remained around 5 percent, even though asking price increases accelerated and have almost caught up with rent gains at year's end. Rent-adjusted inflation is a component of the CPI, but this particular inflation has been rather expediently ignored.
The USDA forecast for both all food and food-at-home (grocery store) prices is 2.5 to 3.5 percent inflation. Looking ahead to 2013, inflation is expected to remain strong for most animal-based food products due to higher feed prices. Furthermore, inflation should be above the historical average for food categories such as cereals and bakery products as well as other foods.
5. Consumer sentiment in some quarters hasn't collapsed because of political outlook. Polls show that Democrats are now confident in the aftermath of Obama's re-election. Is this because they sense that all the special handouts, food stamps, expanded Medicaid under Obamacare, government channel stuffing schemes, etc, will all be sustained? The wealthy classes (top 1%) still seem confident that their low taxes and corporate cronyism privileges will be sustained. However, citizens in what is left of the productive sectors are cutting back. I believe the lack of confidence has little to do with the fiscal cliff and more to do with increased costs coming from Obamacare and a clear-sighted appraisal of the true -- as opposed to the artificial -- state of the American consumer. Judging from gun and gold sales, these citizens are running scared and reflect an extremely divided political economy.
What is the current reality about the consumer? So much largess has been and is being thrown at this group over the last several years by the Government that they're likely not just reaching a saturation point, but a bursting point. Charles Biderman, who reports on after-tax income, is pessimistic. In this clip (at 3:40) he puts the total tax increase for 2013 from Obamacare, higher taxes on the 1% -- and especially the 2% payroll tax giveback -- at $200 to $225 billion. Although I anticipate the U.S. will run trillion-dollar deficit spending until the bitter end, if and when there is even the slightest token austerity on entitlement programs, the military-industrial complex, or cuts in general government spending, this trend will be amplified. The following chart shows the only reason disposable personal income has even been able to "stay in the game" so far is a huge debt-financed increase in government transfer payments since 2009 to make up the difference.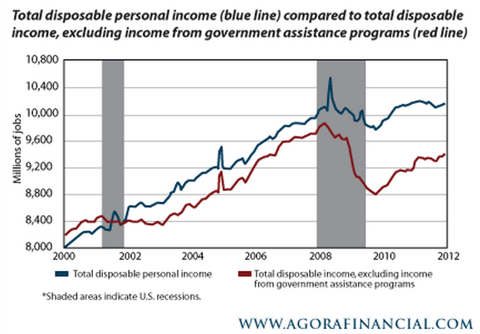 The following holiday data reflects conditions before the first quarter arrival of $200-$225 billion in lost consumer disposable income supports. Generally, this poor data is being attributed to "dog ate the homework" excuses like Sandy and the "averting" fiscal cliff scam.
A report from RetailMeNot.com concludes holiday shopping fell 3.4% this year with the number of store visits by consumers plunging 16.4%. Despite a calendar shift that threw some extra shopping into the post-holiday period, the overall tone of the data isn't positive for the sector.
Online holiday spending grew a disappointing 14% YoY to $42.3 billion, according to comScore, with strong numbers in the latter portion of the season unable to make up for an especially weak first half of December.
Apple: Deutsche's Japanese team writes supply chain activity suggests a 30%+ Q/Q drop in iPhone 5 production for the March quarter. UBS, Jefferies and others have already cautioned iPhone production is set to fall sharply this quarter, thus some bad news on this front appears to be baked in.
Restaurant performance is somewhat contractionary.
Source: Calculated Risk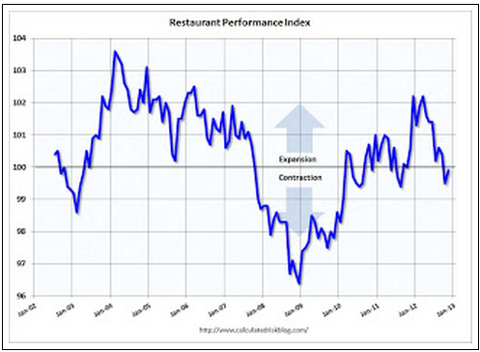 Disclosure: I am short XRT, XLY, XLP. I wrote this article myself, and it expresses my own opinions. I am not receiving compensation for it (other than from Seeking Alpha). I have no business relationship with any company whose stock is mentioned in this article.