On Charles Schwab's (NYSE:SCHW) website, the investor relations page notes that SCHW releases their quarterly earnings on the 11th business day of the quarter, which would be Jan. 16. In the event we are wrong, we are putting this preview out early, just in case the release occurs before that date.
When SCHW does report their calendar Q4 '12 financial results, analyst consensus is expecting $0.15 in earnings per share (EPS) on $1.2 billion in revenue for expected year-over-year growth of 15% and 8% respectively, which isn't too shabby for the headwinds Schwab is facing.
Since Schwab's last quarter was reported in October, the Q4 '12 estimate has come down from $0.16 to $15 while Q4 '12 revenues have remained stable.
Last quarter, SCHW beat by $0.02 on earnings per share, reporting $0.19 versus the $0.17 estimate, with most of that upside driven by a tax benefit. The net interest margin (NIM) continued to compress, thanks to the interest rate environment, a story similar to a lot of financials.
Schwab exited the 1990's as a discount broker dependent on trading volumes, but spent the last decade becoming a substantial asset-gatherer. Both the RIA division, where people like me bring Schwab our clients and where Schwab acts as custodian, to Schwab's retail asset gathering from branches and brand awareness, Schwab has attracted substantial assets under management (AUM), and the always nice management fees. Schwab now has almost $2 trillion in assets under management, dwarfing TD Ameritrade and the former so-called discount brokerage set.
The unfortunate downside to that asset gathering and those assets under management is that Schwab has had to waive management fees on the uber-lucrative money market mutual funds, which, according to our research, amounts to almost $0.40-$0.50 per year in "masked" or suppressed earnings power.
Management (in my opinion) has actually done a pretty good job in the last 12 years maintaining the credit rating at A2/A. Schwab's pre-tax operating margin has ranged from 20% in early '09, to as high as 40% in Q4 '08, as many retail as well as professional investors were re-allocating portfolios.
Currently the pre-tax operating margin (as of 9/30/12) was right at 30%, and has upside if markets would cooperate.
The longer-term flat stock market marked by periods of gut-wrenching bear markets (i.e., volatility) and then followed by steadily falling interest rates and ZIRP have been a two-tiered headwind for the discount broker, and although we have been writing these articles for years now, when this current stock market and monetary policy change to "more normal" (as opposed to "new normal") conditions, Schwab will be a huge beneficiary.
The substantial assets gathered over the last 12 years represent enormous operating leverage if we could get some markets that would interest equity investors.
As we wrote last September here on SeekingAlpha, Schwab is our single best monetary policy tell in the market today. A 1% increase in short-term rates by the Fed would, over the course of 12 months, add $0.40 to $0.50 in earnings per share to Schwab's income statement, or basically a 40% to 70% upside to today's earnings estimates, depending on the rate of increase.
Schwab's valuation at current prices isn't a screaming buy, with 2012 and 2013 earnings estimates of $0.69 and $0.73 for expected flat growth in 2012 and 6% in 2013, with a 22(x) multiple on the stock currently. Schwab is currently generating mid-single-digit revenue and earnings growth, all based on hard work, and bring in new assets. If the stock and bond markets would ever reverse the current order and we'd see higher stock prices accompanied by rising short-term interest rates, under "normalized earnings" Schwab would generate (we think) $1.15 to $1.20 in earnings per share, with no margin expansion, and no new assets.
If we assign a 15(x) multiple to a $1.15-$1.20 potential eps estimate (once the Fed starts to raise rates), Schwab should be valued between $17.50 and $22, again, that is with no margin expansion, no growth in DART's (daily average revenue trades) and no new assets under management.
As Schwab trades today, the stock is overbought on the short-term charts and needs a pullback of 5% - 10%. However, on this monthly chart, if Schwab trades above $15.48 (50 month m/a) and $15.60 (200 mo (m/a), the shares could easily run into the mid-$20s.
Click to enlarge image.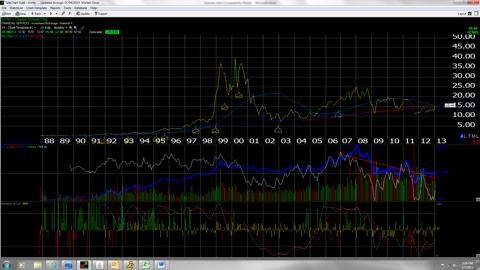 Click to enlarge
Be patient with "Chuck." In the long run, it will be worth it.
Disclosure: I am long SCHW. I wrote this article myself, and it expresses my own opinions. I am not receiving compensation for it (other than from Seeking Alpha). I have no business relationship with any company whose stock is mentioned in this article.
Disclaimer: Trinity Asset Management custodies all our assets with Charles Schwab & Co. Inc., so in effect I pay them via commissions on trades and management fees on the funds used.