In attempting to forecast the price of natural gas it's the uncompleted well count, not the drilling rig count, that has some significance. So many wells have been drilled in the last couple years but left uncompleted that the natural gas rig count, which has fallen all the way down to 431 recently, has little meaning. (Source)
The inventory of uncompleted wells in the United States has grown so high that the natural gas rig count could probably drop to zero for a while and it still wouldn't scare United States Natural Gas (NYSEARCA:UNG) higher.
In light of this investors in natural gas stocks should place focus on well completion rates, well production rates if they can get access to the numbers, and monitor for any signs of significant consumption rate increases. These will be the way to get a sense of where UNG, Chesapeake Energy (NYSE:CHK), Cheniere Energy, Inc. (NYSEMKT:LNG), ExxonMobil (NYSE:XOM) and Chevron (NYSE:CVX) are heading. Others will primarily be driven by these key variables as well, and this includes Devon Energy (NYSE:DVM), Apache Corp (NYSE:APA) and British Petroleum (NYSE:BP). A company that will actually benefit from consistently low natural gas prices is Clean Energy Fuels (NASDAQ:CLNE). Clean Energy's clients need to see low natural gas prices for extended periods of time before they can gain sufficient confidence to convert their vehicle fleets.
Regarding completion rates, the numbers have plummeted worse than the rig counts. The number of wells being completed per month has literally hit zero in some areas. Completions per month in Louisiana, for example, was over 60 in 2010 and 2011 but has now fallen to nothing in certain weeks. The graph below is through October 2012 but in recent months the rate went lower.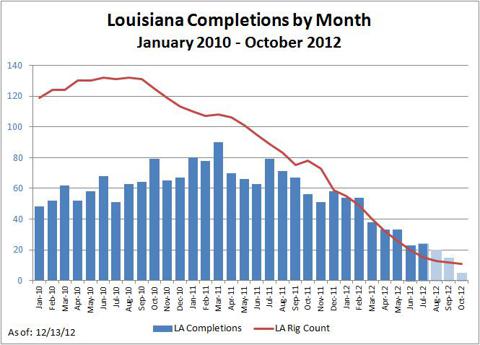 (Source: http://www.haynesvilleplay.com/2012/12/no-new-louisiana-completions-this-week.html)
Moving on to consumption, the winter weather looks to be a bit colder throughout much of the United States but not cold enough, and long enough, in places where it matters most. It matters most when frigid temperatures move to where the mass populations live which is along the entire East Coast, and this includes the Southeast. In general, the entire East Coast would have to have a remarkably cold as well as long winter for the gluttonous natural gas situation to change. The full duration of the East Coast's winter would have to be the opposite of what we saw last year. 2012 was roughly four degrees warmer than average.
The exportation of natural gas and a widespread use of natural gas in vehicles are, unfortunately, still too far away to impact the value of natural gas right now. A movement in natural gas legislation could spike things, so look for that over the next few months, but the fiscal cliff issues are Washington DC's focus for the time being. That leaves us with the elephants in the equation, the power plants. While there has been a strong conversion from coal to natural gas in power generation the rate of conversion appears to be too slow to impact what has become a massive surplus of uncompleted wells. If you see General Electric's (NYSE:GE) stock climbing at surprising rate then it's likely due to a selling of enough gas turbines to make an impact, but thus far this doesn't appear to be happening.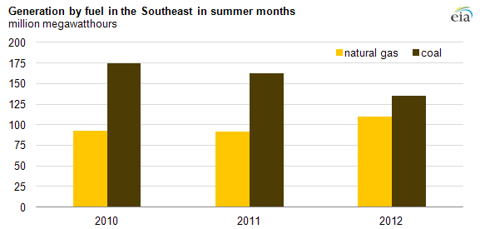 (Source: www.eia.gov/todayinenergy/detail.cfm)
As a result of everything mentioned above the graph of gas in underground storage should continue its current behavior for at least a little while longer. Specifically, the red line will likely ride the tops of crests and valleys for a couple more seasons. In other words, ample natural gas should remain in storage. If not for the ability of natural gas prices to fall lower (and production to be slowed to compensate) the amount stored would likely trend higher.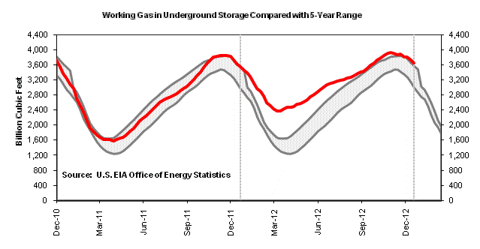 In summary, I suggest that investors keep watching for US consumption to noticeably rise and for completion rates to climb. A powerful driver for the consumption of natural gas is turbines, so keep an eye on General Electric. The number of uncompleted wells remains remarkably high so CLNE should have time to set up their natural gas highway. Unless something blindsides us, such as a massive boom in economic activity (which unfortunately appears unlikely), I don't see the fundamental drivers having enough strength to make a significant impact, at least not in the short term. The amount of natural gas in storage and the vast number of uncompleted wells have simply grown too large to budge for a while.
Disclosure: I have no positions in any stocks mentioned, and no plans to initiate any positions within the next 72 hours. I wrote this article myself, and it expresses my own opinions. I am not receiving compensation for it (other than from Seeking Alpha). I have no business relationship with any company whose stock is mentioned in this article.