Anyone who has seen Bill Ackman's diatribe on Herbalife (NYSE:HLF) is probably convinced that the company is engaged in a pyramid scheme according to the FTC's definition of that term. Apparently, about three million people have viewed his speech - surely, some sort of a record for a short-seller who is trying to crush a stock. Does that mean the stock is headed for zero, as Ackman argues (or hopes, if he has indeed sold a billion dollars' worth short, as he has suggested)?
Not likely, I think. Herbalife has been doing its thing for 32 years. It takes in about $3.9 billion in 84 countries around the world. You may not like its multi-level business model, but half a million individuals have currently bought into the program.
If Ackman wanted to discredit a business model as not being very good for its customers he ought to go after the lottery-ticket business. Now there's a bad deal all around. If lottery-ticket sellers had to disclose what the average ticket buyer lost rather than what the single winner received, probably fewer people would buy tickets. Yet one of his major arguments against Herbalife is that they don't publicly disclose what the average person makes from the business.
As a stock, HLF has a lot going for it. It sells at 9,47 trailing earnings (8x forward earnings) and pays a hefty 3.2% dividend which is well-covered by earnings (the payout ratio is only 28%). The dividend alone should provide a base for the stock. According to Yahoo, 7 analysts follow HLF, 5 giving it a strong buy and 2 a buy (one analyst down-grading it to a hold on December 20, the day of Ackman's initial speech). This doesn't sound like the kind of company that is going to zero. You would think that at least some analyst would have noticed something negative if that were a realistic possibility.
There seems to be only two reasons to believe that this stock will implode - either the FTC goes after the company as a pyramid scheme or the business model suddenly fails after 32 years of success.
The FTC has not shown any interest in prosecuting Herbalife. The company has not been hiding what it has been doing like some Ponzi scheme arrangement. And while the business model may not appeal to most of us who read articles about investment alternatives, it clearly has appeal to many people who have time on their hands and hope to make a little money on the side and who risk $75 to get their foot in the door for a multi-level marketing program. Their chances of success are far greater than it would be if they bought lottery tickets with that money instead. And they do get some product as well, even if they have paid more than they should have for it (as Ackman argues).
Check out the recent stock graph: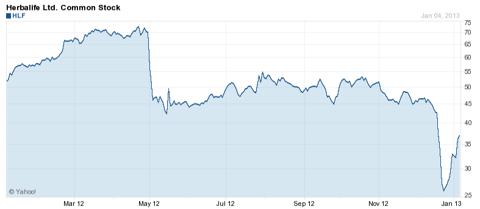 Clearly, the stock tanked when Ackman started his negative campaign just before Christmas. After the initial panic, it has rebounded about 50% from its low point. But is still well below the average price for the last year. Other than Ackman's speech, what could account for it current low price?
One big reason I believe that the stock will not go much lower from here is the short interest ratio. The latest short interest numbers from Nasdaq show that about 27% of the total outstanding shares have been sold short, but those numbers were generated on December 14th, before Ackman's big pitch (on the 20th). It is likely to be much higher than 27% today.
In a recent Seeking Alpha article, I wrote about an even larger short interest ratio, - A Dynamite Options Strategy To Play The Green Mountain Coffee Roasters Earnings Announcement, I warned that the excessive short interest ratio might result in a short squeeze (and a higher price for GMCR) if any sort of good news was forthcoming. Every comment I received on the article warned that the stock was headed lower in spite of the short interest ratio. Since that time, the stock has soared 40% while the short interest ratio is still high (although some 10 million formerly short shares have been bought back).
So what do you do if you believe, as I do, that HLF is unlikely to fall much from here in the near future? I have bought Feb-13 - Jan2-13 calendar spreads at the 35 and 37.5 strikes (using puts) and at the 40 and 42.5 strikes using calls. Implied volatility for the Jan2-13 options is through the roof, about 104, making these spreads unusually cheap to my way of thinking.
Here is the risk profile graph for what is expected at the end of this week on these spreads which cost a total of about $3200 (I bought 4 spreads at each strike):

If the stock holds steady for the week, the positions should net about $1200 (about 30%). If the stock moves higher the gain should be greater. It can fall from its current level of $36.57 to as low as $34 before a loss should occur, but I believe that a lower price is unlikely because of the arguments I have made above.
While the company is currently in a quiet period for refuting Ackman's claims, they will be free to tell their side of the story after announcing earnings on February 18th. If they are remotely successful in refuting his claims, the short-sellers might start buying back their shares and we should see the stock move back to where it was a month ago.
Disclosure: I am long HLF. I wrote this article myself, and it expresses my own opinions. I am not receiving compensation for it (other than from Seeking Alpha). I have no business relationship with any company whose stock is mentioned in this article.