I recommended that investors take the time to look at Cliffs Natural Resources (NYSE:CLF) back in August of 2012 because it was undervalued. At the time, it was trading at just under $40 a share. Since then, the stock has hit new 52-week lows as a result of shaky dividend sentiment and a bleak outlook for iron mining. The bottom came at the beginning of December when it hit $28 a share.
The stock has since started to make a recovery and currently stands at $38.57. At this price, it's a huge bargain. It's trading at only 6 times earnings compared to the industry average of 40 times earnings. For every $1 of revenue CLF brings in, investors are currently only paying $0.84 (17% of the industry average). For every $1 of assets on the books for CLF, investors are paying $0.80 (13% of the industry average). Finally, and maybe most importantly, investors are paying $3.44 for every $1 of free cash flow (19% of the industry average).
One of the main reasons for the sell-off was the declining price of iron ore globally; however, in the last quarter of 2012, iron ore prices have been on the rise by about 50%. China's iron demand has also increased, though domestic suppliers have been the only ones to benefit from it. It's unclear how stable demand in China is, which adds a short-term risk for the CLF investor. It should not be a major issue for the long-term investor; however, as long as investors believe the price of the stock is cheap based on fundamentals.
Cliffs Natural Resources paid a dividend of 6.00% last year, which is much higher than the industry average of 2.50%. This can be a good way to profit from the stock if the price stays stagnant, however unlikely that is. Not only is the dividend yield relatively high, but the payout ratio is only 28% compared to the industry average of 49%. Since Cliffs is keeping more cash on hand than competitors, it is in a better position to invest in growth and increase future dividends.
Valuation calculations also point to a stock that is currently oversold. The Graham value of CLF with a conservative 10-year growth rate of 0% is $59, which means there is a 57% upside to the stock. The Reverse Discounted Cash Flow valuation (which I've explained in earlier articles) shows that the market expects CLF to shrink by about 7% over the next 10 years to justify its current price.
One of the largest reasons to be bullish on CLF is the moves that insiders are making. In the last 12 months, insider ownership has increased by 36%, with only one insider selling more than 5% of their stake. Institutional ownership is up 9% and fund ownership of the stock is also up.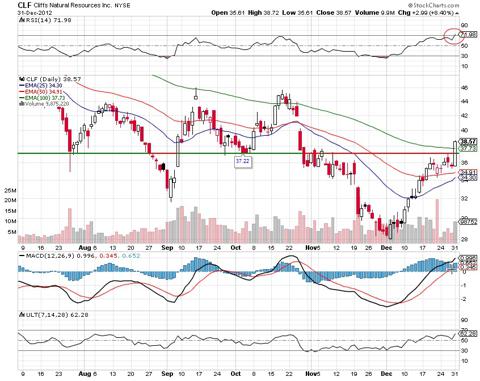 The price of CLF has moved above the 25, 50, and 100-day moving averages, which suggests a bullish trend. The MACD also points to a bullish trend, since it's above the signal line and diverging. The ultimate oscillator is in uptrend territory but not overbought, while the RSI is in overbought territory. This suggests the price may be moving up too fast, and the market may correct it in the short term.
CLF is an optionable stock, which allows investors to customize the risk/reward tradeoff to their liking; however, the outlook is unclear in the short term. While I would not recommend using short-term options, I have taken the liberty of outlining a possible options strategy for a bullish CLF investor.
This particular strategy is known as a married or protective put. It's useful when an investor is bullish but cautious. The spread is made up of one put option and 100 shares of the stock of interest. I chose to go with a January 2015 put option at a $30 strike price (selling at $7.10, according to Google Finance). Below is the profit/loss graph, which shows that the breakeven point for this spread is at a price of $44.65, while the maximum losses are capped at $1,459, which occur at $30 or less. The profits are uncapped and occur at a rate of $100 profit for every $1 increase in price (you own 100 shares). Another possible strategy would be to simply buy a call option.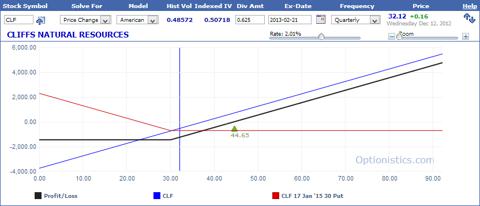 As always, it's important to conduct your own research and form your own investment strategies based on what you believe makes a successful public company. While CLF looks like a great buy fundamentally, there have been many investments that don't return profits despite great ratios, so it's important to consider the risks. All of the ratios used in this article were as reported by OneSource business browser. The options prices were obtained from Google Finance at the time of writing.
Disclosure: I am long CLF. I wrote this article myself, and it expresses my own opinions. I am not receiving compensation for it (other than from Seeking Alpha). I have no business relationship with any company whose stock is mentioned in this article.