I last analyzed 8x8, Inc. (NASDAQ:EGHT) in August, with a bullish perspective on the stock and an ultimate price target of $9-$10 in the coming year. Since the article, the company has released a quarterly earnings report, realized significant stock price appreciation, and been identified as a go-to business following Hurricane Sandy. A reevaluation considering these positive events in the context of the price appreciation is in order ahead of the next quarterly earnings results, to be reported on Jan. 24.
Q2 2013 (reported Oct. 24) -- The Top Line: Charging More
On the top line, 8x8's revenues grew 33% quarter over quarter, from $19.8 million to $26.4 million. Importantly, 8x8's business customer revenues grew 41% in total, or 25% when accounting for comparison bias due to the acquisition of Contactual. On top of this, monthly revenues per business partner increased to $256, up from $250 in Q1 2013 and from $207 in Q2 2012. The company's management notes that this is related to an expansion in its service lines: new customers are adopting 14.7 service lines (products) from 8x8, compared to 12.4 a year earlier. Thus, the company was able to charge more per month.
A breakdown of revenues indicates that management has been improving the business significantly since 2009:
Annual Revenues (in thousands)

Year

Value

Percent Change

2007

$ 61,073

-

2008

$ 64,674

5.90%

2009

$ 63,396

-1.98%

2010

$ 70,163

10.67%

2011

$ 85,803

22.29%
Note: Years are based on actual years, not fiscal year results (8x8's fiscal year ends March 31).
The Top Line: Retaining Customers
For a company to grow its market share, it must retain customers and acquire new customers. A company acquiring hundreds of new customers is not growing if it is losing thousands. Thus, churn is important because it focuses on the "retaining customers" portion. For the quarter, churn increased to 2.4% due to a one-time loss of 400, $20 per month, customers. If this onetime loss is removed, then churn was flat compared to Q1 2013. Revenues of $8,000 per month were lost, but management noted in the call that revenue churn, a more important measurement of actual revenues, is at an all-time low of 1.0%. Management expects churn to continue to improve, however, be wary of more or continued "one-time" losses. The current main driver of churn for 8x8 is business closures, rather than clients switching service providers.
The Top Line: Adding Customers
For adding customers, management notes three priorities:
Our highest priority remains focusing on our inside sales team which is selling both our virtual office and our virtual contact center products to small businesses. Our second priority is to continue to push the growth in this bid market and channel effort at these larger opportunities. And our third focus is really to grow our federal and government sales and I can't give you more details on what we're doing there.
Thus, the company is targeting small businesses, its base segment, as well as opening up to larger businesses and the federal government. Management insisted in the call that its internal sales team can grow quicker than it has grown in the past, which is why that remains the highest priority. These are the three initiatives through which growth can exceed what analysts are currently predicting and cause the stock price to continue its upward trajectory.
The Bottom Line: Service Margins
The company improved its bottom line 119% to $3.7 million from the same quarter last year. Management's focus is on a service margin goal of 80%; the margin is currently at 76%. To reach this goal, 8x8 has entered into new agreements with new network vendors and is continually improving its network operations activities. 8x8 has also migrated its contractual customer database to proprietary billing systems, which should result in increased efficiency and enhanced customer experiences.
Given that 8x8 has had some special items income and tax events in the past few years, operating earnings before tax is the best metric of business viability:
Operating Earnings Before Tax

Year

Value

Percent Change

2007

$ (4,291)

-

2008

$ (3,067)

28.52%

2009

$ 3,975

229.61%

2010

$ 6,869

72.81%

2011

$ 7,918

15.27%

Estimated 2012*

$ 9,857

24.49%
Estimate is based on the past three actual quarterly results plus a (very) conservative prediction based on the final quarter of 2011.
Here, operating earnings have improved significantly since 2008, showing large gains in 2009 and 2010, withs trong absolute gains moving forward. Meanwhile, capital expenditures have been high at $4.7 million year to date, but the company expects to return to a historical capital expenditure amount of 2% of revenues in the near future. The high capital expenditures are due to moving to a new office building.
Despite the capital expenditures, however, the company has grown its cash and short-term investments base significantly:
Annual Cash & Short Term Investments Balance (in thousands)

Year

Value

Percent Change

2007

$ 14,567

-

2008

$ 16,376

12.42%

2009

$ 18,056

10.26%

2010

$ 18,401

1.91%

2011

$ 24,368

32.43%

Latest Quarter 2012

$ 40,117

64.63%
An important note here is the combination of earnings, capital expenditures, and the fact that 8x8 has no debt. The company has been improving its earnings and had a significant amount of capital expenditures this year, but still grew its cash and short-term investments balance significantly. While an increasing and significant cash balance can sometimes indicate that management is simply not investing enough or should return some of that capital to investors (stock buybacks or dividends), the fact that capital expenditures were high and that many companies are keeping larger-than-historically-normal cash balances diminishes that worry. It is nice to have a cushion and a solid balance sheet, and at this time I am satisfied with 8x8's cash balance and capital reinvestment policy.
Stock Chart
Click to enlarge image.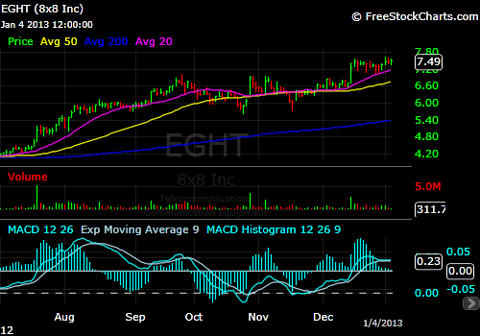 It is apparent that in the past six months the stock has had quite a run-up from near $4.20 to $7.49, for a gain of nearly 78%. In the short term, the stock has moved sideways over the past 13 or so trading periods, which has led to the 20-day moving average resting right below the current stock price. In a positive move, the 20-day moving average bounced off the 50-day moving average in mid december. The MACD has converged, but this is not necessarily bearish; it is reflecting the sideways trend that the stock is currently in and showing that there is not current significant upward momentum. Based on the stock chart, I believe that the stock will continue to move sideways prior to its earnings report.
Financial Ratios
Price to Earnings (TTM) (based on earnings of .$17): 43
Price to Earnings (Forward) (based on earnings estimates of $.23 taken from Bloomberg): 31.4
Price to Earnings Growth (based on 20% growth estimate): 2.15
From the P/E and PEG metrics, as well as the stock chart showing significant stock price appreciation, it is apparent that growth has been priced into the stock. Investors must question if more growth than currently expected can be achieved.
Conclusion
The company delivered a solid earnings report and news since then indicates that it is continuing the momentum. The market has recognized this as well, and is now pricing in more growth with the stock currently trading in the low $7.00s ($7.22 at the time of the financial calculations).
Investors must remember that a claim on equity is a claim on future cash flows; you pay the stock price now in return for this claim. Currently, the price reflects growth estimates of about 18%-20% growth; investors must realize that 8x8's stock price will appreciate if these growth estimates are beat. 8x8's stock price, and the growth potential that it reflects, will be based upon the four things italicized in the quarterly conference call review: ability to charge more, ability to retain customers, ability to acquire new customers, and reaching its target of an 80% service margin. The better and faster management is able to act upon these items, the quicker 8x8's shares will appreciate. If going long, any investor must believe in management's ability to act quickly on these initiatives and to grow quicker than current expectations. Personally, barring drastic changes to the business, I believe that a price target of $9-$10 is achievable within the year.
Look for the Following in the Next Quarterly Report:
(taken from Bloomberg)
Long-Term Growth Estimate: 23%
Revenues: $27.3 million (vs. $23.278 million comparable quarter, growth of 17% expected)
Earnings: $.052 per share (vs. $.04 per share comparable quarter)
Disclosure: I have no positions in any stocks mentioned, and no plans to initiate any positions within the next 72 hours. I wrote this article myself, and it expresses my own opinions. I am not receiving compensation for it (other than from Seeking Alpha). I have no business relationship with any company whose stock is mentioned in this article.
Disclaimer: I encourage readers to do their own due diligence in conjunction with any articles that they may read.