Last month, Bank of America Merrill Lynch (NYSE:BAC) became the first major bank to make a non-traded REIT available to clients of its investment advisory business. The REIT offering: Jones Lang LaSalle Income Property Trust, formerly known as Excelsior LaSalle Property Fund Inc.
Jones Land LaSalle Income Property Trust became available in November to clients of Bank of America Merrill Lynch network of 17,500 investment advisors for a purchase price of $10.00 per share.
News of the offering has poured in over the past week, as financial media outlets speculate who will follow Bank of America into the world of non-traded REITs. The non-traded REIT sector has traditionally been relegated to smaller broker/dealer networks, and the entrance of the major wirehouse Bank of America has been an interesting development. Under the current agreement with Jones Lang LaSalle , Bank of America's advisors have the right to sell shares of the REIT between November and April. Following Bank of America's period of exclusivity, ending in April, other firms will be able to market and sell the investment through their own networks of advisors.
The entrance of a major institution into the world of non-traded REITs could lend confidence to an alternative investment vehicle that has been recovering from serious scrutiny from regulators. Should Bank of America be successful in its endeavor, other major banks could join the fray and usher in new consumer and regulatory confidence in the sale of non-traded REITs. Although major banks have a striped history of their own, especially following the housing crisis, investors and regulators may feel more comfortable with a well capitalized, top tier institution brokering deals, instead of smaller mom and pop shops.
However, with this enthusiasm comes some major hurdles. As I will outline below, I have two concerns over Bank of America's first non-traded REIT fund offering; the size of the offering and past performance of the fund.
What's the Deal With Non-Traded REITs?
Private placement REITs are a horse of a different color in the world of real estate investment trusts. They are not traded on a major exchange, are highly illiquid, and, as a broad sector, have a lack of transparency compared to their public counterparts. Most non-traded REITs are structured as a "finite life investments," meaning that at the end of a given timeframe, the REIT is required either to list on a national securities exchange or liquidate. Additionally, non-traded REITs are usually relegated to "accredited investors," or individuals with a net worth of 1m or more.
Additionally, non-traded REITs are subject to fees and much higher commissions than public REITs. Commissions can range anywhere from 2 to 6% and have created a very lucrative broker/dealer network for this alternative investment.
Background of Jones Lang LaSalle Income Property Trust
On November 14th, 2011, Bank of America Capital Advisors LLC transferred management of the Jones Lang LaSalle Income Property Trust's predecessor, Excelsior LaSalle Property Fund Inc., to Jones Lang LaSalle (NYSE:JLL). Following the transfer on November 14th, 2011, Jones Lang LaSalle issued a tender offer on August 15, 2012 to repurchase $25,000,000 (442,478 shares) of common stock in the predecessor fund. The offering price was commensurate with the fund's net asset value (NAV), which was determined to be $56.50 on June 30th, 2012.
Implications for Bank of America: A Volatile Product
When I say "volatile," I am referring to the environment currently surrounding non-traded REITs. Simply put, regulatory authorities have their eye on these alternative investments.
An example of an event that has brought regulatory scrutiny is the State of Massachusetts April 2012 administrative complaint against LPL Securities, a broker/dealer firm and investment advisor. The violations stem from complaints that LPL Securities neglected Massachusetts' specific security requirements, prospectus suitability requirements, and violations of LPL's own compliance measures. The suite aims to distribute restitution to shareholders in the amount of $27,000,000. Bank of America's network of 17,500 advisors will each have to comply with separate state regulations related to non-traded REITs, with each state differing in their requirements.
While these regulations are not new to alternative investments, there seems to be a regulatory stigma surrounding non-traded REITs at present. A simple Google search of "non-traded REITs" will elicit numerous advertisements from attorneys trying to draw investors into class action lawsuits. In terms of regulatory scrutiny, FINRA has issued two "investors alerts" regarding non-traded REITs. FINRA published an investor alert titled: Public Non-Traded REITs Perform a Careful Review Before Investing stating:
FINRA is reissuing this Alert because of concern-reflected in a recent enforcement action-that some investors may be the recipients of misleading information regarding certain public non-traded REITS.
A Noble Experiment
Bank of America is assuming what I would consider a noble experiment by entering the world of non-traded placement REITs, as it exposes their wealth management business to increased regulatory scrutiny. Additionally, I am a bit concerned that this was not the best fund to start with, especially considering the fact that this is Bank of America's first attempt. In its December prospectus, Jones Lang LaSalle's Income Property Fund outlined a capital offering totaling $3,000,000,000, which seems enormous. In addition to the massive size of the offering, I personally feel like they could have picked a better REIT to offer their clients.
Thank You, Private Wealth Advisor, But Do You Have Anything Better?
The predecessor fund and Jones Lang LaSalle Income Property Trust have had lackluster gains (excluding distributions) over the course of the past 3.5 years (illustrated below) and through the investments' entire operation (detailed later). Every month, management calculates the NAV of the common shares and issues guidance to investors. An example of Jones Lang LaSalle's Income Property Fund's most recent NAV calculation is exhibited below:
According to its 4 prospectus, dated January 3rd 2012, the fund has a net asset value on a per share basis of $10.30. The fund calculates NAV as follows:
| | |
| --- | --- |
| Real Estate Investments | $ 25,100,000.00 |
| Debt | $ (15,970,000.00) |
| Other Assets and Liabilities | $ 1,000,000.00 |
| Shares Outstanding | 1000000.00 |
| | |
| NAV | $ 10,130,000.00 |
| NAV Per Share | $ 10.13 |
The Jones Lang LaSalle Income Opportunity fund has a maximum upfront commission of 2.5%, which is a one-time fee. For sales of one million or more, the commission carries a 1.5% discount, and investors will be charged a 1% commission. The fund is diversified into nearly every sector of real estate, including retail, multi-family, industrial, office and medical properties.
The chart, exhibited below, generalizes 3.5 years of the fund's performance: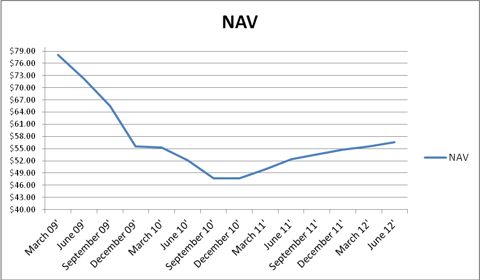 Click to enlarge
Evidenced through the company's filings, dating back to December 23, 2004, following the predecessor fund's initial closing, the fund sold shares for $100 per share to accredited investors, with a buy in minimum of $100,000. Considering the price of the fund's buyback, investors will have netted a 43% loss of their principal, excluding distributions, after a ten-year holding period.
Despite lackluster results over its investment life, the new fund under the management has some pretty high expectations for growth. The new fund has a trailing twelve month rent of $64,805,000 and an NOI of $29,098,000, with moderate debt levels, and NAV is already trading above the private IPO price. The companies' assumptions, outlined below, indicate strong confidence in the investment's fundamentals, which could indicate a brighter outlook for the fund.
| | | | | |
| --- | --- | --- | --- | --- |
| Assumptions | Commercial/Office/Medical/Industrial | Retail | Apartment | Total |
| Exit Cap Rate | 7.36% | 7.43% | 6.98% | 7.30% |
| Internal Rate of Return (IRR) | 8.48 | 7.90 | 7.25 | 8.27 |
| Rent Growth (Market Method) | 3.24 | 3.08 | 3.00 | 3.09 |
| Holding Period | 10 | 10 | 10 | 10 |
Conclusion
Only time will tell how the fund (Jones Lang LaSalle Income Property Fund) performs, and more importantly, how Bank of America manages the sale of its new investment product. Should they have regulatory and managerial success, other major wirehouses such as JPMorgan Chase (NYSE:JPM), Morgan Stanley (NYSE:MS) and Citigroup (NYSE:C) could begin peddling non-traded REITs to wealth management clients as early as April.
Disclosure: I have no positions in any stocks mentioned, and no plans to initiate any positions within the next 72 hours. I wrote this article myself, and it expresses my own opinions. I am not receiving compensation for it (other than from Seeking Alpha). I have no business relationship with any company whose stock is mentioned in this article.