Stocks To Trade:
Today, we are looking at an earnings trade in Citigroup (NYSE:C), longs in FedEx (NYSE:FDX) and Pfizer (NYSE:PFE), and shorts in Phillips 66 (NYSE:PSX) and JC Penney (NYSE:JCP).
For an earnings trade, we are looking at Citigroup today. After such a strong December and start to the year, many are wondering if Citigroup is for real. Can it continue higher after earnings? The company reports earnings on January 17. Expectations are for the company to report growth of earnings at over 200% along with nearly 10% growth in revenue. The growth of both earnings and revenue are very strong, and those expectations have helped C increase over 20% since the beginning of December. At this point, we believe the market has priced in a lot of the earnings potential for the stock and do not foresee a ton of growth potential into earnings.
Further, a miss on earnings or even just a slight beat will probably disappoint the markets, so we are definitely cautious about the potential of Citigroup moving forward. While we do believe that the company's overall potential in 2013 remains very promising, we remain cautious for the next couple weeks into the end of January. Overall growth for 2013 is expected to be 8% in revenue and 20% growth in earnings. The growth is definitely very promising, but the company has already increased 7% YTD. Let's keep our expectations in check.
Future P/E is below 10 at this point, so there is still value here. Don't forget though that Citigroup has risk potential with spending cuts from the government. The approach we like is selling some puts farther in the future at less risky levels that can hold up during earnings volatility. The level we like is $34, which was the November/December support and looks likely to hold even on weakness as it held on previous weakness. We can sell $34 puts for April 20 expiration for a 15% maximum gain to complement a long in the stock. The sold puts can act as a hedge as well as future entry if the stock were to dip very quickly.
Trade: C, Long and April 20, $34 Puts, Sold
Max Gain: 15%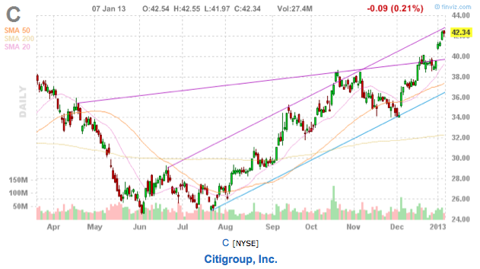 For longs, we like the looks of FedEx and Pfizer. FDX looks likely for a breakout right now while PFE looks very promising for a bull put spread. The level to watch in FDX is 95.45, which is a key resistance line that has not been broken on previous tests over the past month or so. We like FDX a lot as it had a ton of business in the holiday season and should see a very strong move throughout the coming weeks as more information is released as to how well holiday sales did. Argus recently commented that shares are still attractive at current levels and gave a $105 price target. We agree. The company's future P/E is still at just over 12, and with over 20% growth in the next FY expected for the company, stock shares are still cheap. The stock has done quite well as of late, but it's seeing a strong amount of resistance at the $95.50 level. We believe a break of that level on volume will be a great place to buy. FDX broke its holiday record with 280M shipments in the holiday season, which is extremely strong and should not be taken lightly at all.
Another stock that we believe looks very promising is Pfizer. The drug manufacturer is looking very strong right now. The company has been moving very well after receiving approval from the FDA on their new drug Eliquis, which was manufactured by Bristol Myers (NYSE:BMY) and marketed by BMY and PFE. The company is extremely healthy right now, heading into their Q4 earnings report on January 29. The company has over $4.5B in cash right now as well, which is the highest level in over five years. The company could be destined to use some of that cash to acquire another company or remove debt.
Either way, the decision will help to increase equity value. The stock has amazing support at 23.50, which has held since August. We like the March 16 24/23 bull put spread that is currently offering 11% as a nice safe entry into Pfizer. With their new drug on the way and strong fundamentals, we believe PFE looks solid to hold up for some time. The company, additionally, has a future P/E at 11 versus P/E at 20, showing a lot of earnings growth is to come in 2013.
Equity Trade: FDX, Long
Breakout Point: $95.45
Options Trade: PFE, March 16, 24/23 Bull Put Spread
Max Gain: 11%
For shorts, we like the looks of PSX and JCP right now. PSX looks like it could make a major breakdown while we continue to like JCP for a bear call spread. PSX has been in a strong upward channel since it IPO'd, but the stock looks like it could make a breakdown if it fails key support and the 50-day MA at 50. The company recently got downgraded from Howard Weil to Sector Perform with a $60 PT. Analysts at Bank of America also have a Neutral rating. Both companies have $60 PTs on the company, which shows limited upside for PSX from here. While still in the upward channel, the company is threatening the lower band, and it has not lost its 50-day MA since June. A failure of that line could be hurtful to the company.
What's causing the movement down besides the recent analyst action is limit to upward mobility in oil/gas prices. With the fiscal cliff averted, those prices stabilized, but spending cuts are still expected. Oil prices look to be held in check until some resolution comes from the government, and PSX is strongly influenced by oil prices since PSX is the refining arm of ConocoPhillips (NYSE:COP). Look to short on a break of the 50-day MA and $50 PT.
JCP looks weak still as well. The company has not been able to break out of its downward channel that it is in, and we expect weakness to remain until the company's next earnings report. JCP showed a lot of weakness in their last earnings report as the company is yet to see their new shopping concept pay off. The company saw its second straight quarter at a loss and expected more of the same to happen for the rest of the year. The holiday season will be crucial to the turnaround for JCP, but until that report is released on February 27, the company should remain under wraps. Investors won't be willing to commit until they see the turnaround concept actually turning to profits. We like a bear call spread in JCP for February 16 as it's before earnings and before one should expect a major move higher in JCP. We like the 23/25 bear call spread in JCP for a solid 14% gain.
Equity Trade: PSX
Breakout Point: 50-day MA, 50.00
Option Trade: JCP, Feb16, 23/25 Bear Call Spread
Max Gain: 14%
Tuesday's Outlook:
The market dipped on Monday after a great first week to 2013. Fears over earnings and spending cuts from the government dominated the market as there was no economic data or major headlines on the docket for the day. Tuesday, we get another quiet day for the market with Consumer Credit report out in the afternoon.
Other than that, we have Alcoa (NYSE:AA) earnings in after hours. We should expect a flat move for Tuesday as people await AA earnings and do not want to bank too much in either direction. If they have a solid report, we should see a strong Wednesday. The only other developments to watch are several European data points - Euro-Zone Retail Sales, Unemployment Rate, and Consumer Confidence. We do not expect a major move overall for the market.
Chart courtesy of finviz.com.
Disclosure: I have no positions in any stocks mentioned, and no plans to initiate any positions within the next 72 hours.
Business relationship disclosure: The Oxen Group is a team of analysts. This article was written by David Ristau, one of our writers. We did not receive compensation for this article (other than from Seeking Alpha), and we have no business relationship with any company whose stock is mentioned in this article.